So you plan to honeymoon in Bora Bora, French Polynesia? And thinking about having this once-in-a-lifetime holiday captured by a professional photographer? So how do you find the best photographer in Bora Bora? Where do you start?
You will be fresh from your wedding, looking your best, and oozing with love for each other. Set that against the breath-taking backdrop of mount Otemanu and the turquoise clear water of the lagoon, and you've got the perfect recipe for magical photos you will cherish for a lifetime.
You don't want to trust these special moments to just any average photographer, obviously. (PLUS you've just finished planning a wedding! We understand that you need this to be E.A.S.Y.)
Don't worry. I've created this post so you can painlessly find the right fit. I am a professional photographer myself based in Bora Bora since 2009 so I understand this industry better than anyone. So here's what you need to consider.
Do you like the Bora Bora honeymoon photographer's style?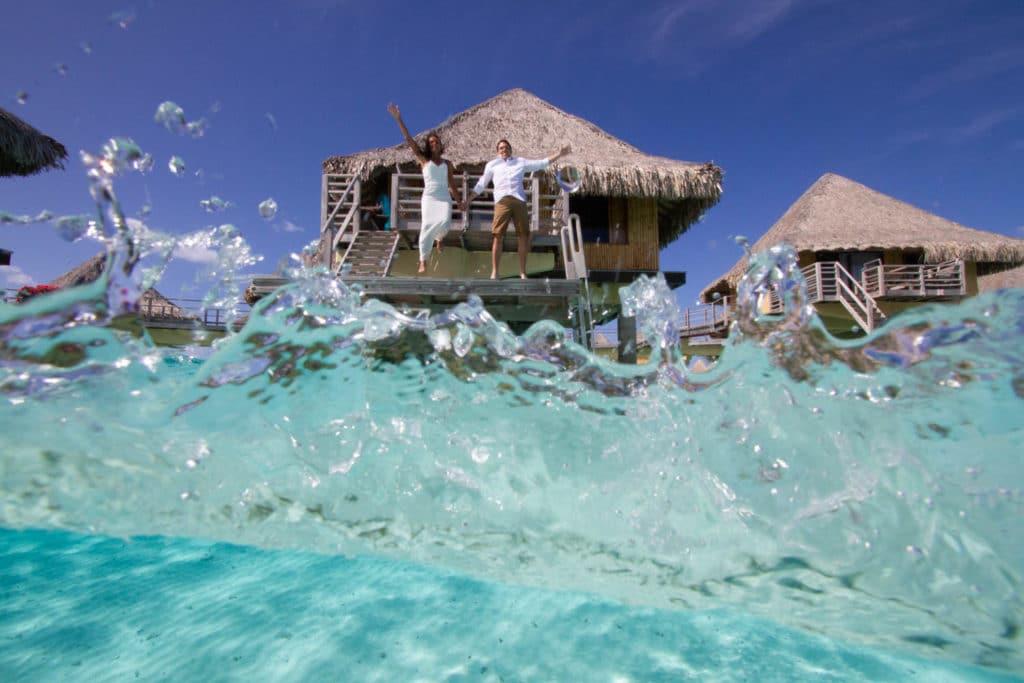 A simple Google search for "Honeymoon Photographer in Bora Bora" will get you started with different options. The are around 10 local photographers in Bora Bora and a few more living in Tahiti (consider extra cost to fly them). Save time by only contacting those photographers who's style you love!
Look at the kinds of photos each photographer takes. Do you like the vibe? Yes? Then send them an email. Simple.
Does the photographer communicate well?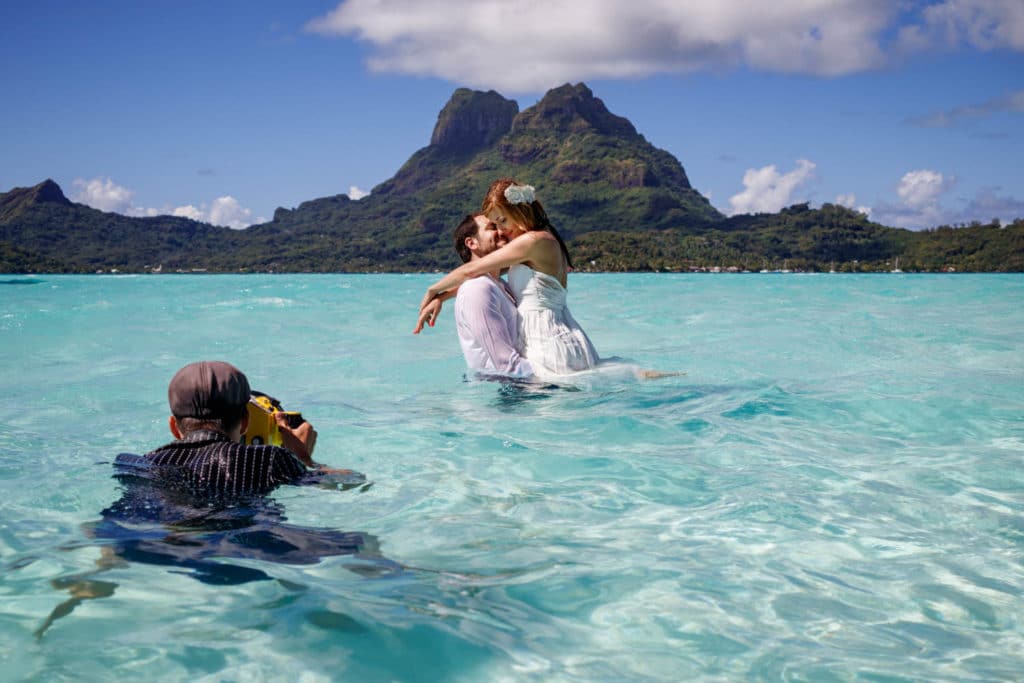 Your initial contact with the photographer will tell you about how your experience will be:
Does he /she get back to you quickly, inside 24 hours of your request?
Do he/she take the time to write a personalised note instead of sending a canned response?
Does she/he answer any questions you asked?
Is he/she easy to understand?
Does he/she speak fluently English? (Most of us are native French speakers)
Does he/she give you an initial warm feeling without putting any pressure to book?
If the answer is 'Yes' to all of the above, then move onto gathering more information.
Is the photographer available?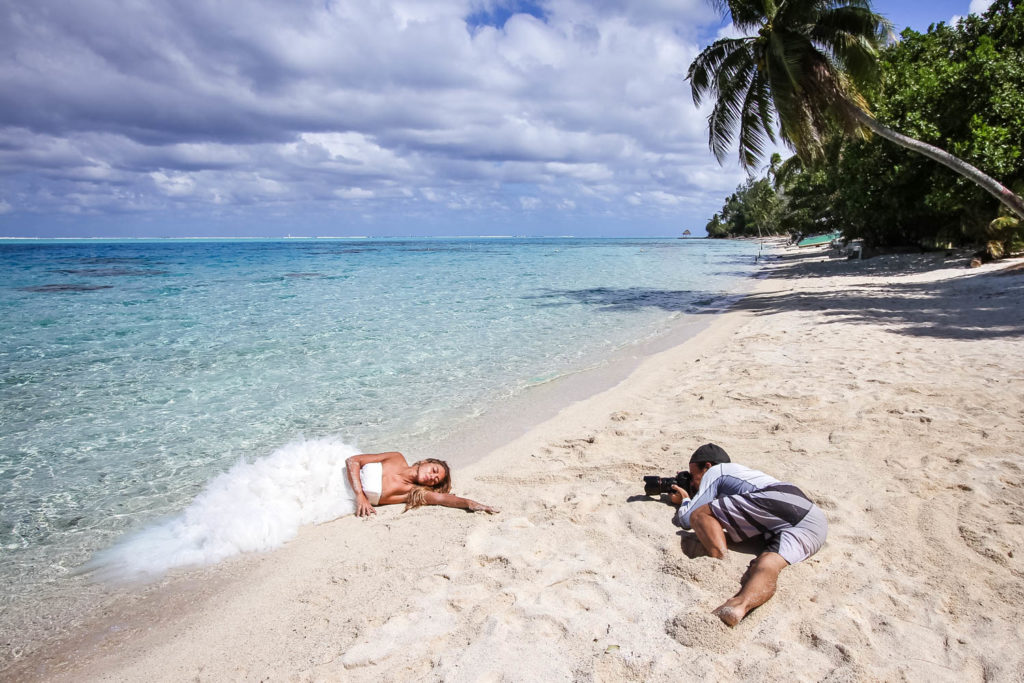 Here is an important step that many couples seem to miss. At the same time that you ask for a price list, ask for their availability. It helps to have some flexibility in your schedule, especially with a photographer who is in demand. Always try to book your photo shooting at the beginning of your stay, in case of bad weather you have some flexibility to postpone.
How much does honeymoon photography cost in Bora Bora?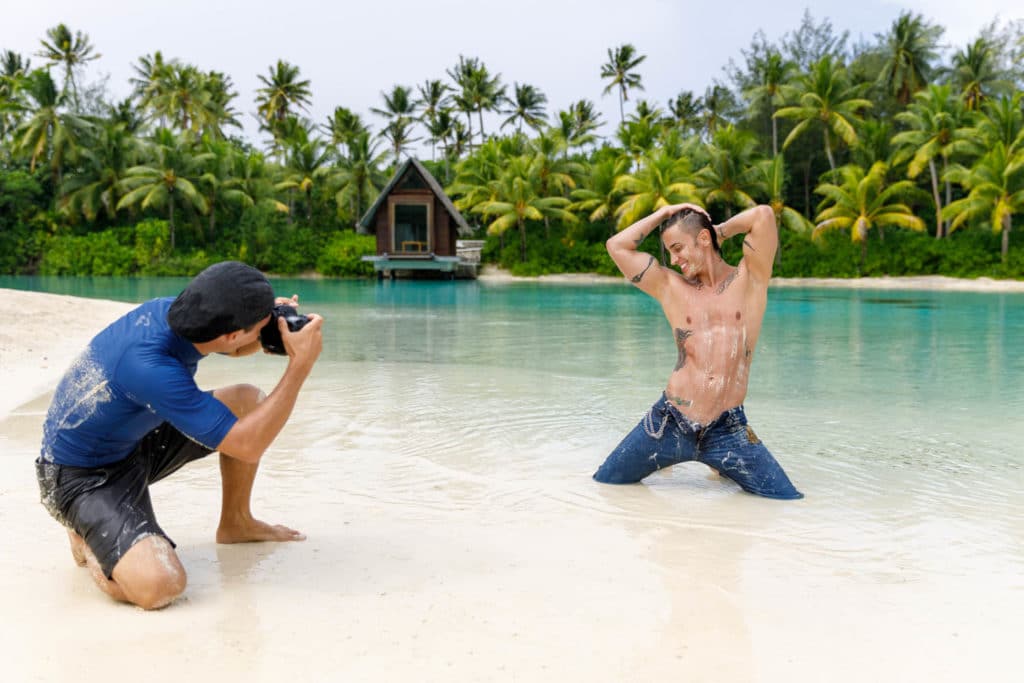 Although everybody hates to discuss price right up front, it is necessary. You have a budget, and you need to find a photographer who fits your needs.
In a nutshell , it ranges from $450 to $700 for 1 hour and 50 edited pictures depending on the photographer. The price will decrease proportionally for longer sessions. The price might also depend on several other aspects : where do you want to shoot, if your wish to have specific underwater pictures, aerial drone pictures or wedding pictures.
I can't make public the packages of my colleges but I can be transparent with mines : my one hour package is at $690 and you get to select your favourites pictures. (no extra charge for over-under water photography, just ask ahead of time because extra gear is required)
Read my article Bora Bora Photographer Cost to know more about the price of a photographer in Bora Bora.
Although, I believe that the decision about choosing your photographer should be not only based on your budget. You should choose a photographer with a style that moves you. Don't overthink it, you'll naturally gravitate toward him or her.
Also, be aware that photographers have different editing techniques. I believe that edition should be elegant and timeless. Think about showing your Bora Bora pictures to your grandchildren!
I believe as well that a professional photographer, confident about the work that has been done, should empower the clients to choose their best pictures for edition. This way you will cherish each one of your pictures, at the end of the day you are the best one to decide in which pictures you look your best.
What does the photography package include?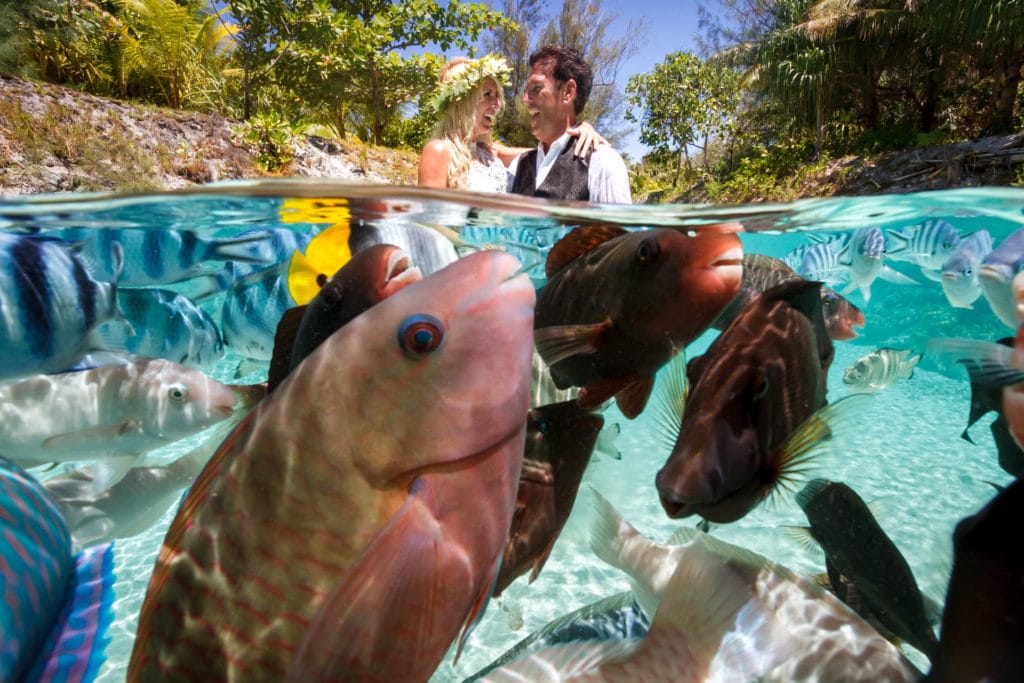 If the price is in line with your budget, then ask about the honeymoon photography package:
How long is the shoot?
How many edited images will you receive?
How will your photos be delivered to you?
How long will it take to receive your photos?
Are there any additional fees?
Is a deposit necessary? How do you pay?
Is over-under photography included in the price?
In my case, I carefully edit and deliver the photos in a beautiful private gallery, the turn around is less than two weeks, there is no additional fees, no need of deposit, the photo shooting is charged to your room by your resort, and over-under photography is definitely included in the price, because I love getting in the water with my couples.
What about honeymoon photography locations?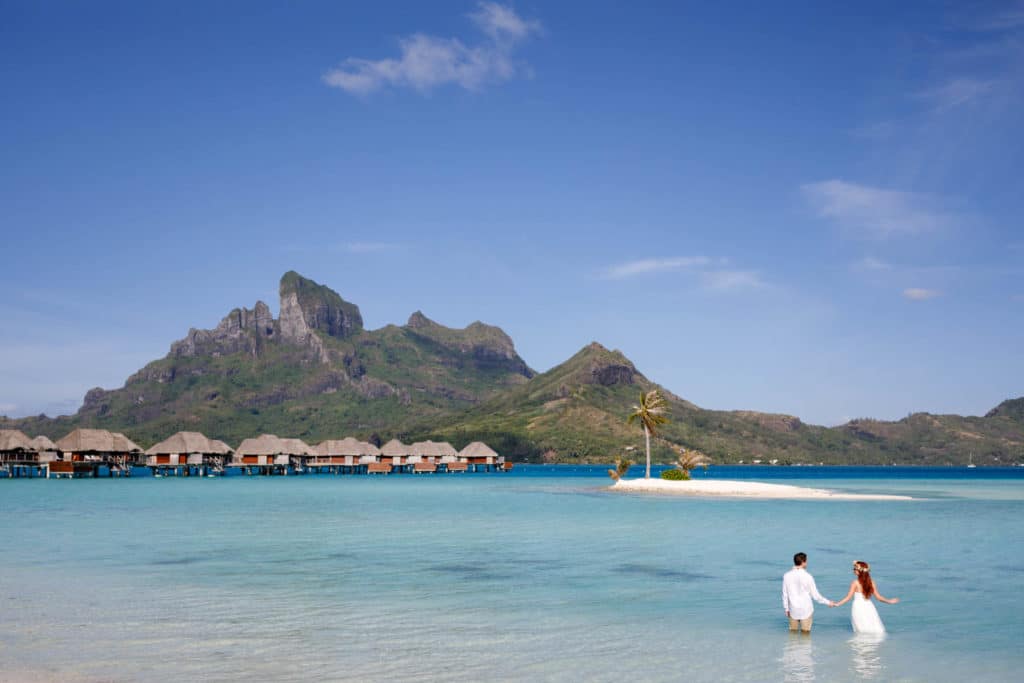 Make sure that you communicate your vision for your location. Do you want honeymoon photos on the beach or in the green? Do you want to trash the wedding dress? Bright colours of the morning or the romantic warm sunset?
Maybe you are hoping for a few different locations for your session, and that's great! But discuss it up front so that you are all on the same page. Check my post "best resorts" to see the most iconic backdrop per resort, get inspired and start preparing your shooting saving time by choosing your favourite spots.
How much experience does the honeymoon photographer have?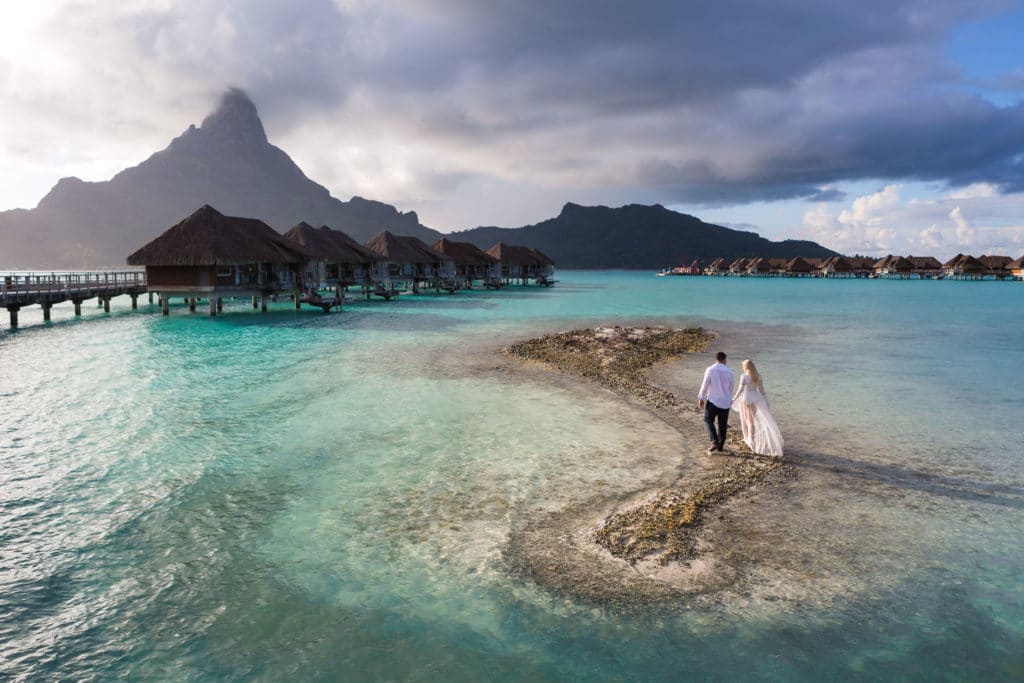 You should definitely evaluate their level of experience to make sure you get what you pay for. Don't bother asking them how many years they have been shooting for because that is irrelevant to someone's creativity. Instead, check more their portfolio to see :
Can he/she deliver good pictures with consistency? (not just a few lucky shots and lots of average variations)
Can he/she adjust style to the personality of the couple, are his/her skills flexible?
How many years have he/she lived in Bora Bora? (how good does he/she know the island, the light and best locations per resort)
That should give you a sense of how knowledgeable and confident he/she is.
After 10 years living in Bora Bora, I'm now blogging to share my experience about the island and to answer all the questions that my couples ask me everyday. Check my "Tips, Tricks and Thoughts" Blog section to find a detailed answer of the above questions. And check "About Bora Bora" Blog to find answers to other general questions about the island.
How to decide between best honeymoon photographers in Bora Bora?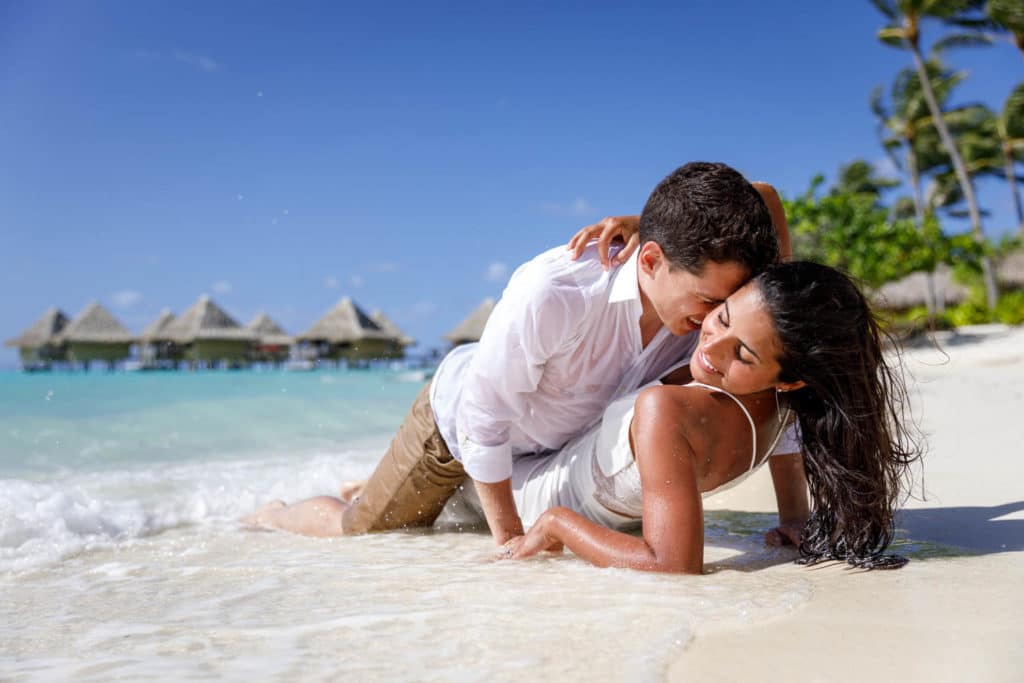 You have followed all the steps up to now, but you are still left torn between your choices for best honeymoon photographer in Bora Bora. What should you use as the tie-breaker? I recommend two foolproof strategies:
Check out their Google reviews– Facebook reviews– Trip Advisor forums- Instagram feed. Former clients testimonials are going to be your best gauge of what it is really like to work with this photographer. Listen to what people are saying, and decide if their experience resonates with you.
Ask the photographer to see different shootings from beginning to end. All photographers' portfolios reflect the top 5% of photos taken across different shoots. A more realistic idea of what your own photos will look like comes from looking at someone else's package. You can check this on my blog "feature" page.
Now you are armed with all the information you need to pick the best honeymoon photographer in Bora Bora. All that remains to be done is to secure your date. Happy Shooting!