With 11 resorts located throughout the tiny island of Bora Bora in 2021, how can you decide which one is the most beautiful resort or hotel to capture the memories of a lifetime? Read this detailed article full of illustrations to help you choose the most iconic and photogenic backdrops of Bora Bora and to help you consider each one of them as if you were here.
The next resorts are considered the best resorts in Bora Bora by Trip Advisor. Each of them have a different style, charm and breathtaking backdrops.
Also, when you are planning your photo shooting, it can save you time to pick up beforehand your favorite locations.
FOUR SEASONS RESORT BORA BORA
Four Seasons is located in a motu (atoll that surrounds the main island) in Bora Bora's north-eastern shore. It has a beautiful backdrop to mount Otemanu.
With 100 overwater bungalows and 7 villas, it never feels crowded and you can shoot in relatively peace.
The resort sprawls across 54 scenic acres but its locations are close to each other so you can walk from one to the next. This is a great advantage as you won't be loosing time waiting for a pickup to take you to the next location.
It features a chapel, cathedral-like spa, secluded beaches and inside lagoons with lots of aquatic life and corals along with lush manicured gardens, greens and palm threes.
Four Seasons Resort Bora Bora is the best hotel for over-under water picture. The inside lagoon provide with crystal clear water for a great underwater visibility, plus you will have a lot of fishes in the picture as a marine biologist works here to create that ecosystem.
For secluded weddings, romantic dinners and proposals, Four Seasons has a little tiny island and if you want a wild landscape, go to the reef to feel the breeze from the ocean.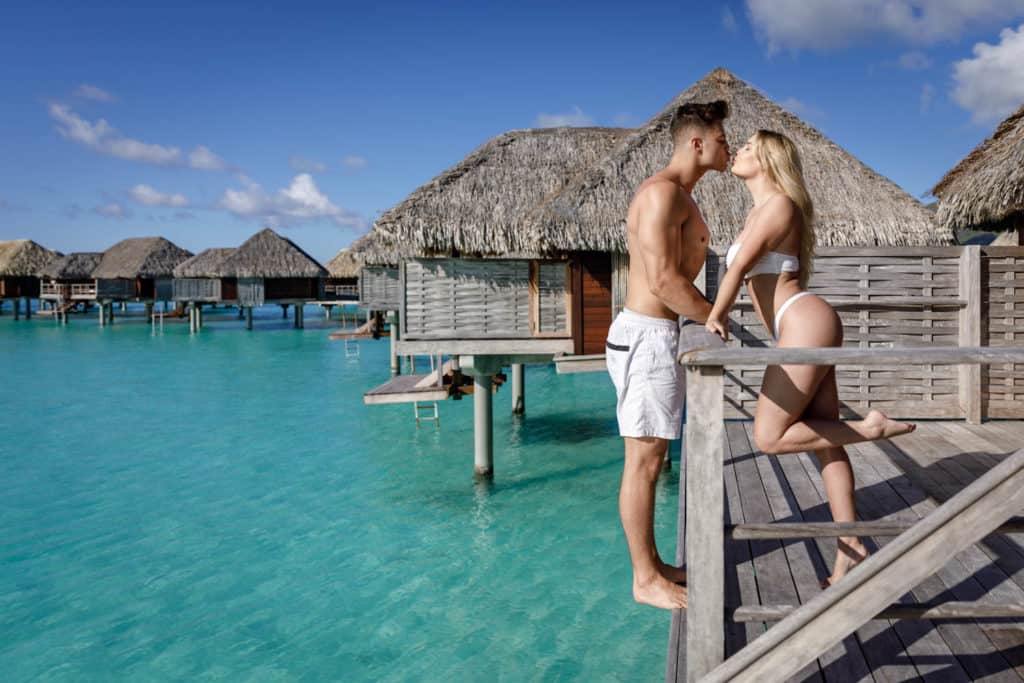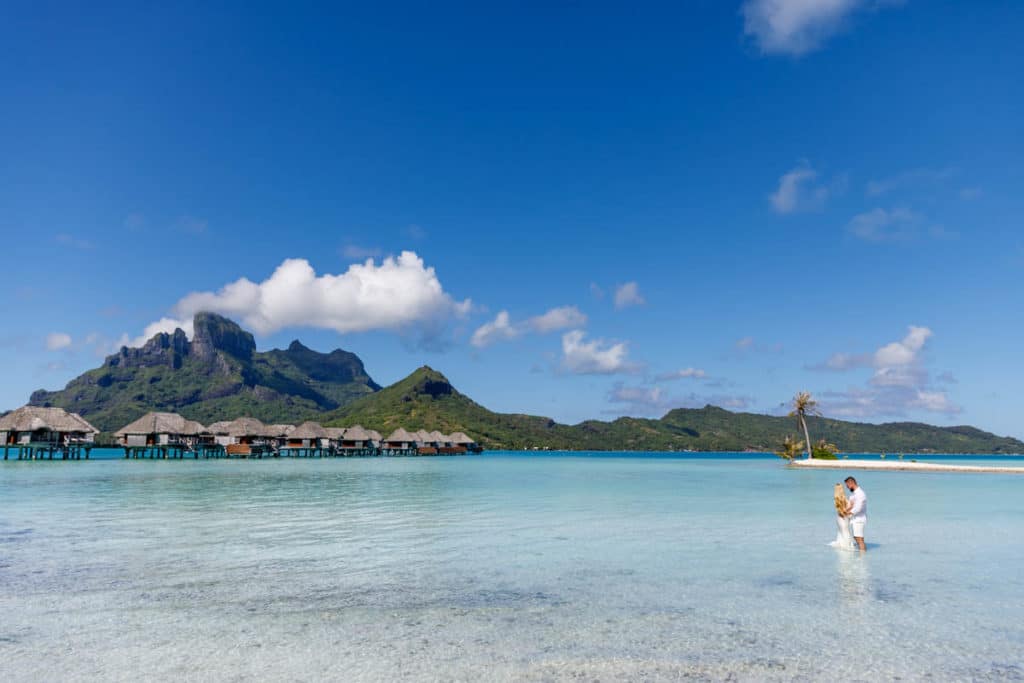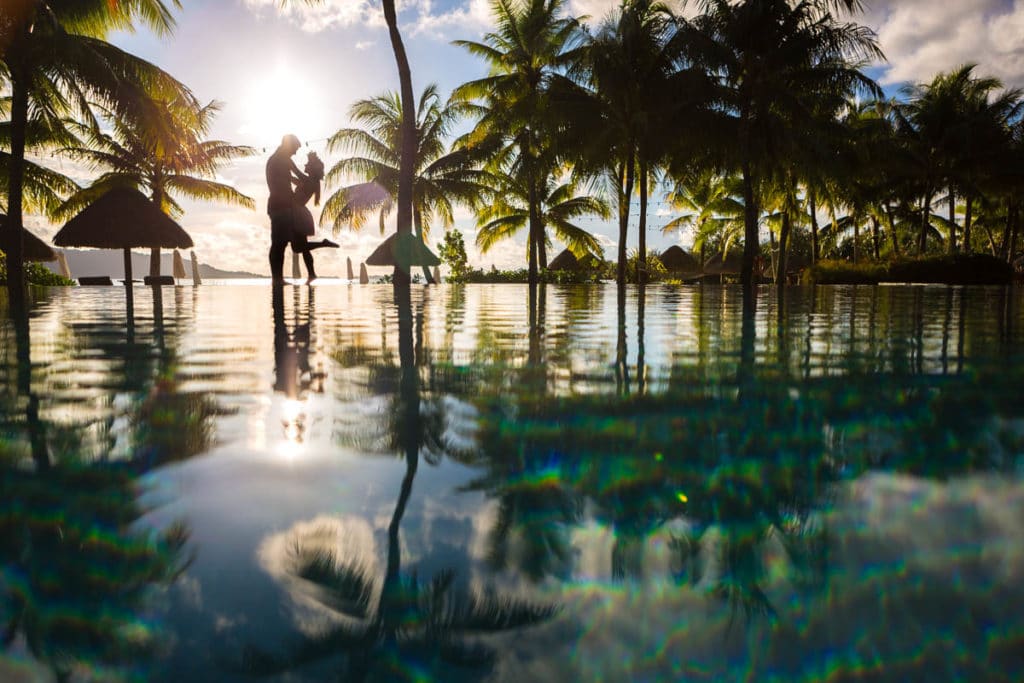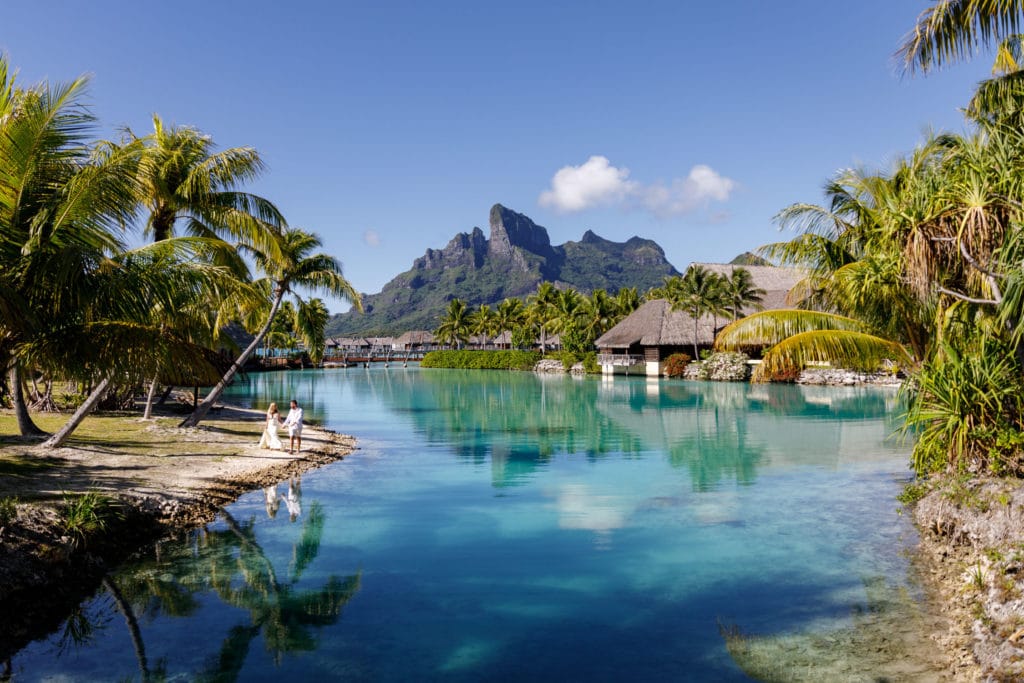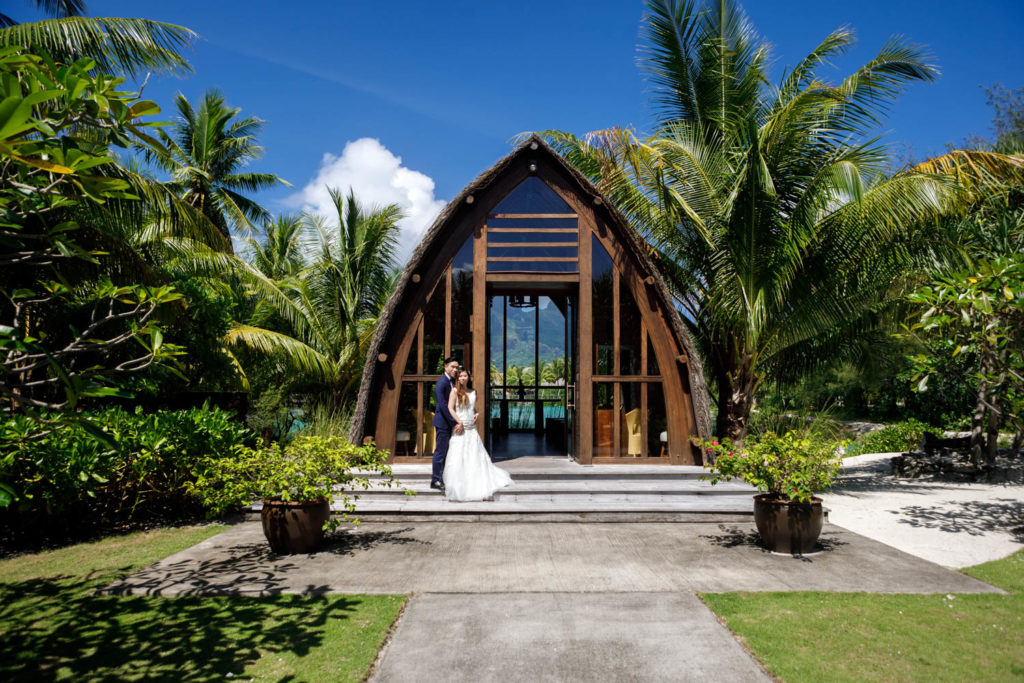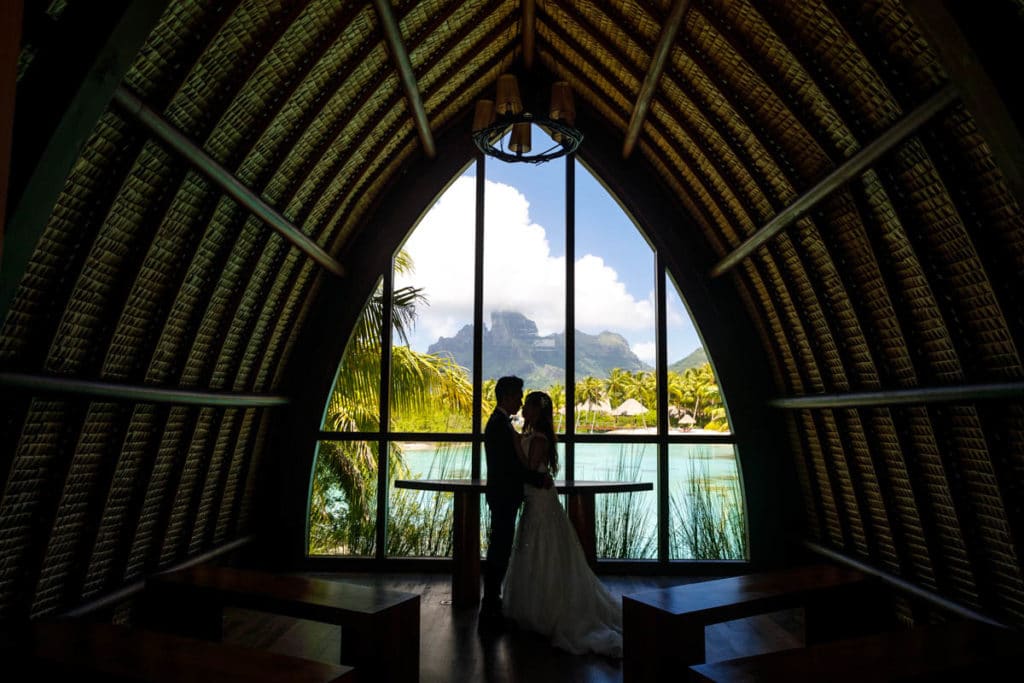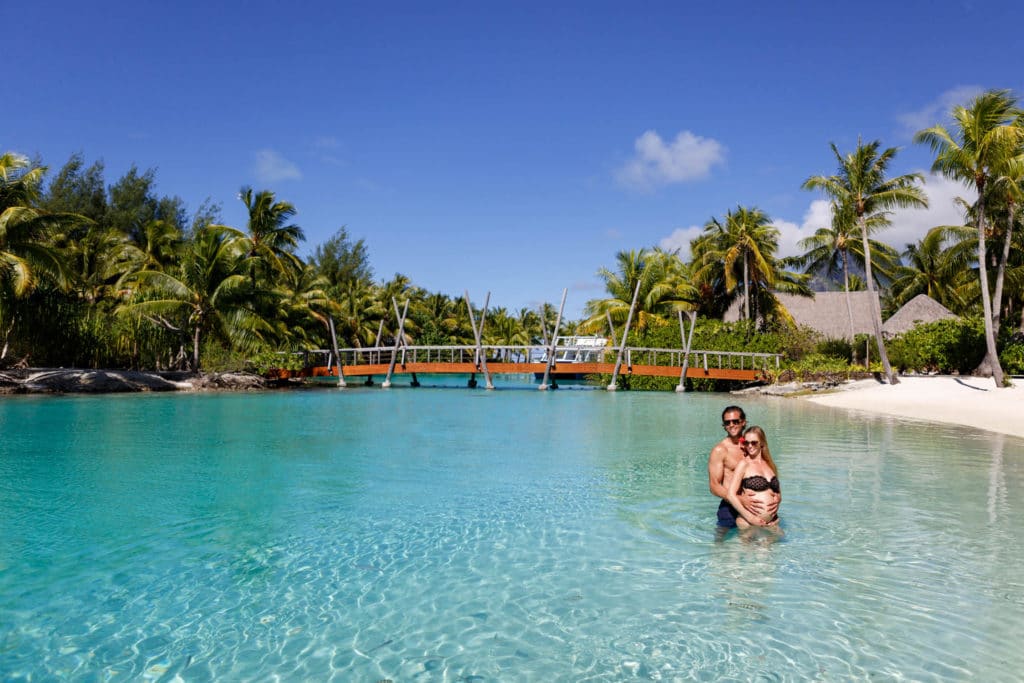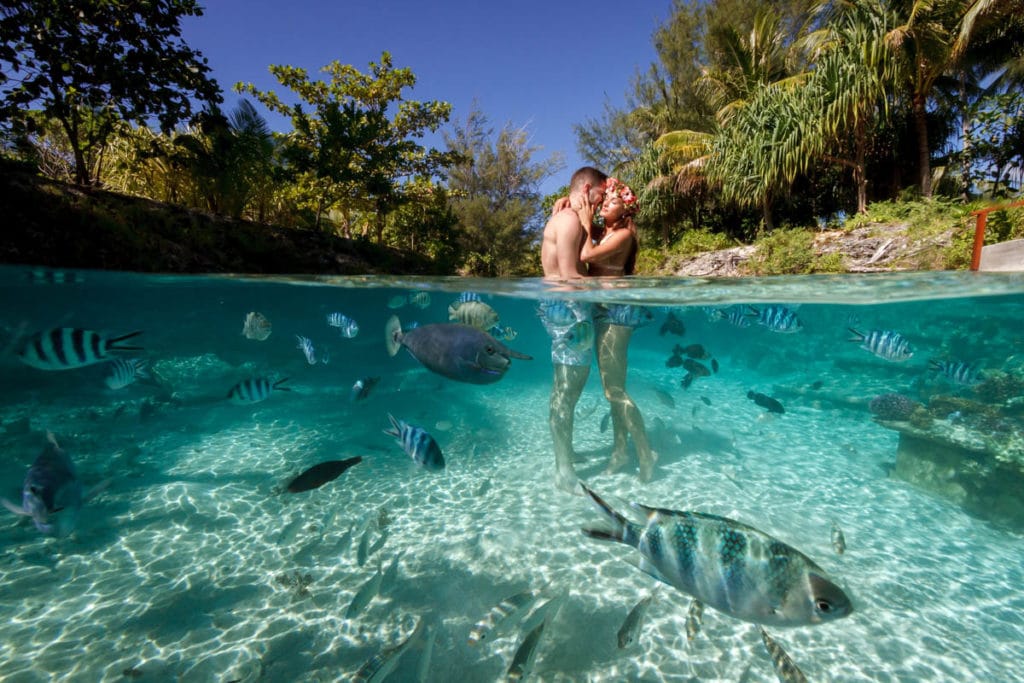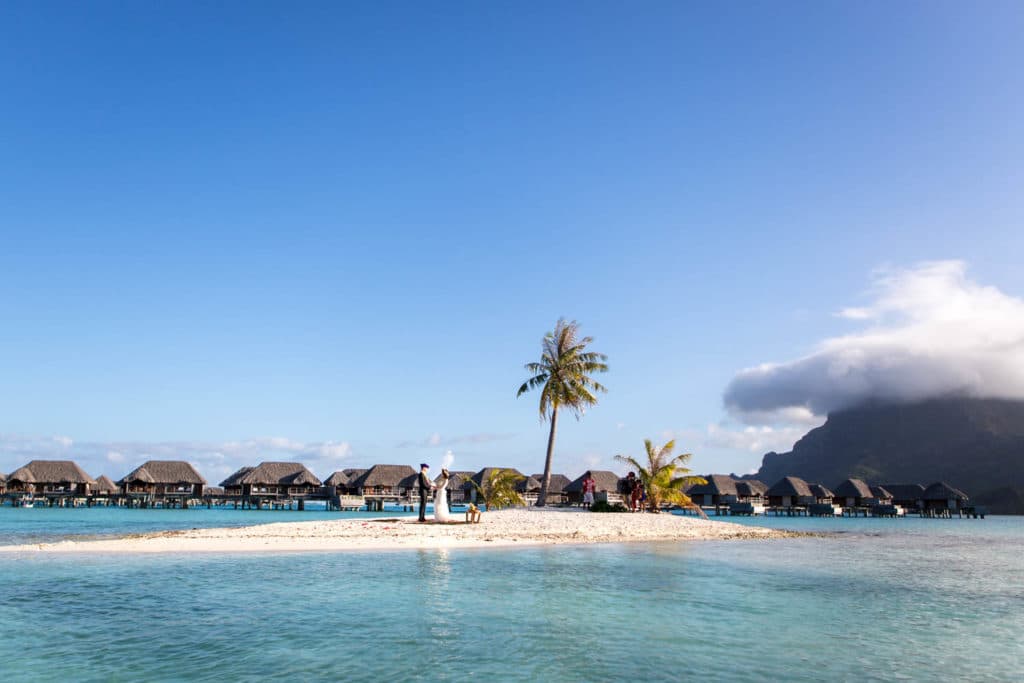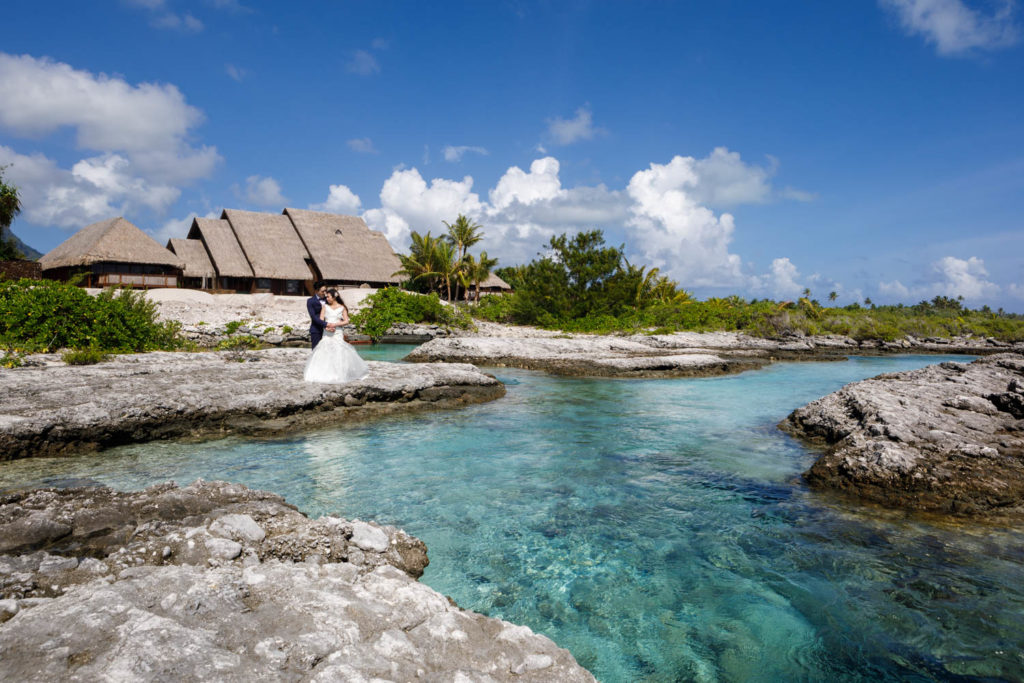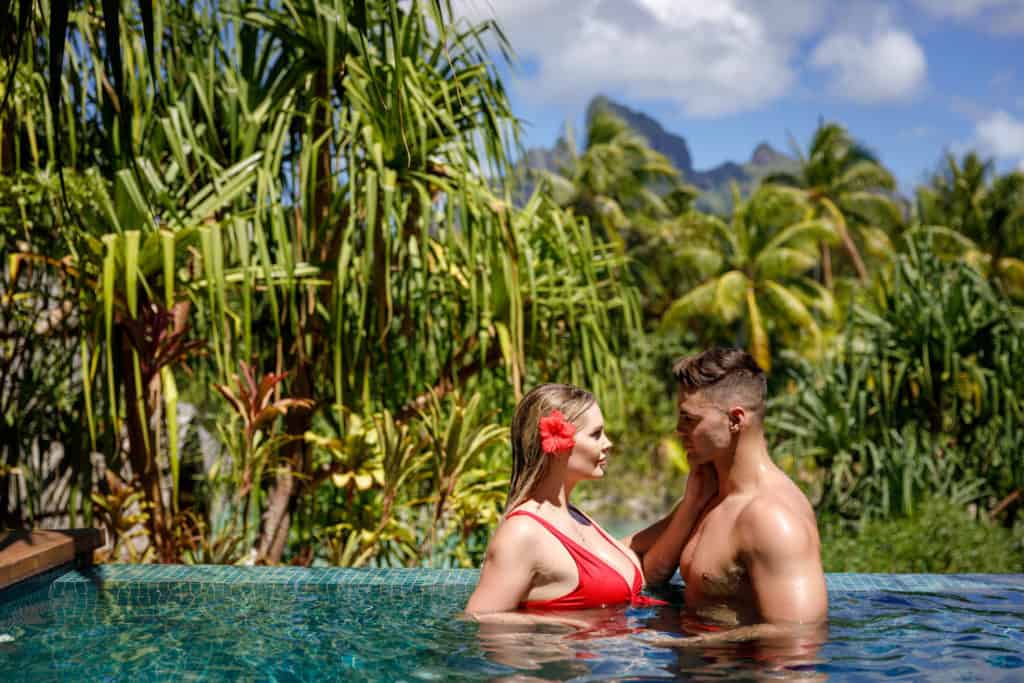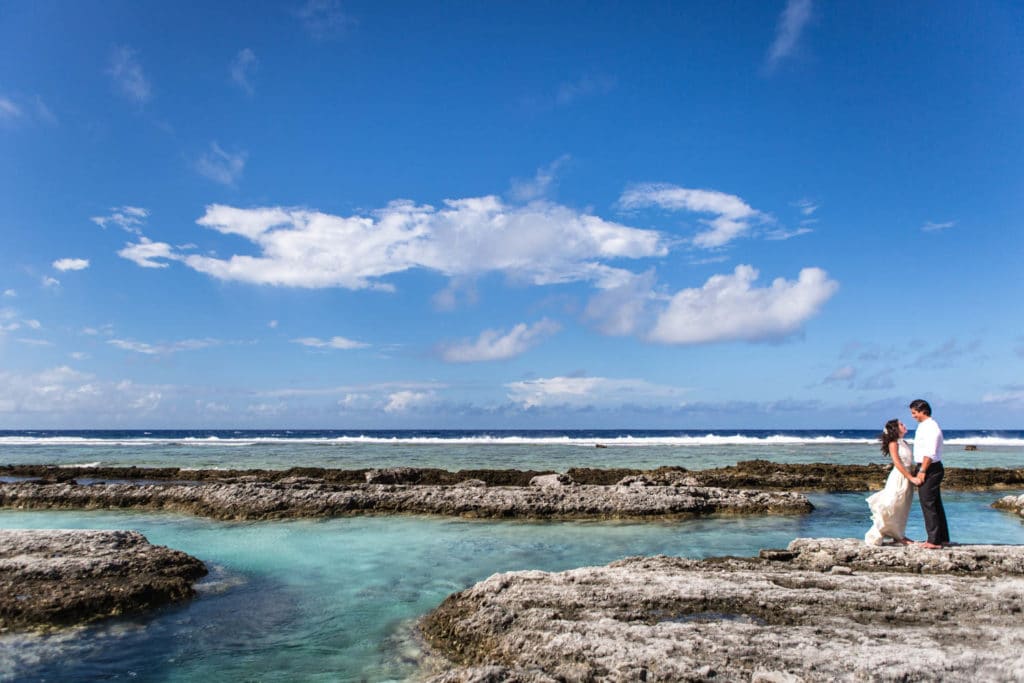 ST REGIS BORA BORA
St Regis Bora Bora Resort is located in the north-eastern atolls sprawls across 13,000 square foot, and is the best hotel to get lost. That's why you have complimentary bikes to go around without getting tired or you can order a pick up golf car. Offering 77 overwater villas ranging from large to enormous.
Features 2 pools, the main pool at the main beach and the secluded adults only Oasis Pool.
The stunning Miri Miri Spa is one of my favourite view to Mount Otemanu and is surrounded by a Lagoonarium (lots of corals heads and fish whose the star is the most friendly Napoleon fish) with easy access from several pontoons, decks and bridges.
In the main beach you will find the most iconic over water hammock. A must stop to finish every photo session.
For a more raw backdrop head to the reef side and helipad.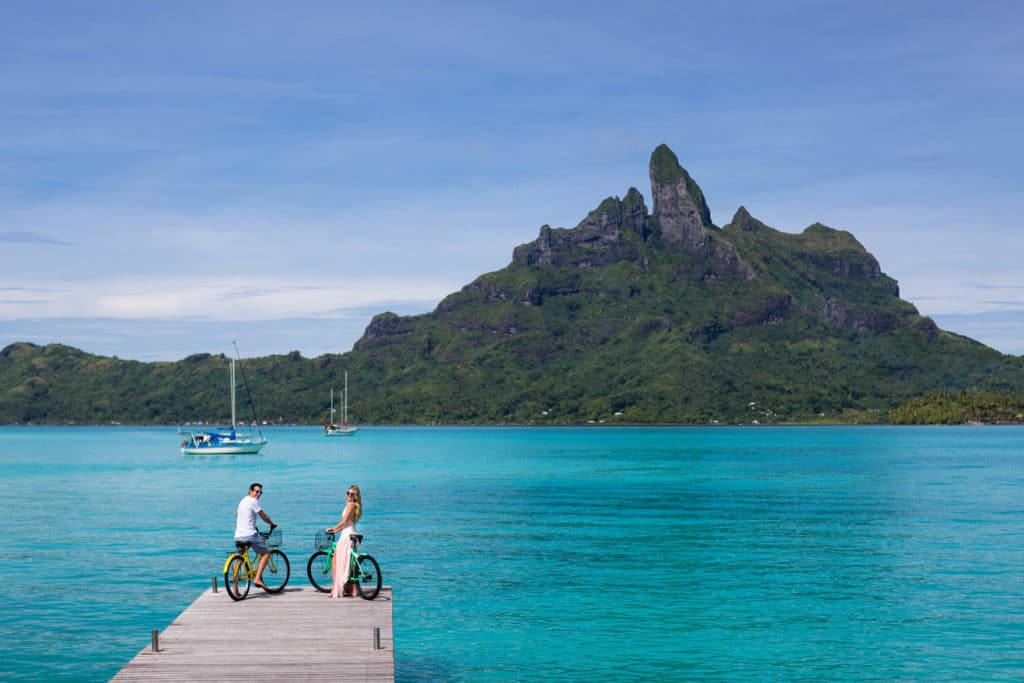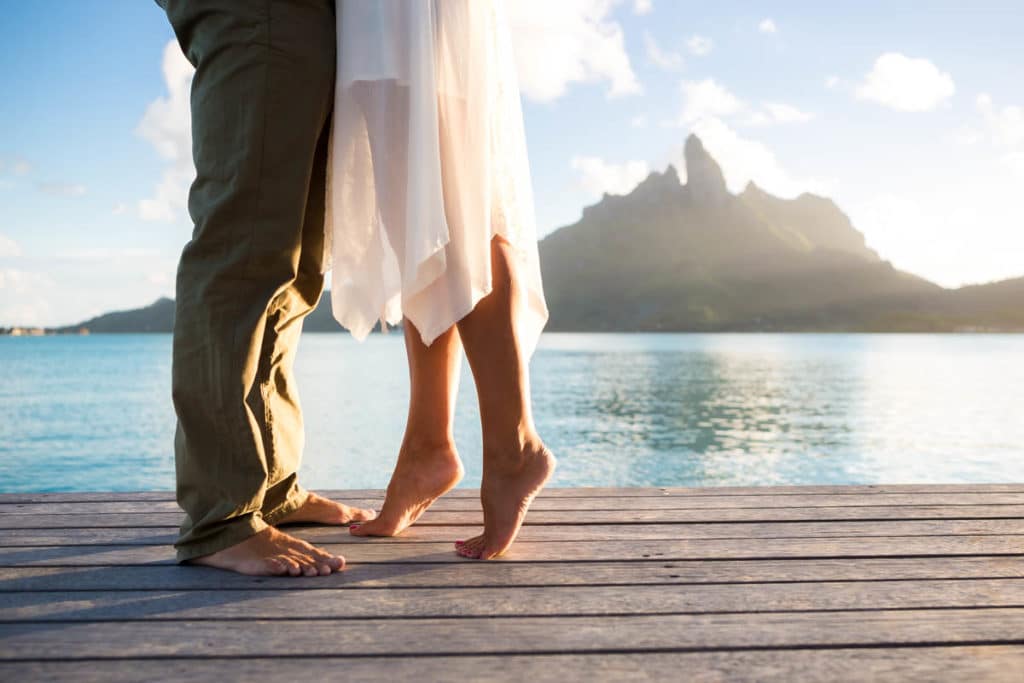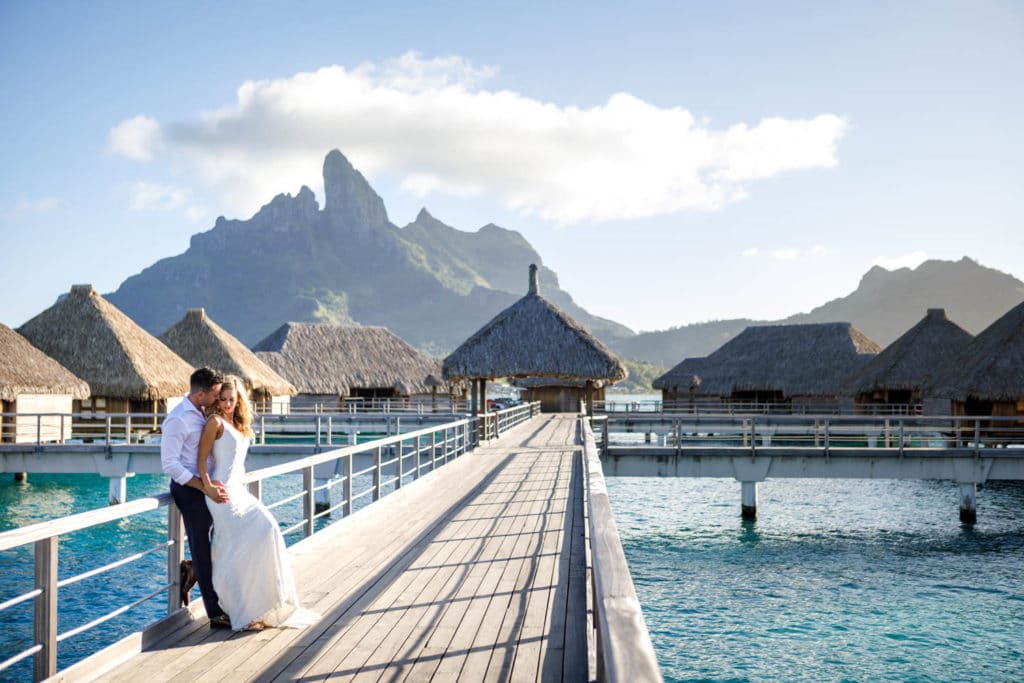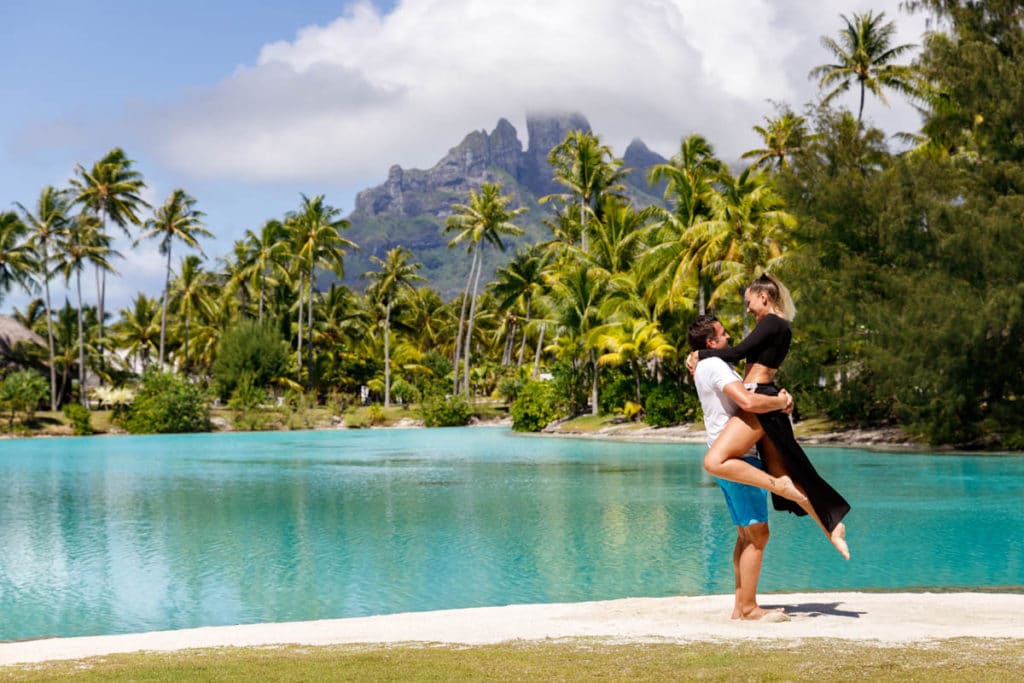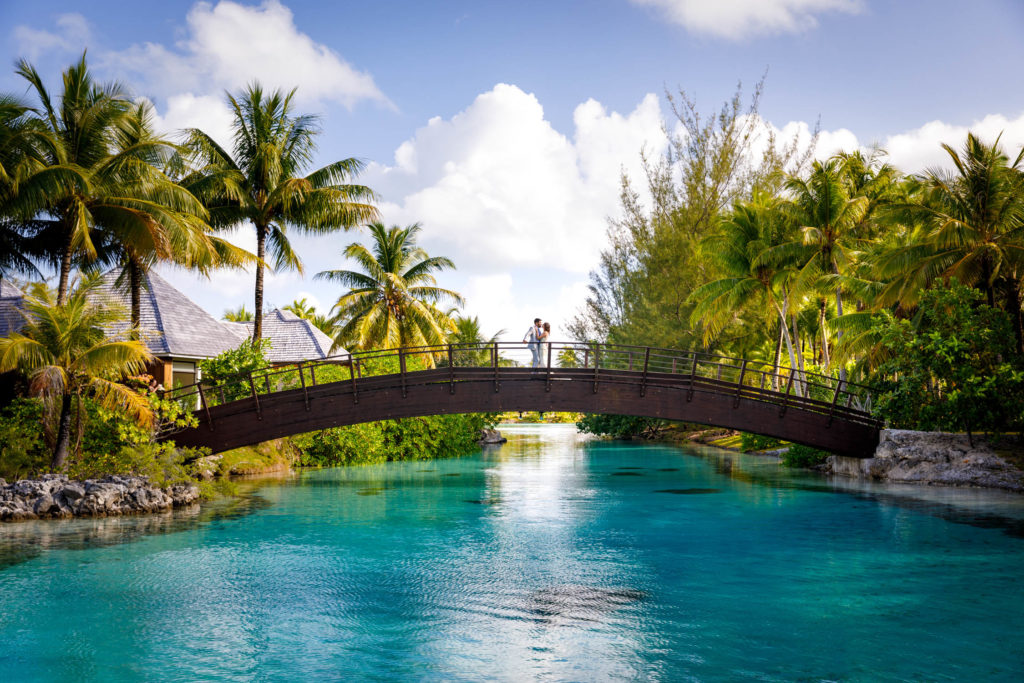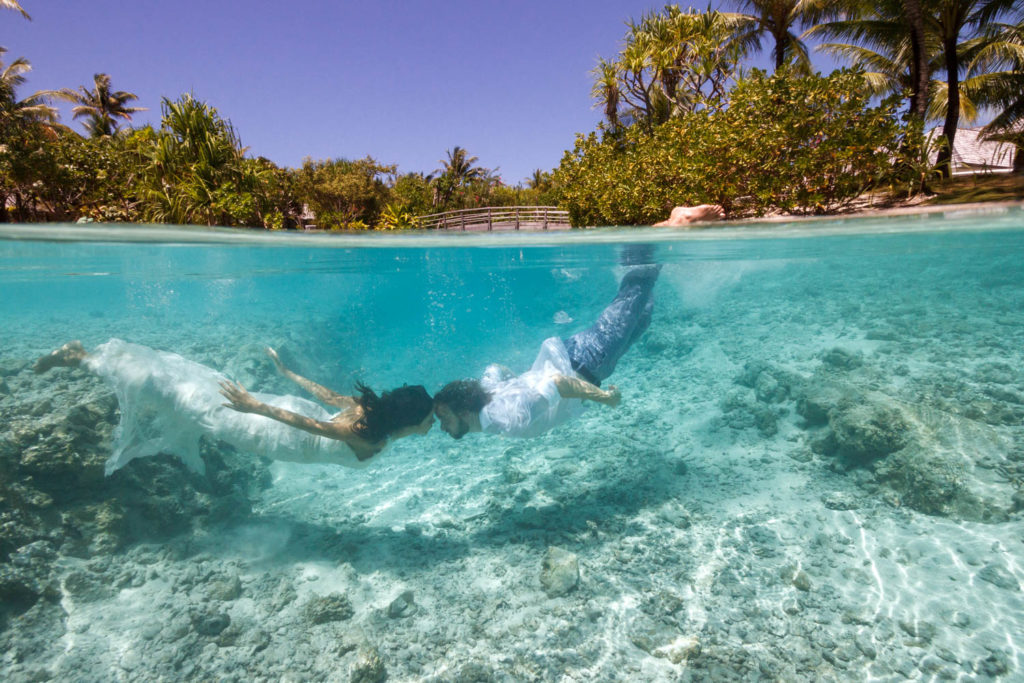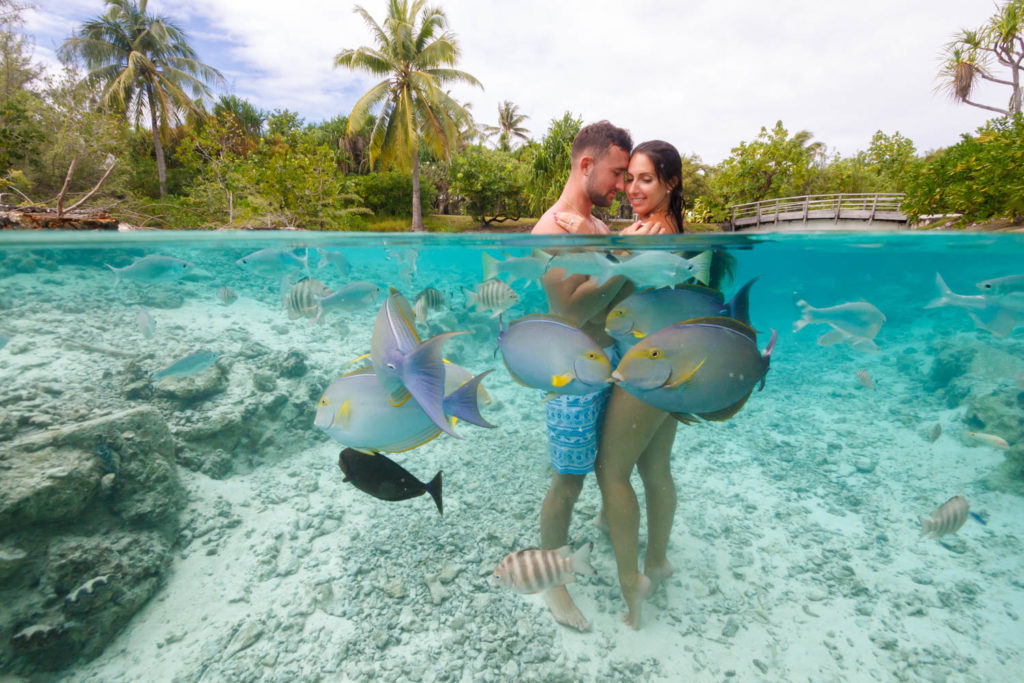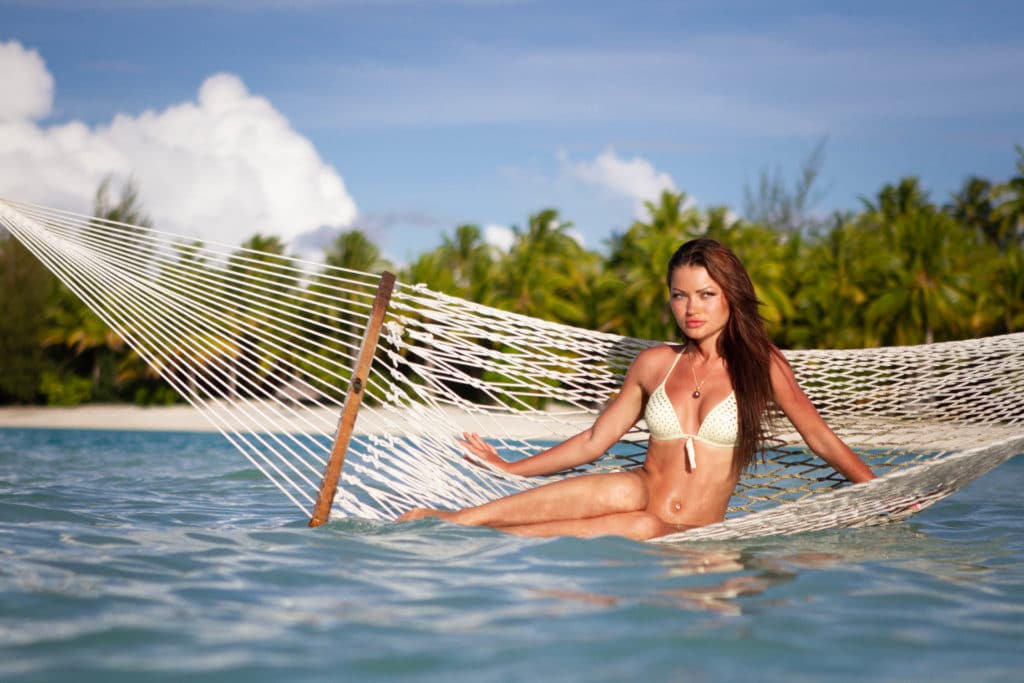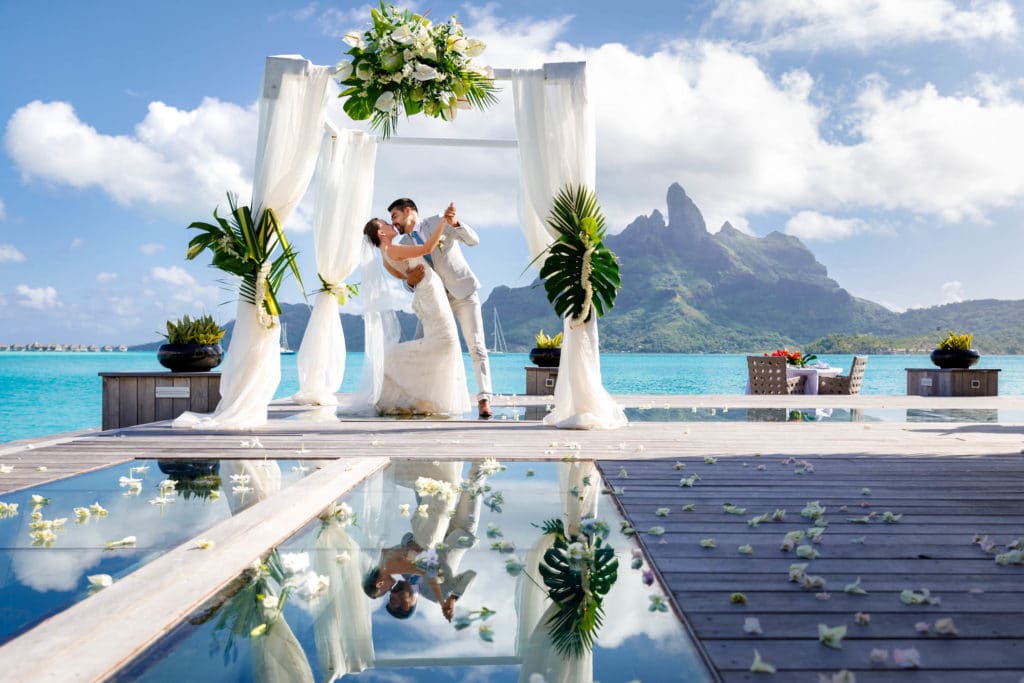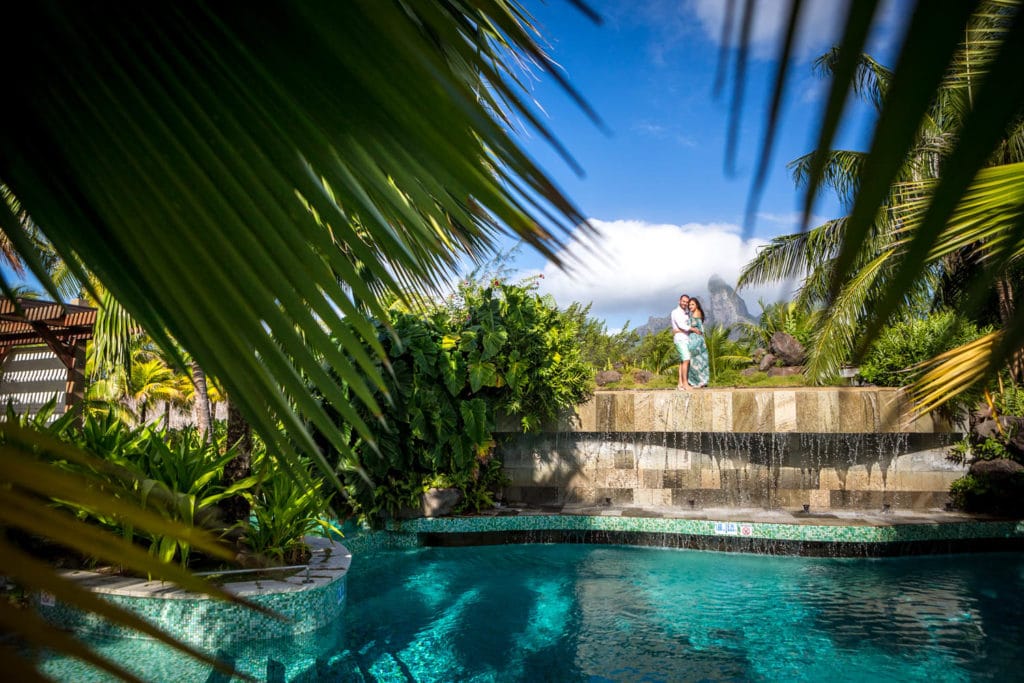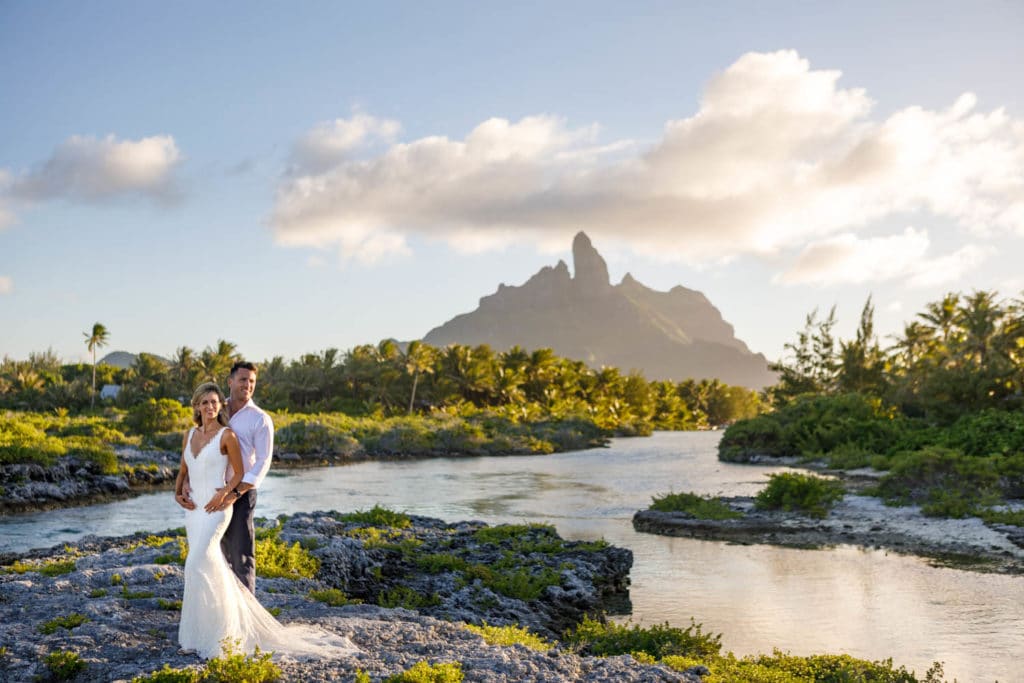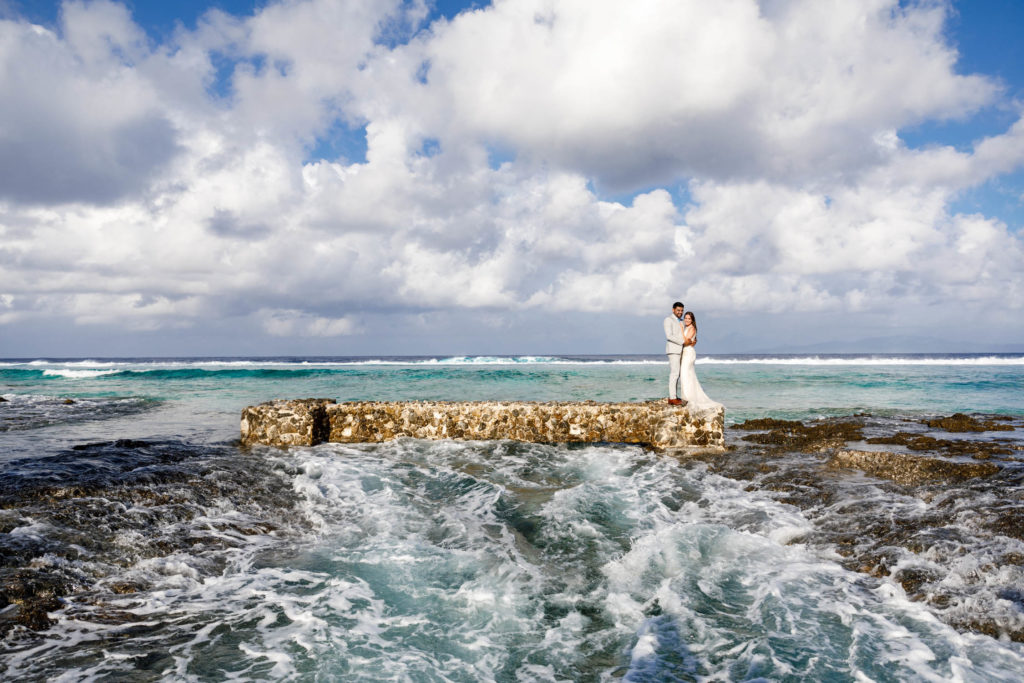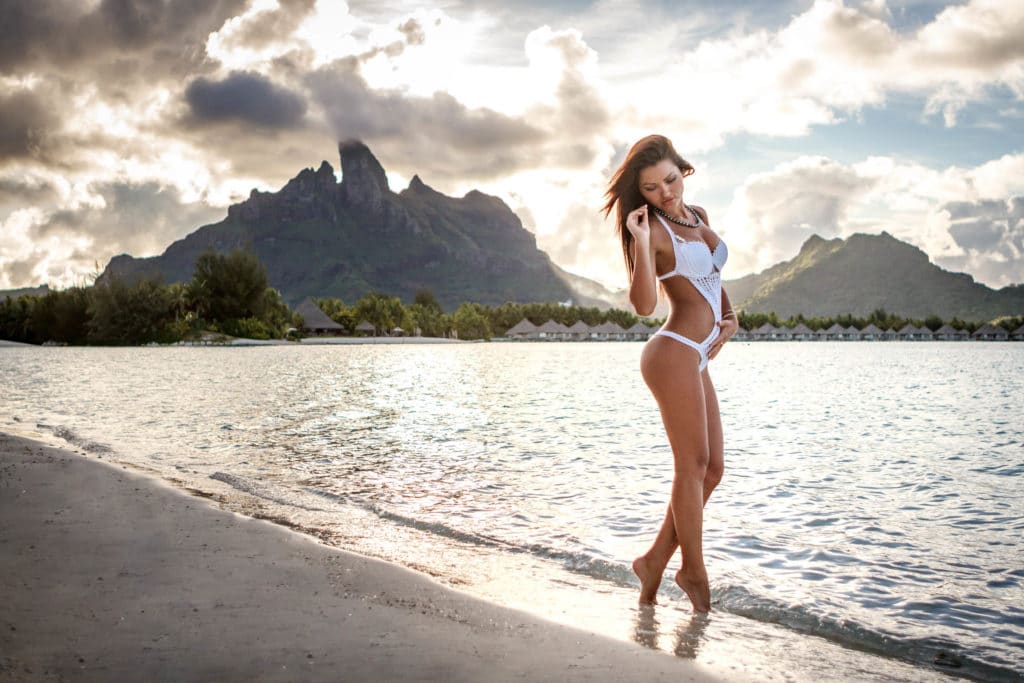 INTERCONTINENTAL BORA BORA RESORT & THALASSO SPA
The Intercontinental Thalasso resort is located on a virgin beach on Motu Piti Aau with breathtaking views of Bora Bora's majestic Mount Otemanu. The Bora Bora Resort & Thalasso features 80 luxurious overwater villas, and the hotel has the best overwater wedding chapel with glass bottom floor in French Polynesia.
The inside lagoon is perfect for over-under water photos and the pool is one of the most beautiful of Bora Bora.
The main beach is divided into two parts : one facing mount Otemanu and the other facing the chapel. That configuration is great as it allows us to have two different orientations towards the water, guaranteeing to have the blue color of the lagoon on a morning session as well as on a sunset session.
For the wild side head to the reef and embrace the salty air and the messy hair.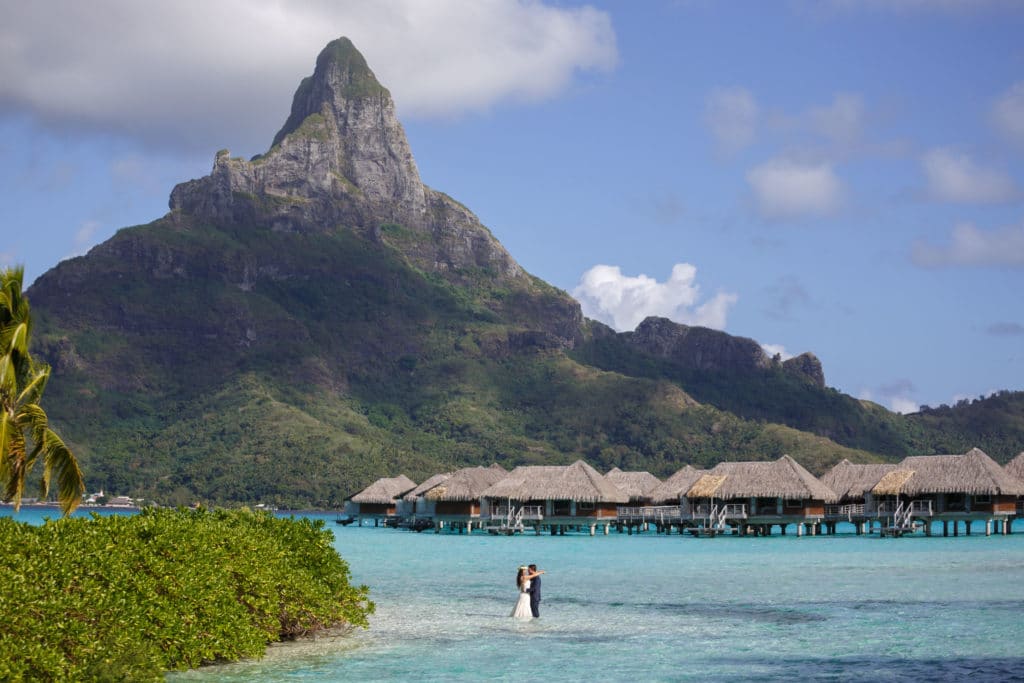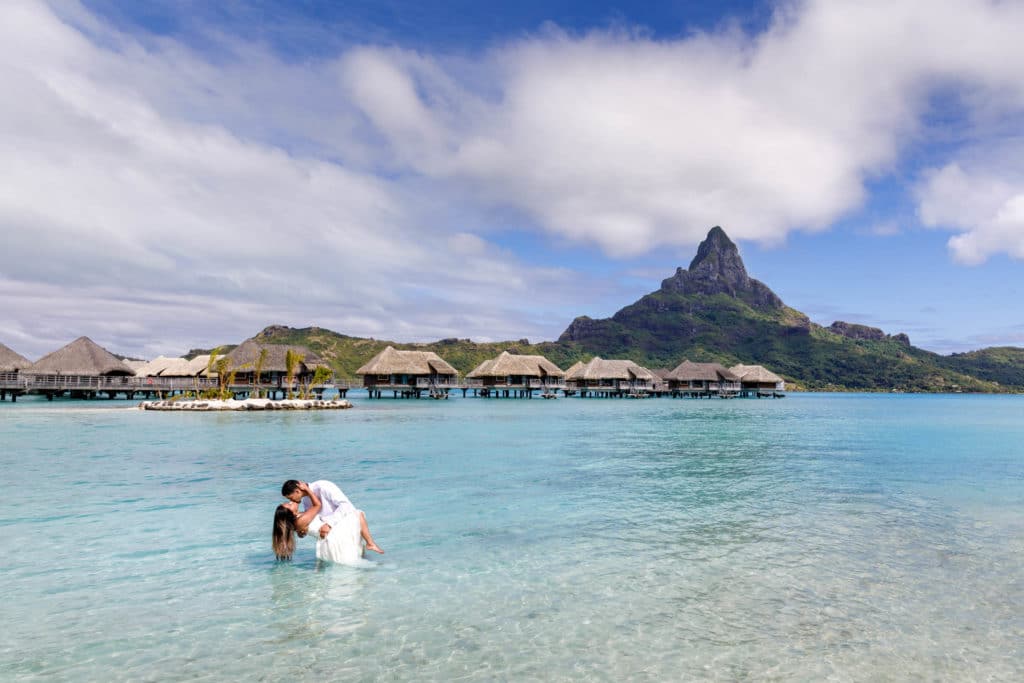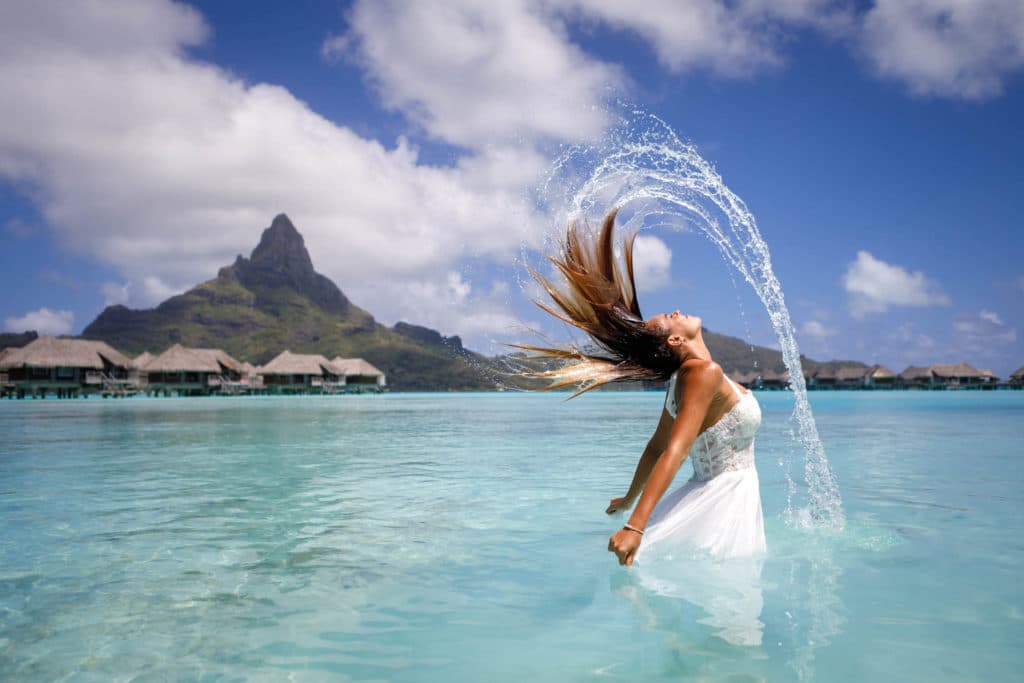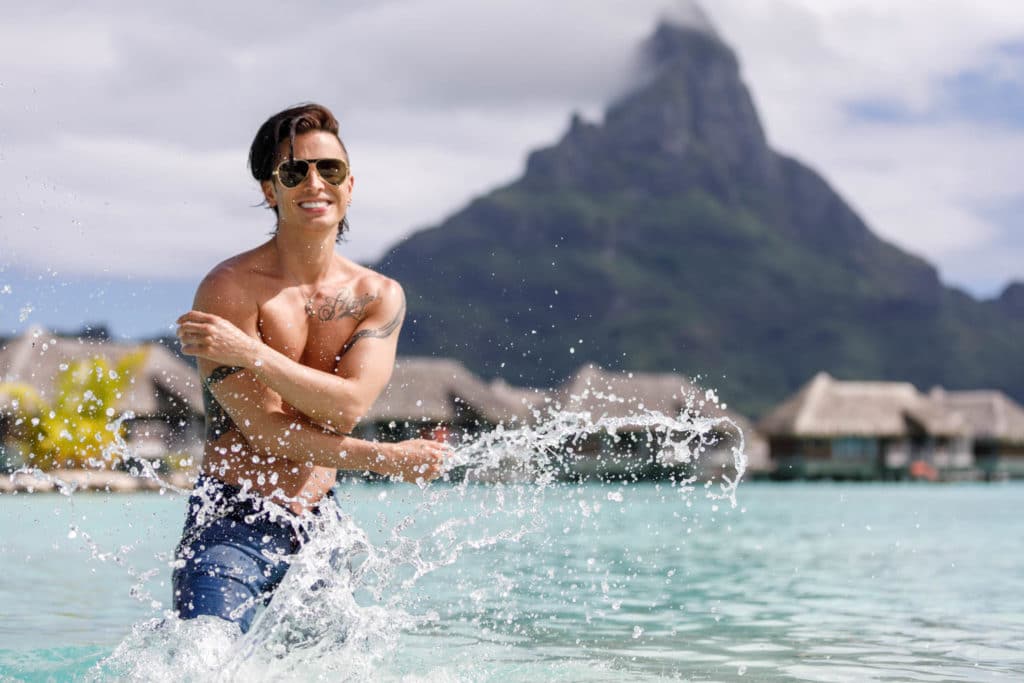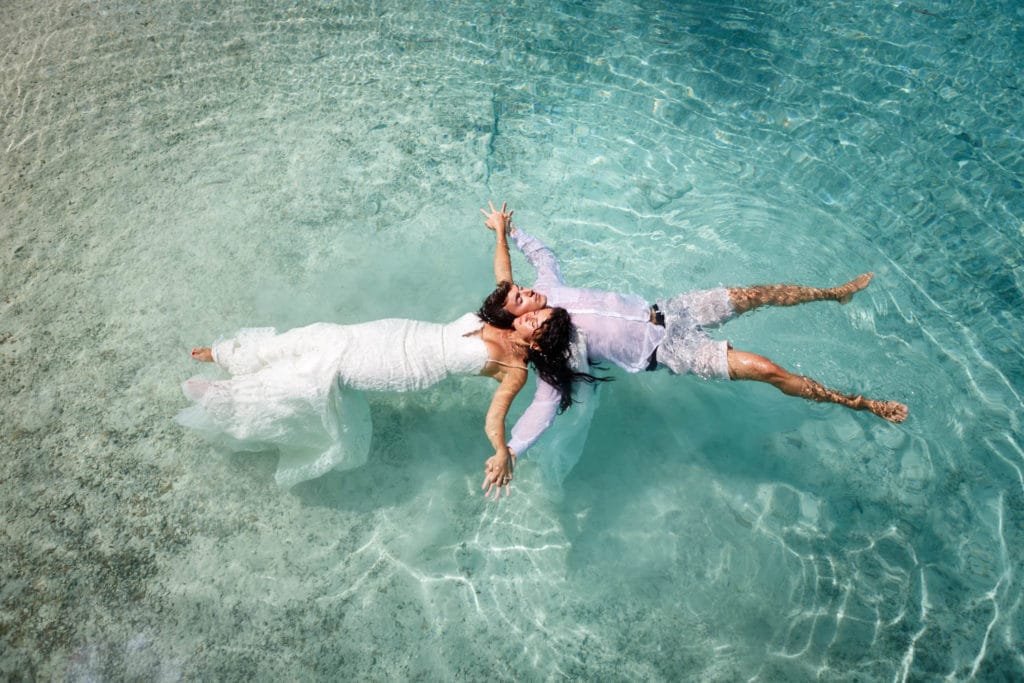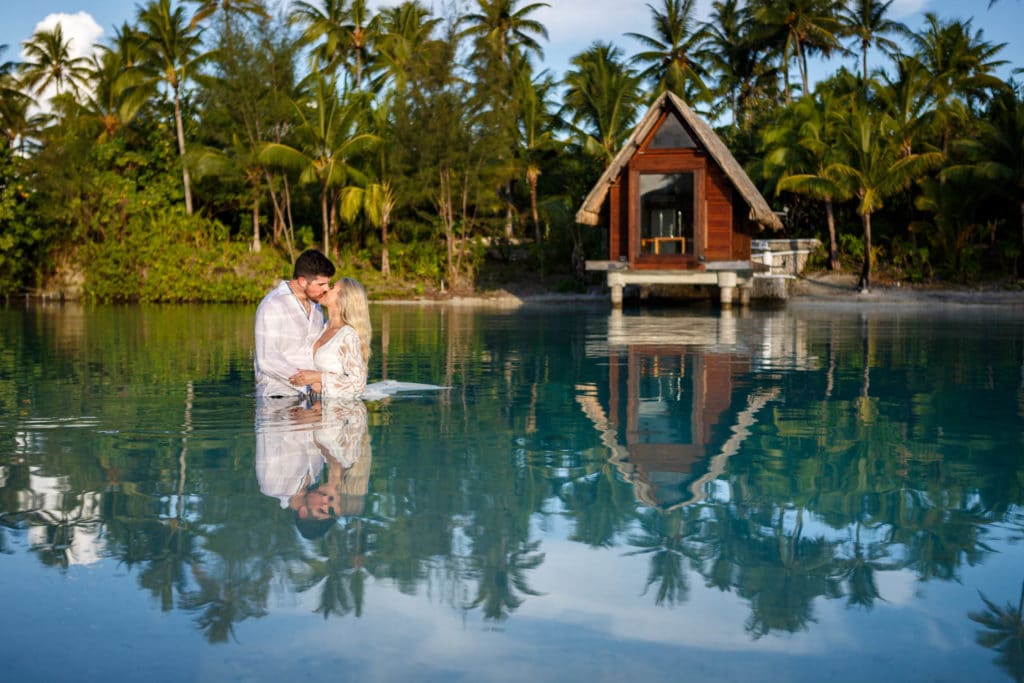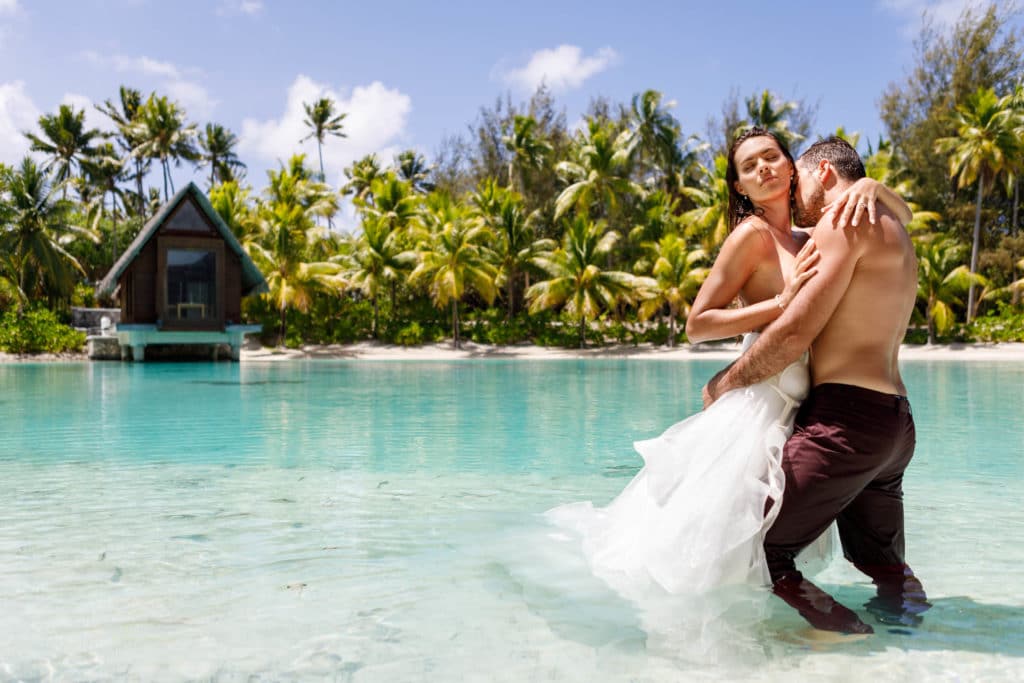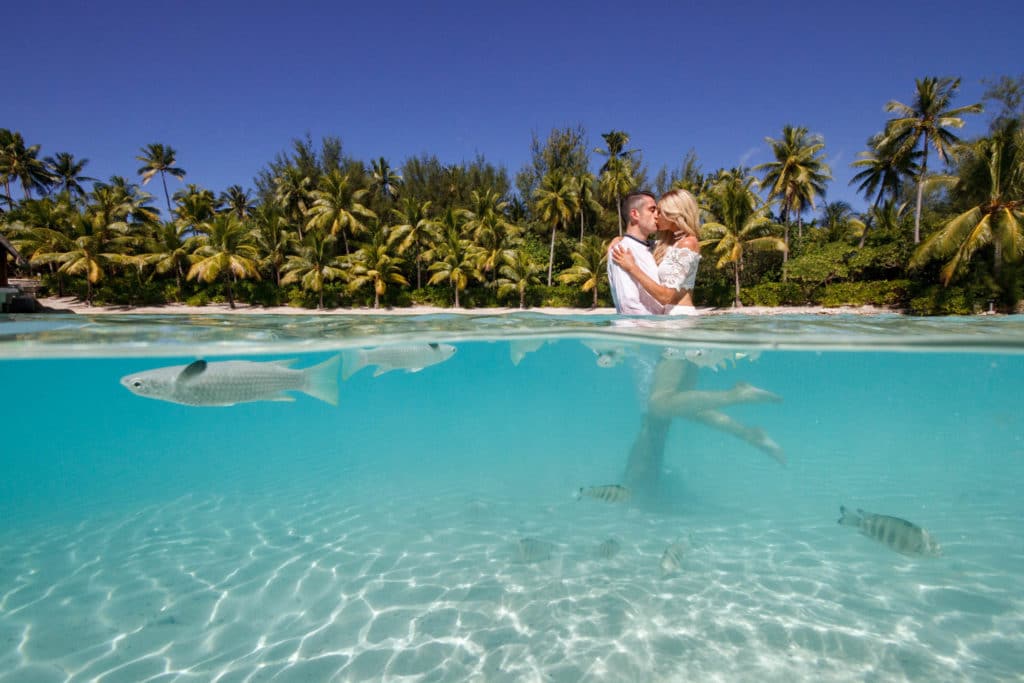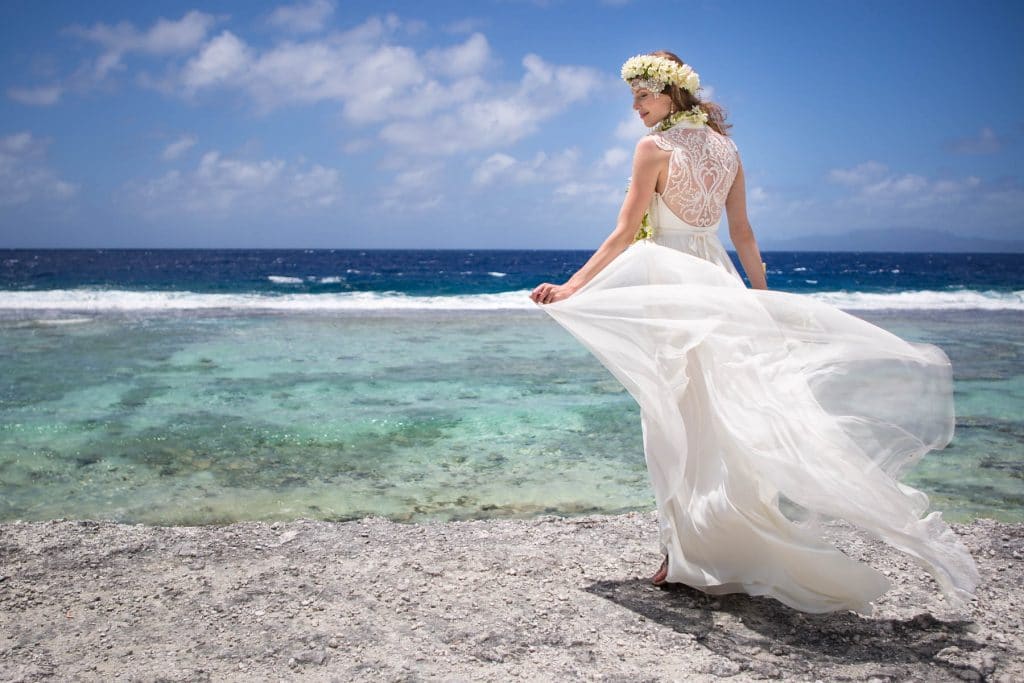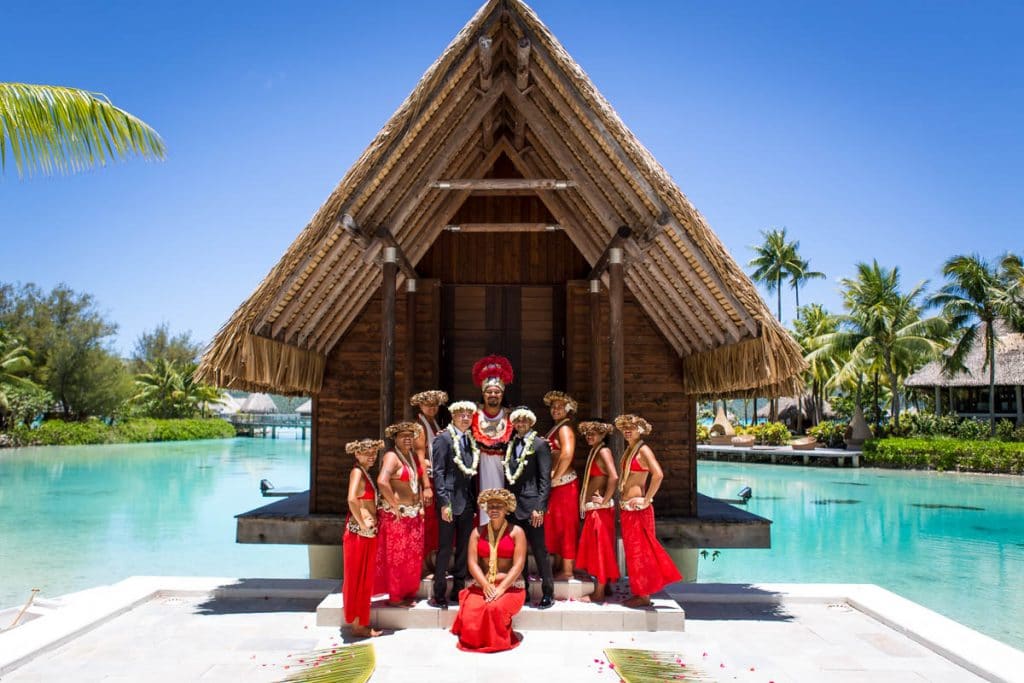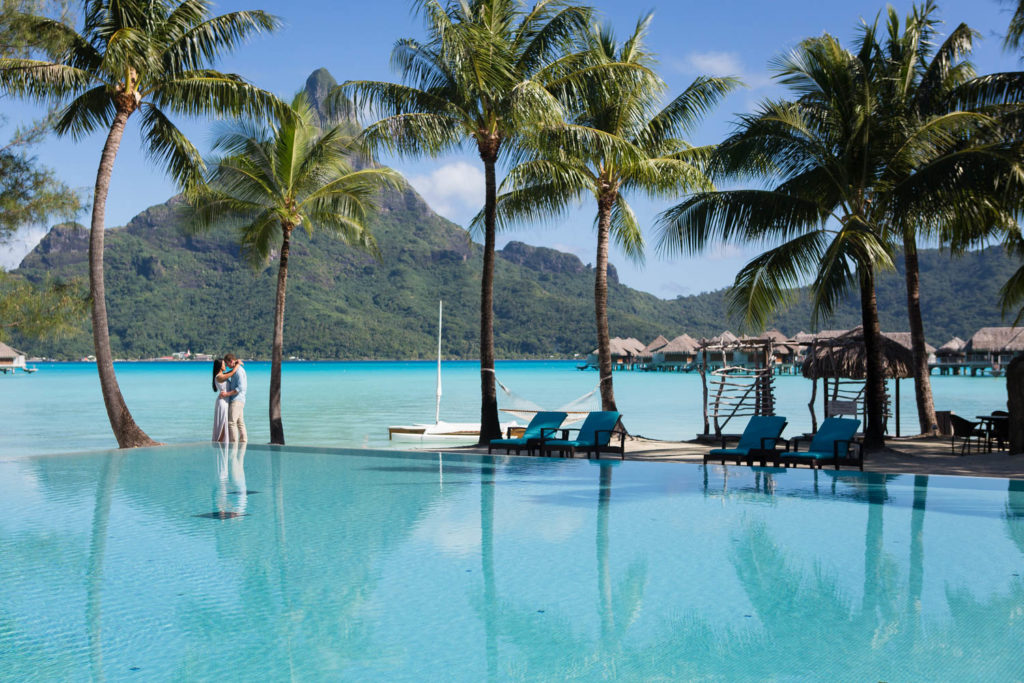 INTERCONTINENTAL BORA BORA LE MOANA RESORT
Intercontinental Le Moana resort is located on the southernmost point of the main island of Bora Bora. 64 stylish overwater bungalows stretch out over the lagoon, with the peaks of Otemanu and Pahia rising up in the distance.
Le Moana offers pristine turquoise waters and lots of coral heads to explore and a swimming pool with a little cascade on it.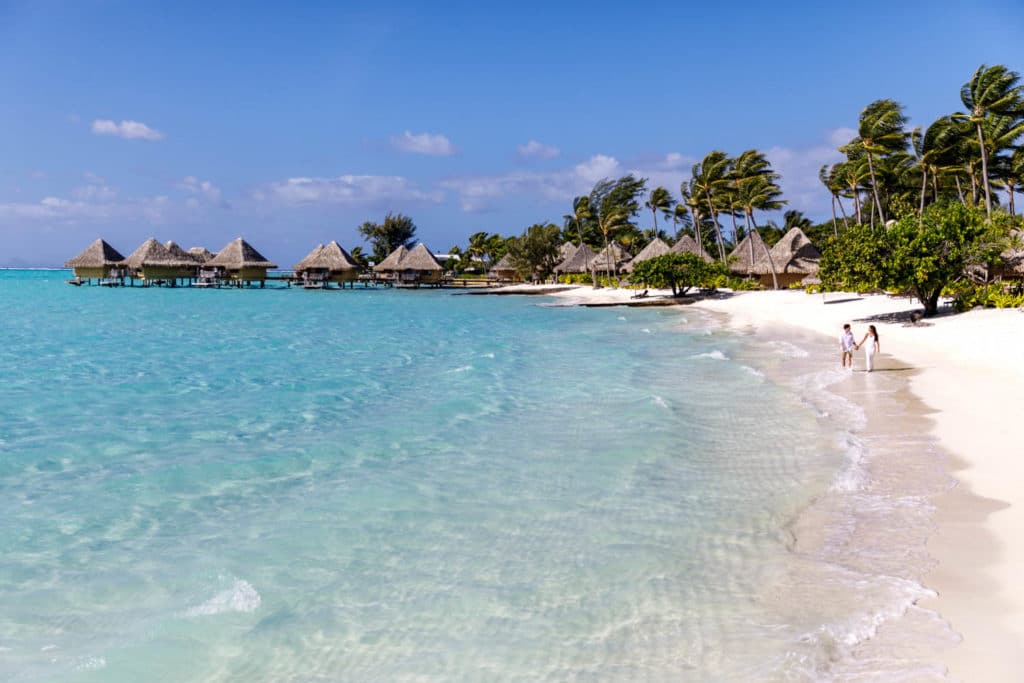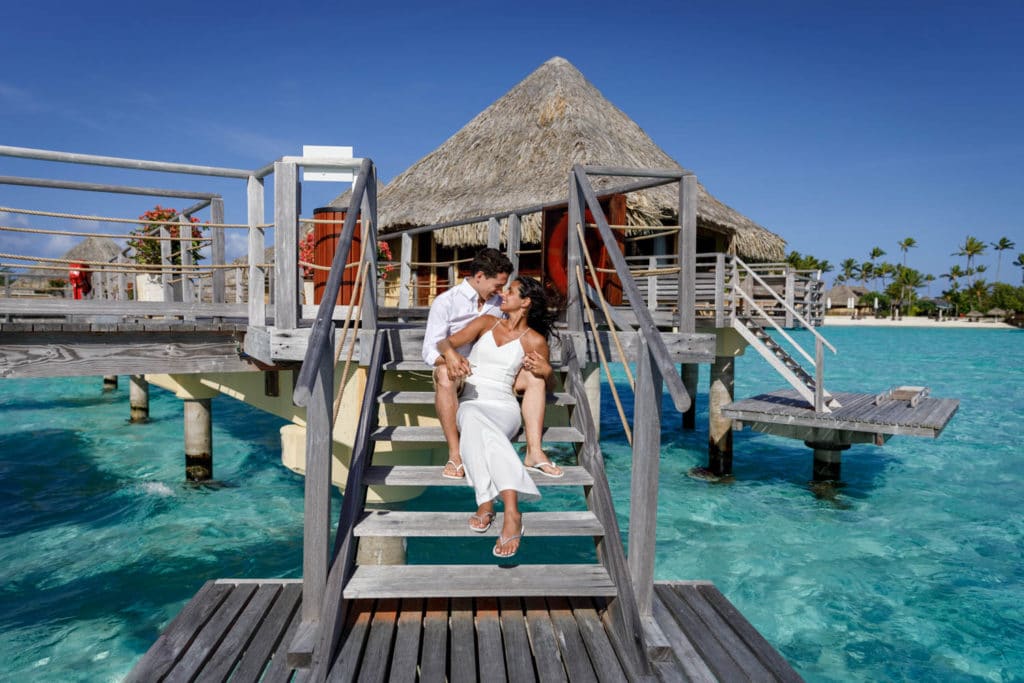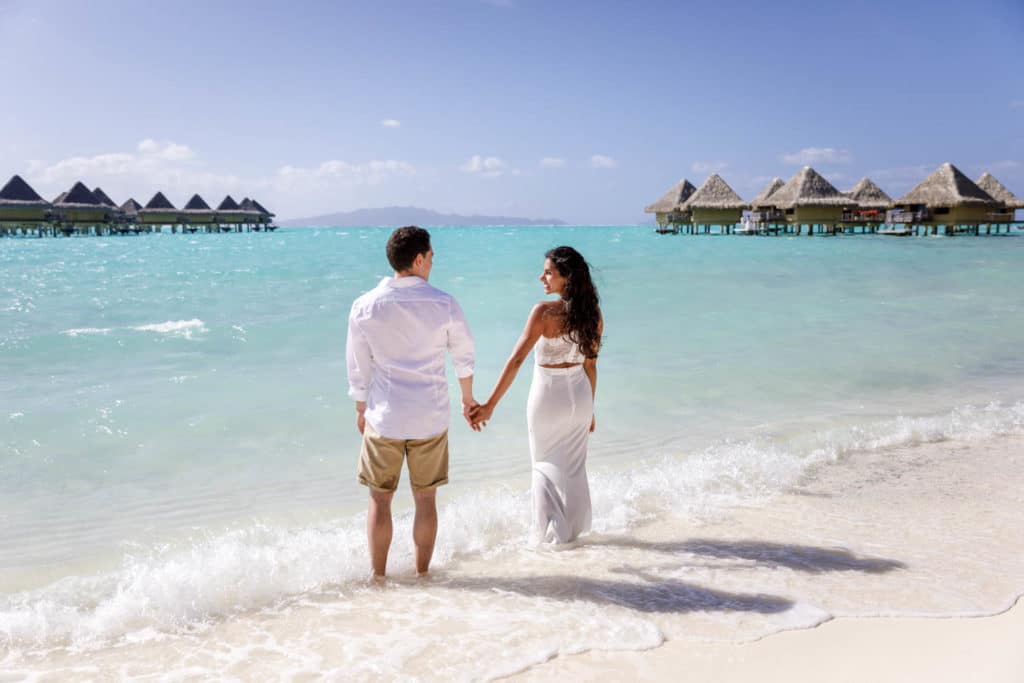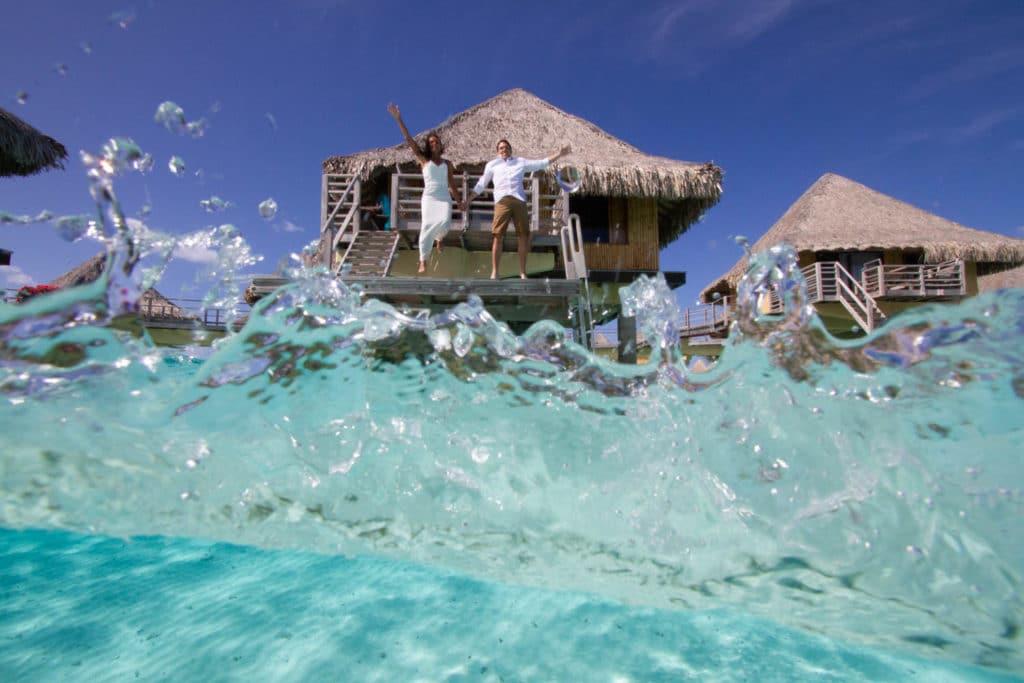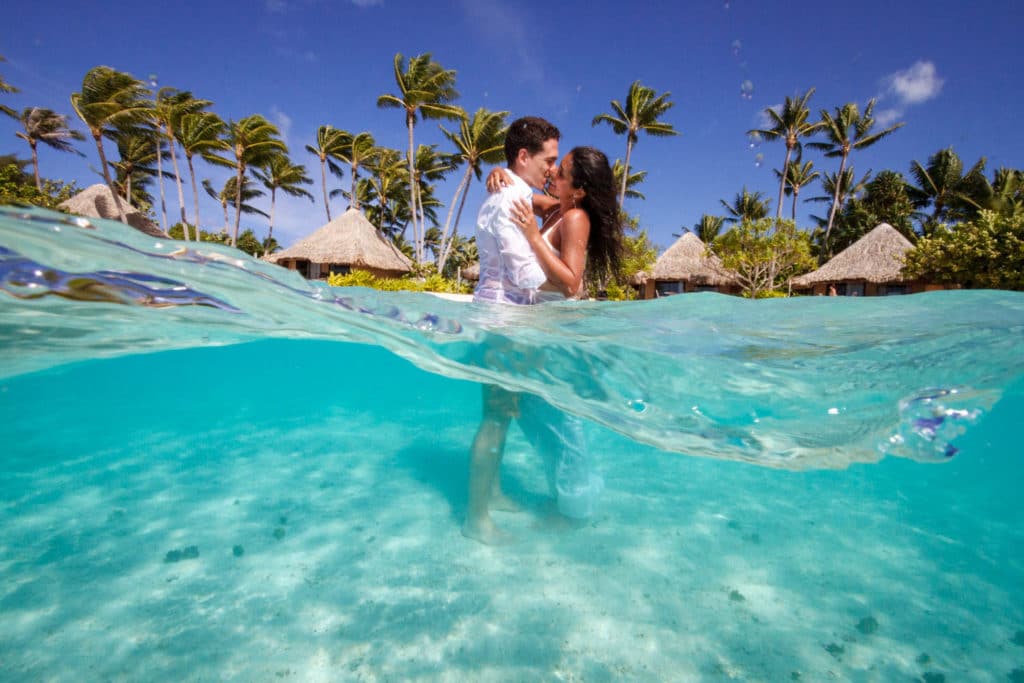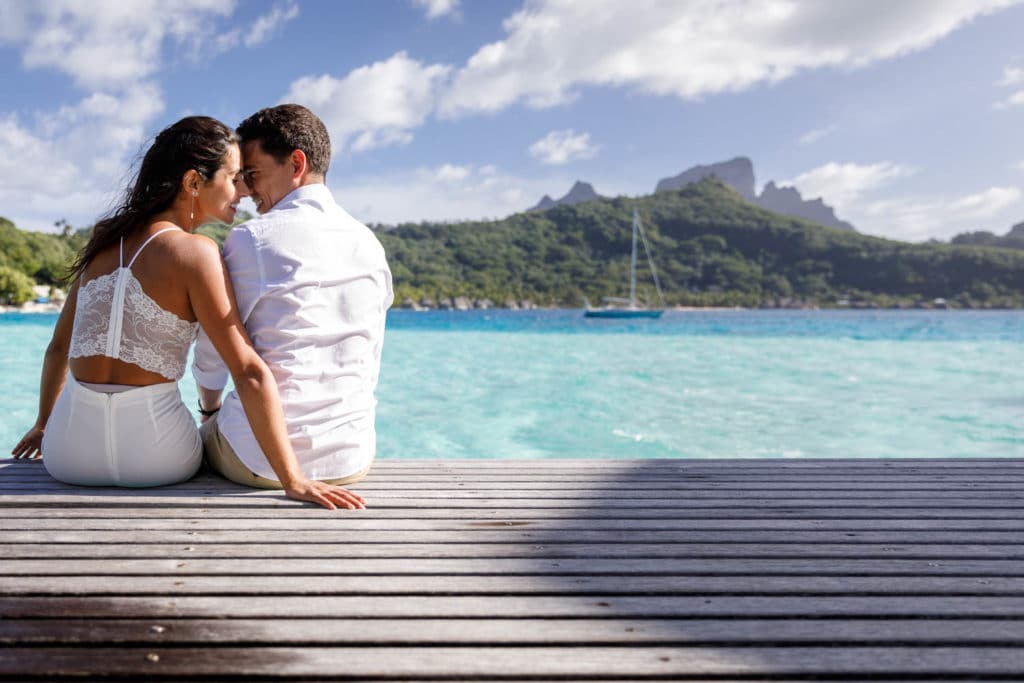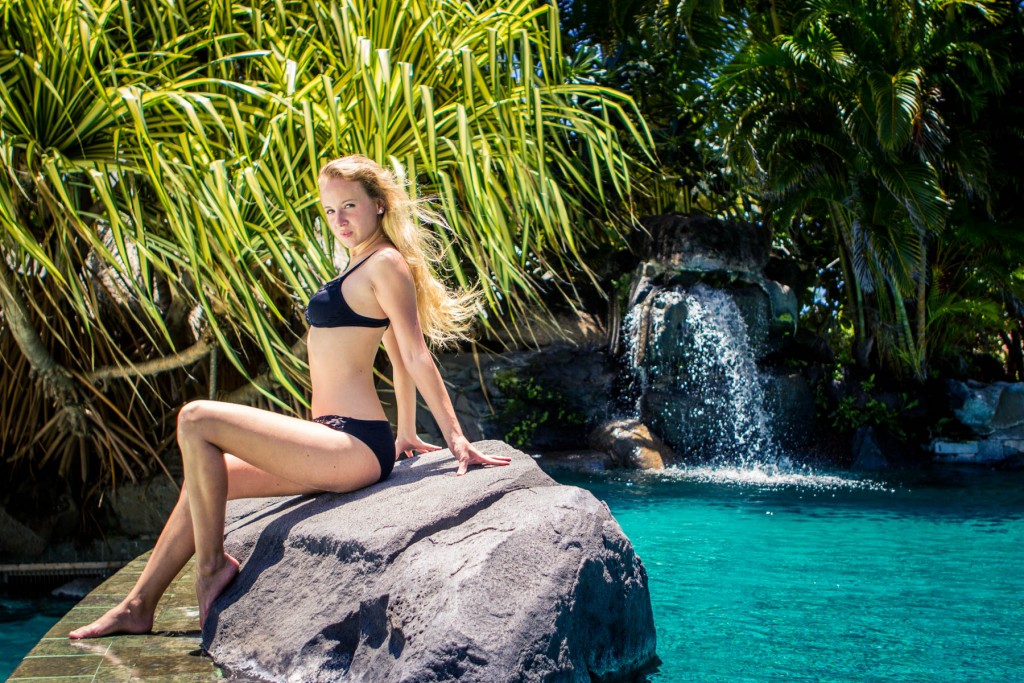 BORA BORA PEARL BEACH RESORT & SPA
Located on Motu Tevairoa, The Bora Bora Pearl Beach resort has an authentic Polynesian style and architecture and offers 80 rooms and villas nestled in a beautiful tropical garden, on the beach or suspended above the dazzling lagoon.
The "Tavai Spa" set amid blooming lily ponds. Also has a resident tattoo artist offering the ultimate traditional Polynesian body treatment.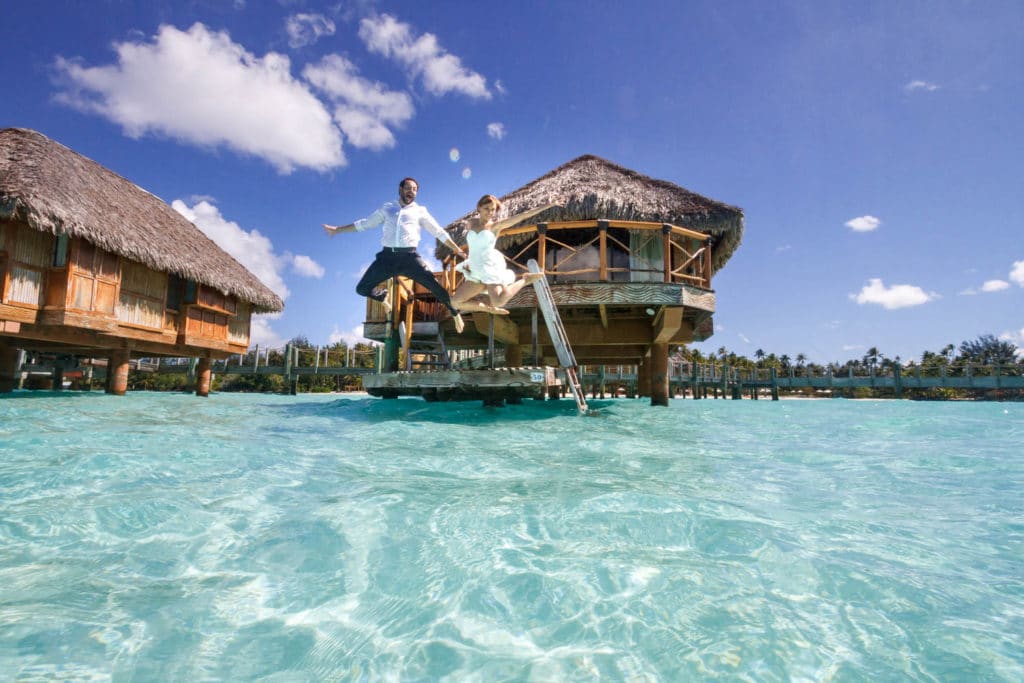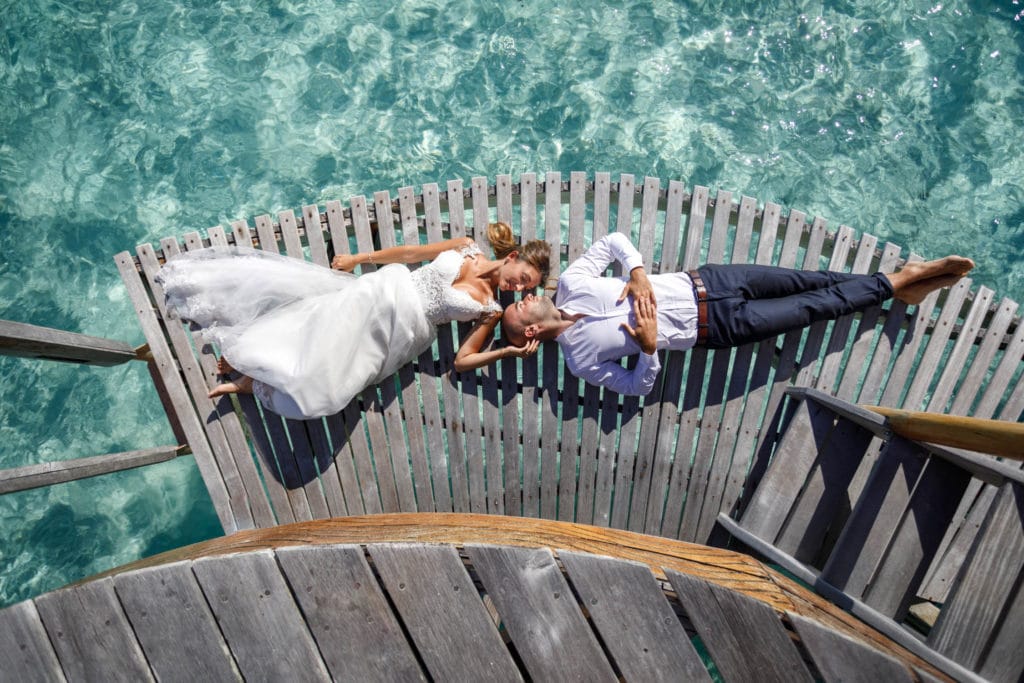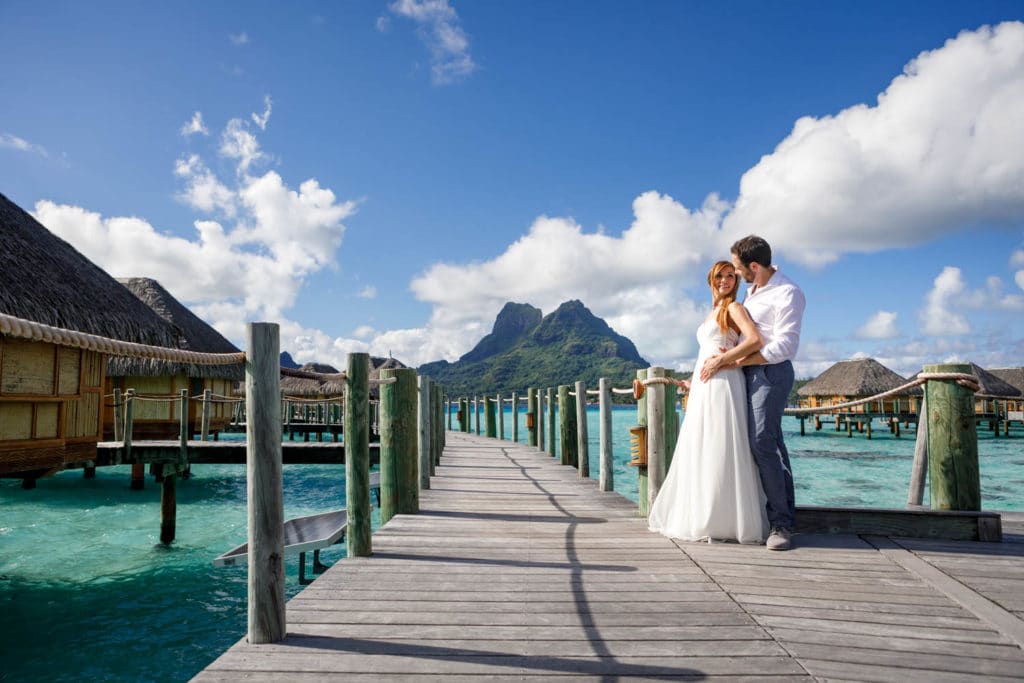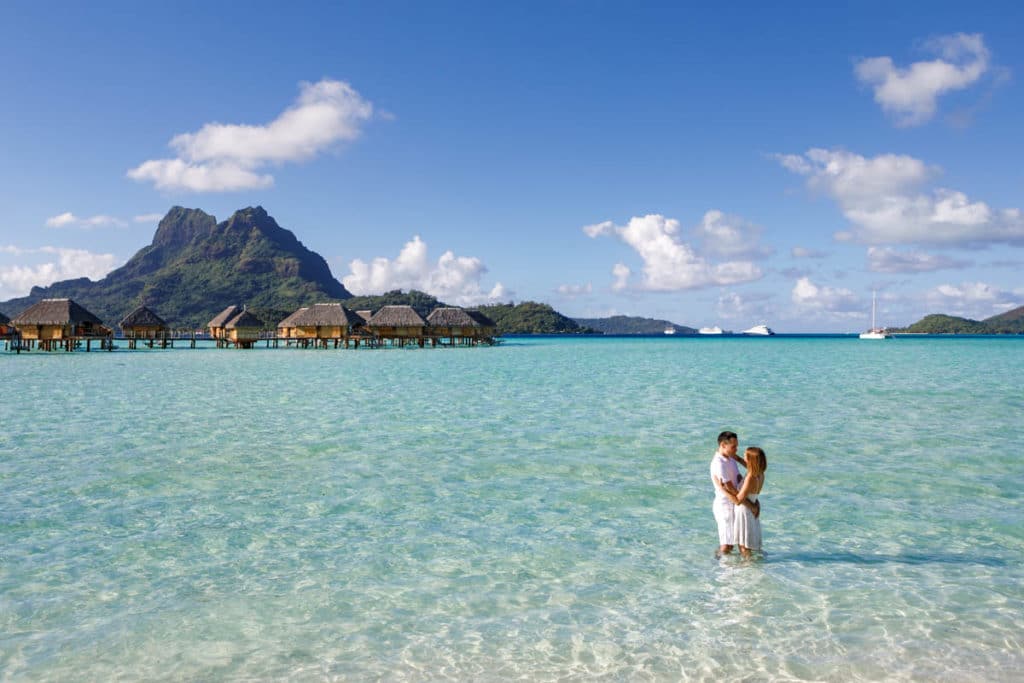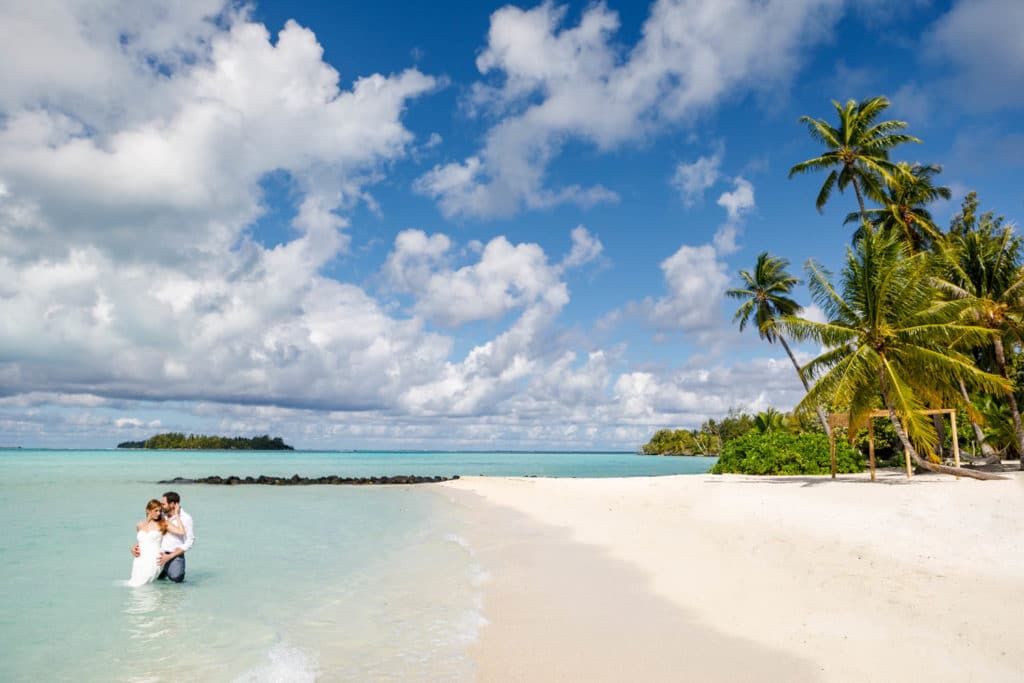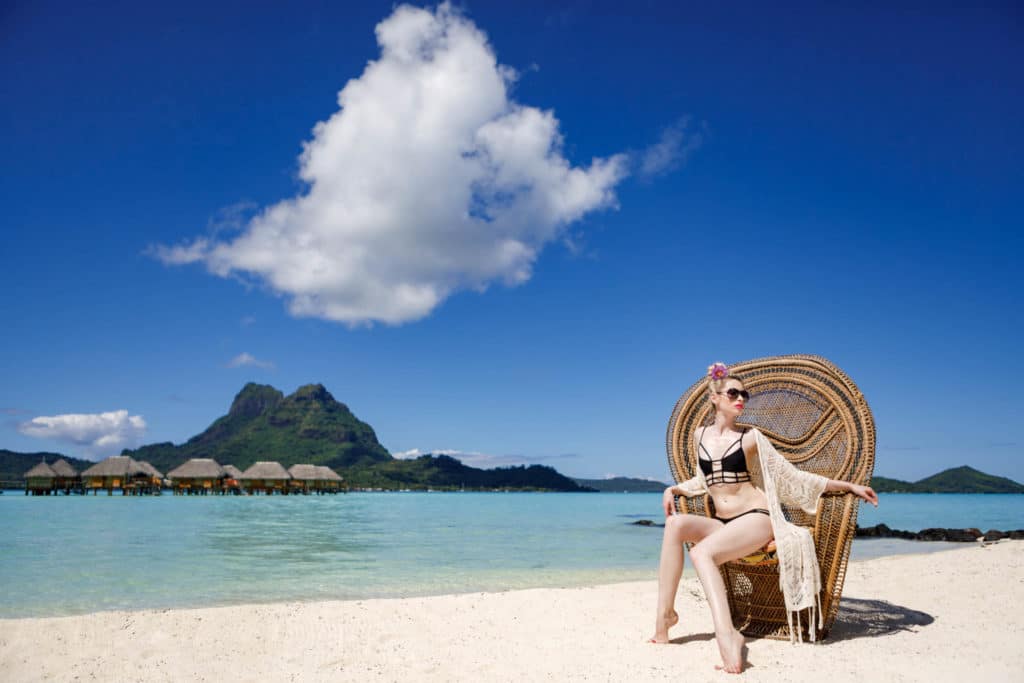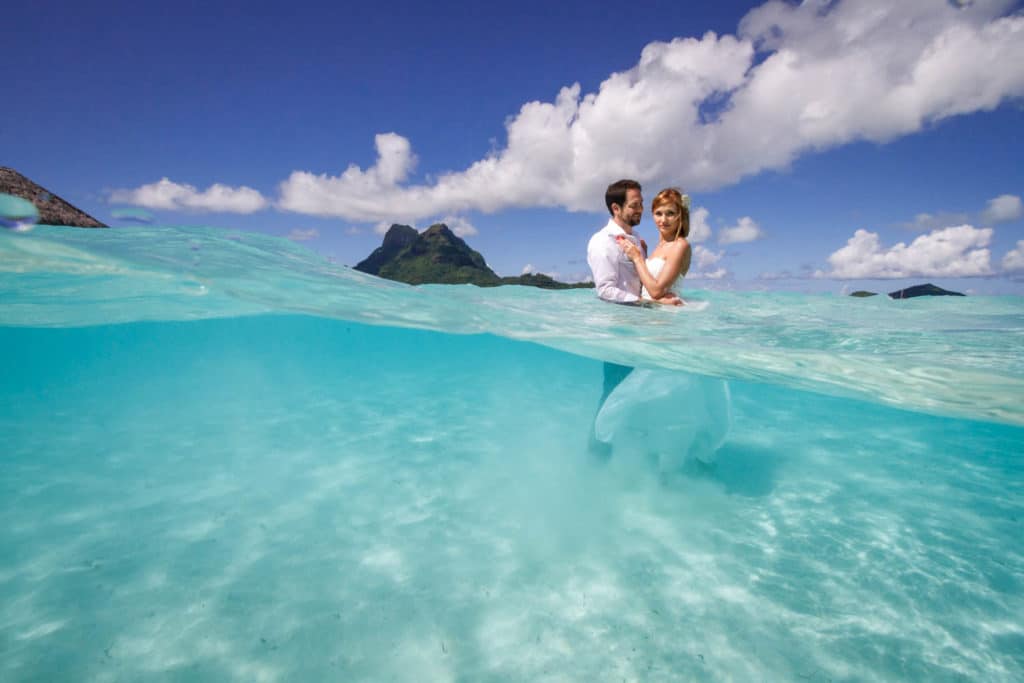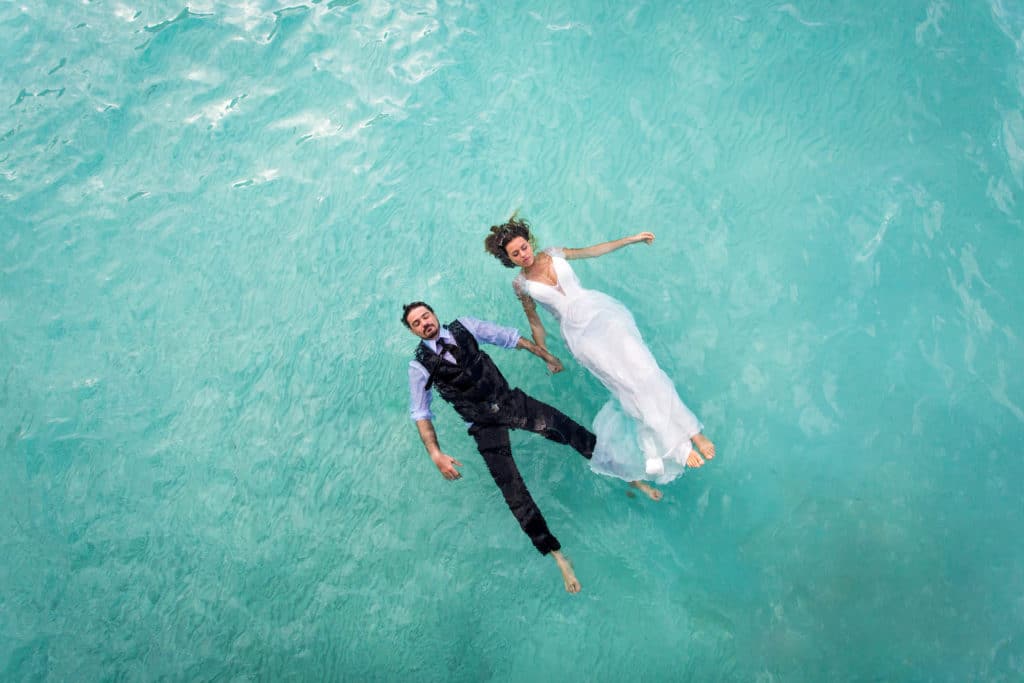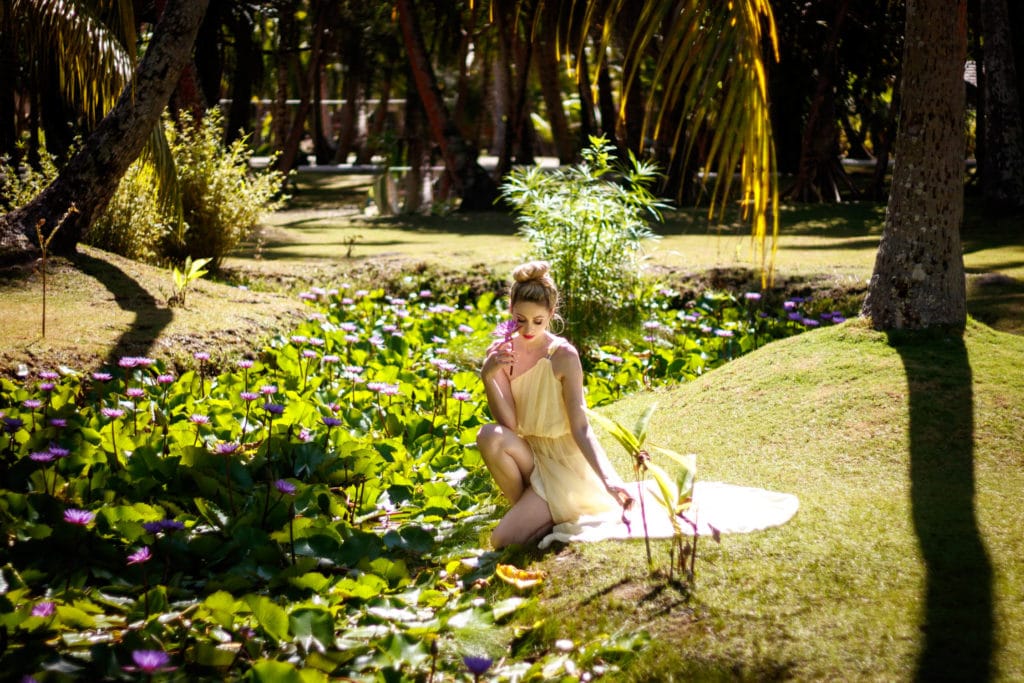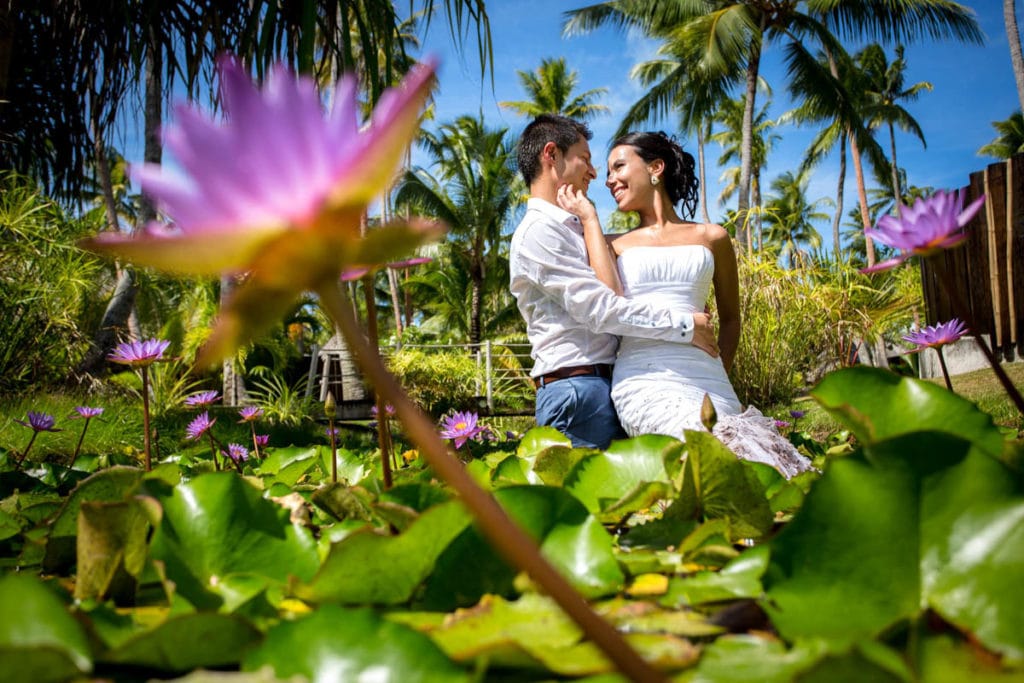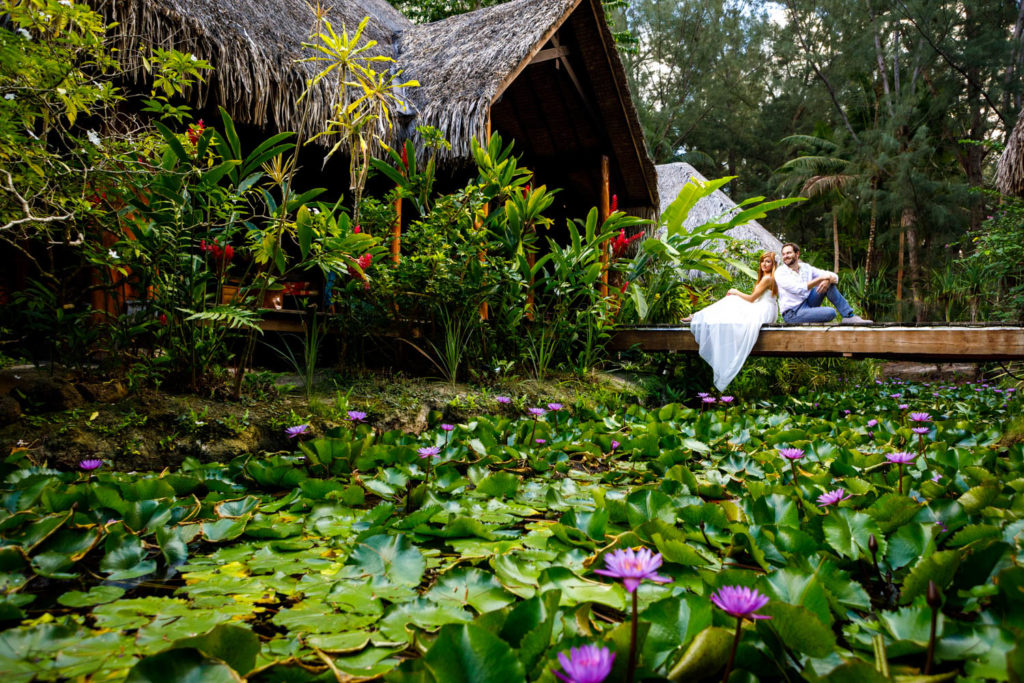 CONRAD BORA BORA NUI RESORT
Welcome to Conrad Bora Bora Nui Resort, located on the private island Motu To'opua, just southwest of the main Bora Bora island .
Conrad has the longest private stretch of soft white sand beaches. Fully renovated, offers a variety of accommodations alongside 114 land and overwater rooms.
Features an impressive infinity pool. On the hilltop you will find the Chapel and the Hina Spa, offering breathtaking views to the lagoon.
For a truly unique experience, you can spend a day in their private islet Motu Tapu. It was the private beach of Polynesian Queen Pomare IV, who reigned between 1827 and 1877. She held exclusive receptions and parties on the islet, where access was "Tapu"—forbidden, sacred, by invitation only, thus the name Motu Tapu has carried over to this day.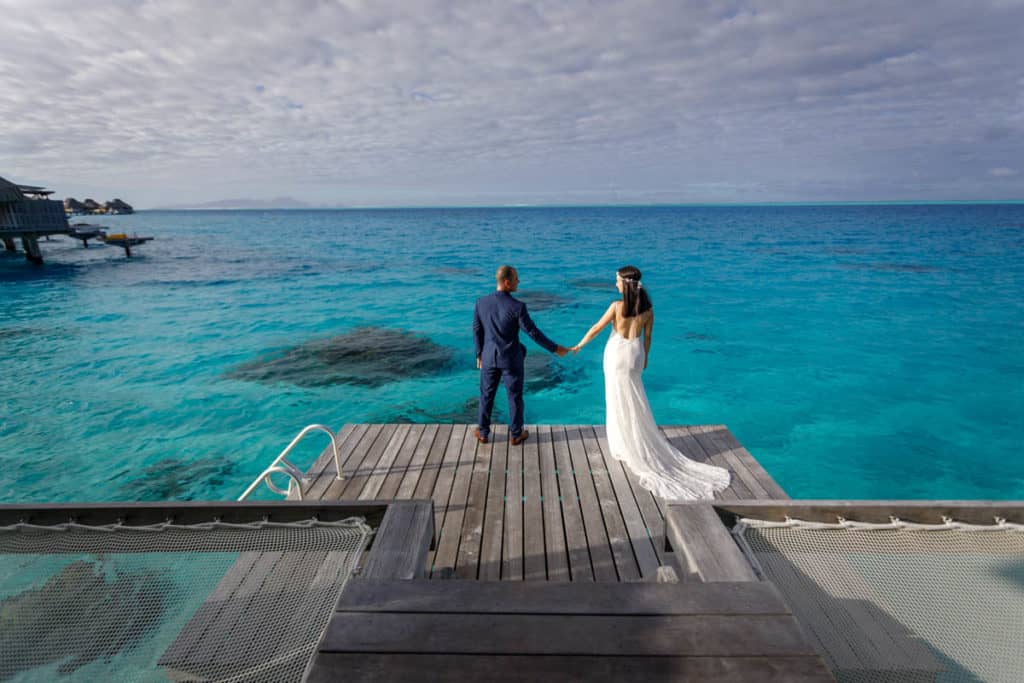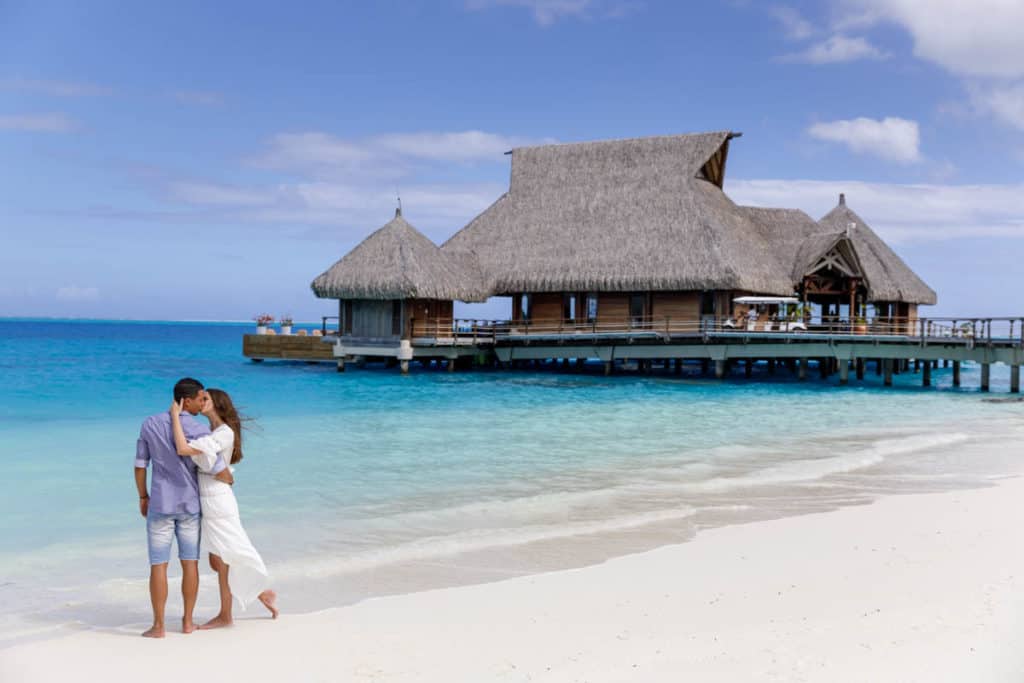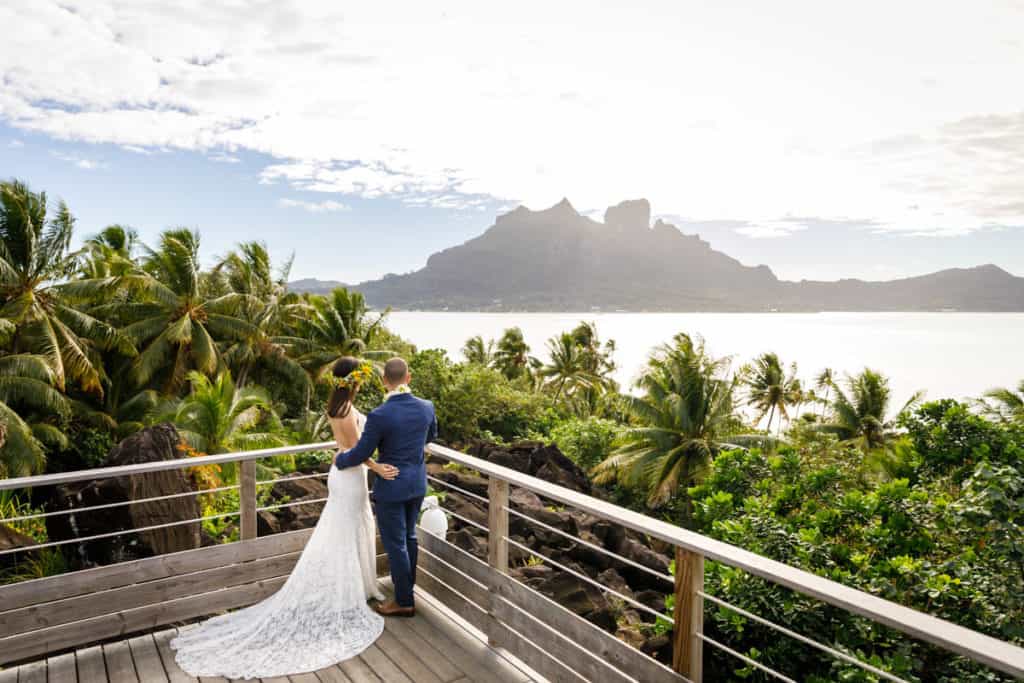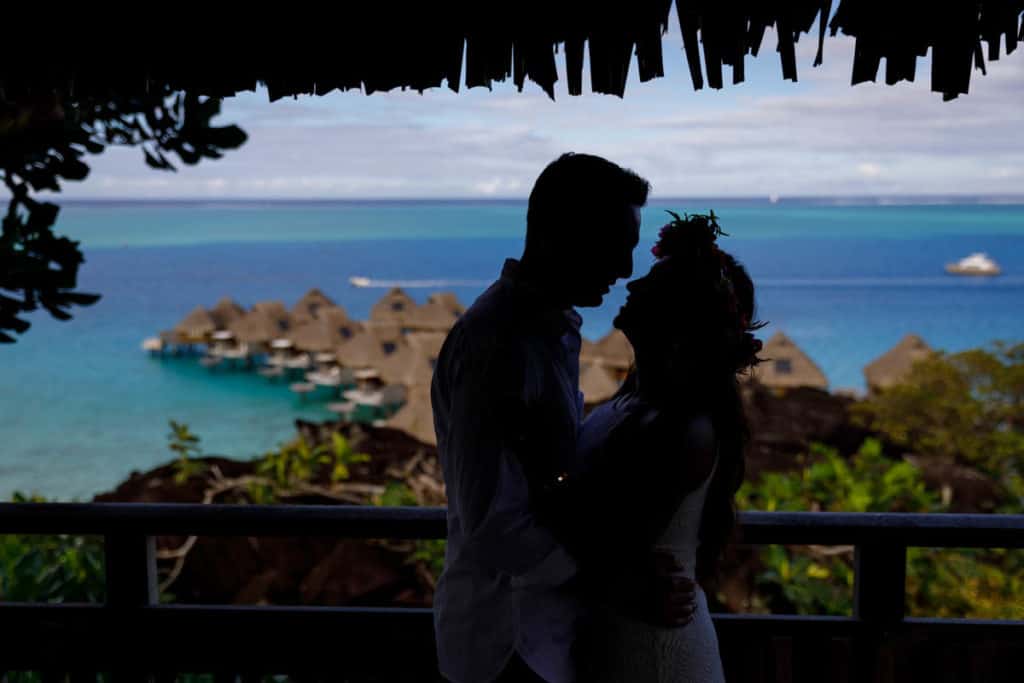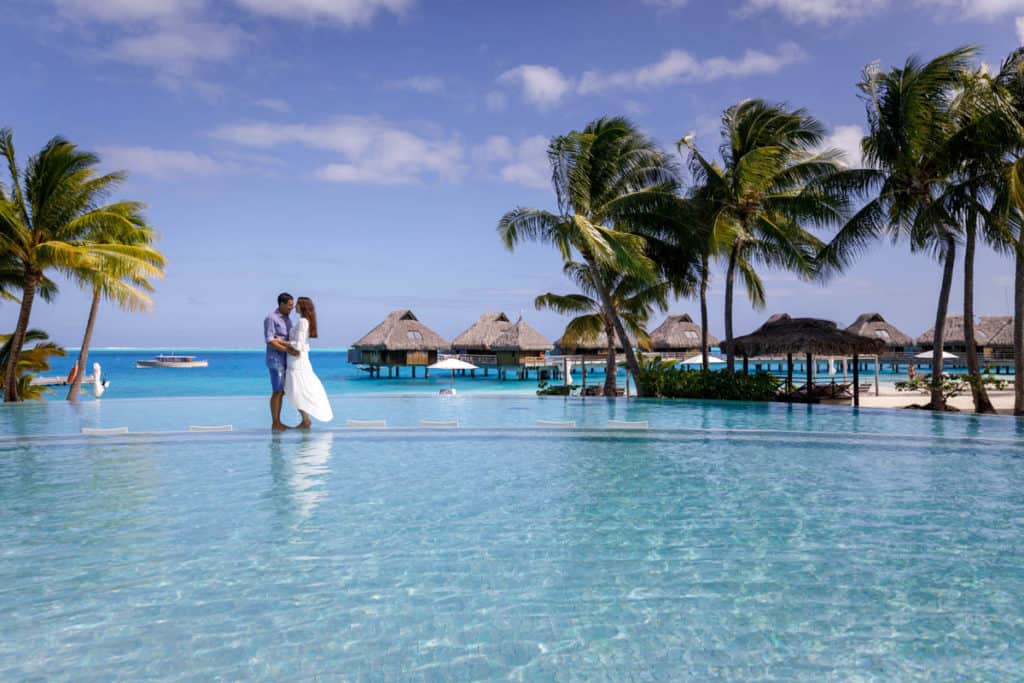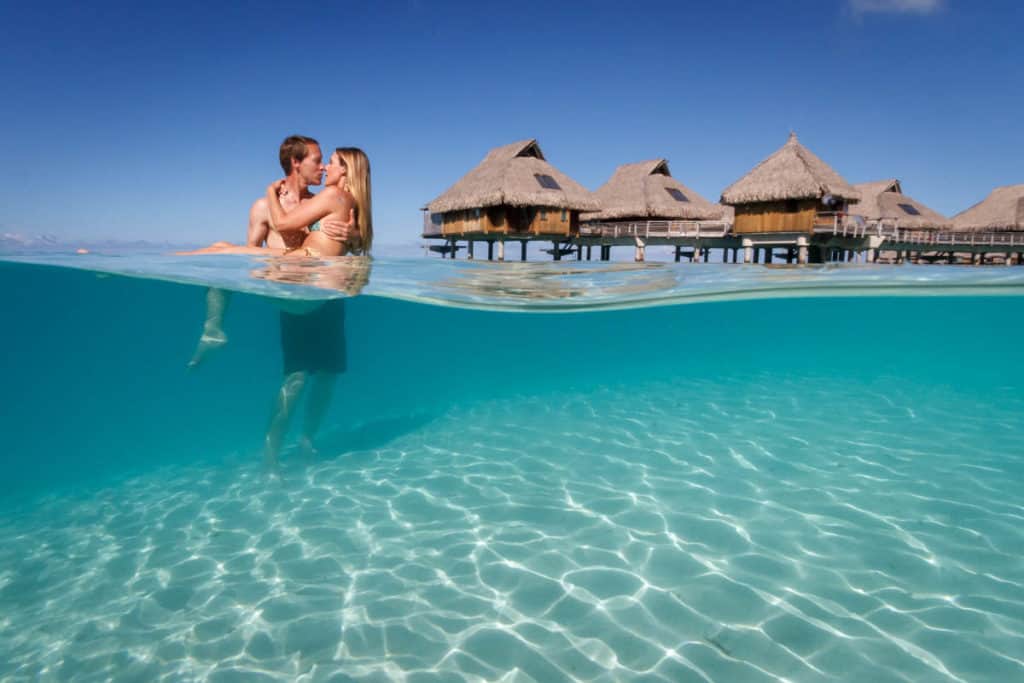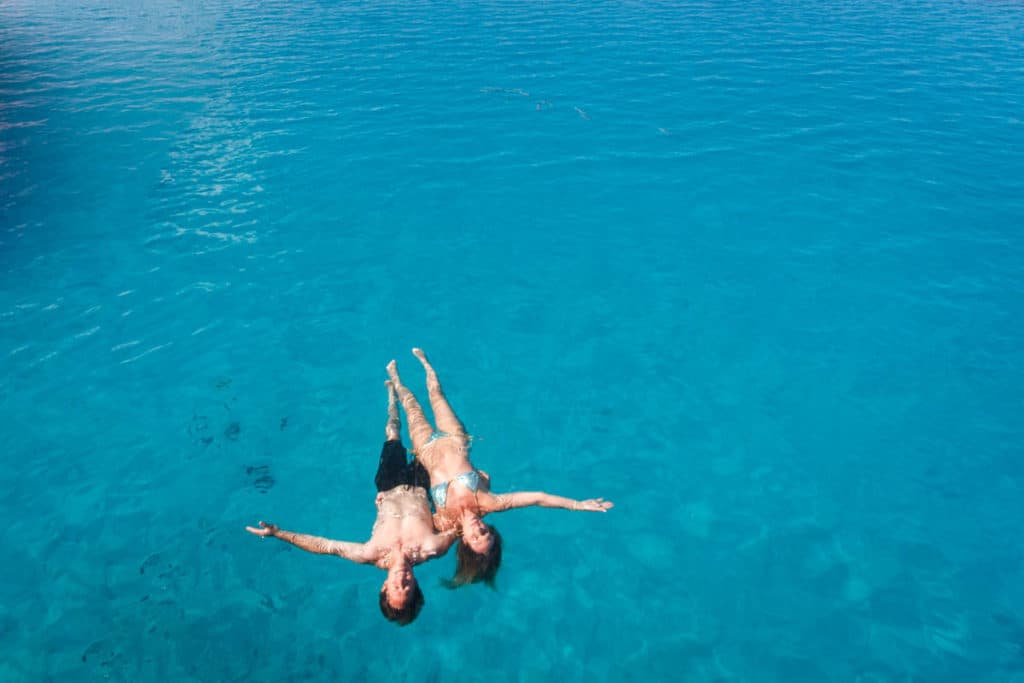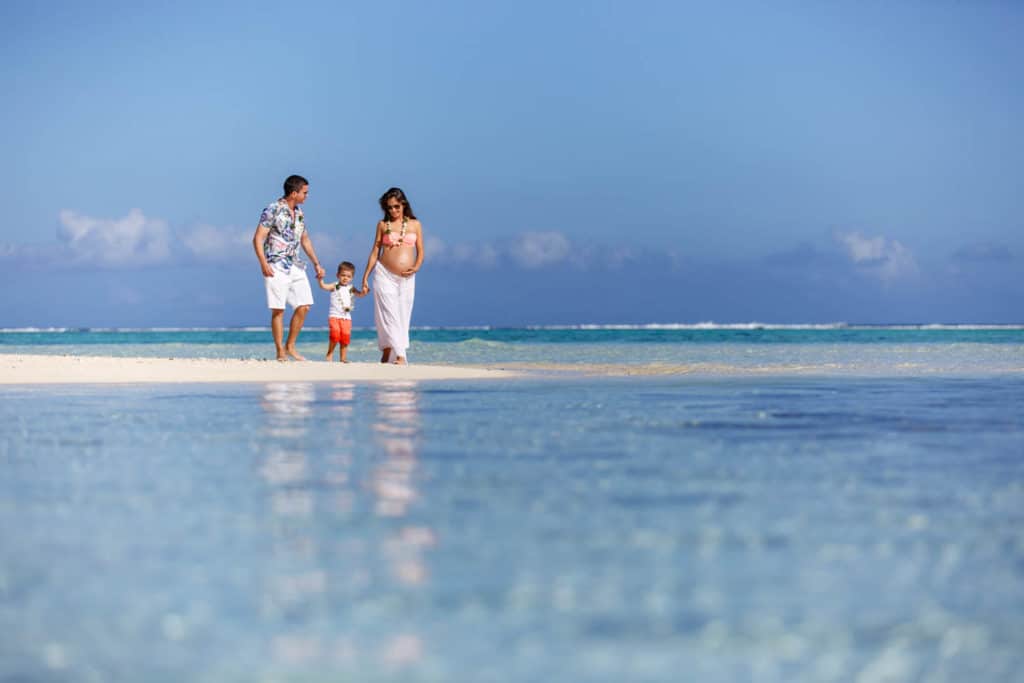 LE MERIDIEN
Le Méridien Bora Bora resort is located on a six mile long motu islet, on the southern point of Motu Piti Aau, facing Otemanu Mountain, features one of the finest beaches in the South Pacific, two infinity swimming pools and an inside lagoon.
The hotel has 99 bungalows, from those 85 overwater bungalows have a large glass floor for stunning views of marine life.
Located in the inner lagoon facing the emblematic Mont Otemanu, the overwater chapel HERMITI offers a perfect place to say "yes"
The Turtle Sanctuary is a great opportunity to meet, greet and learn about marine turtles in their natural environment.