The best time for photography in Bora Bora is early morning (7:30 to 10 am) or before sunset (4 to 6 pm). Morning brings bright and vivid colours and sunset a romantic and soft light.
One thing I've learned after 8 years shooting outdoor in Bora Bora is that lighting can drastically make or break a session. Planning your session accordingly is critical to get the best of that beautiful natural light. Sunrise and Sunset are definitely the two best times, and you should avoid mid-day light. Bright morning landscapes or warm soft twilight? Learn about the pros and cons of each sessions and compare examples to hep you decide.
Morning Photography in Bora Bora
Bora Bora, the Pearl of the Pacific, is famous worldwide for its most beautiful lagoon and its vast spectrum of blues. Almost indescribable, the color of the water scintillates with the brightest shades of blue, from cyan to turquoise, passing through emerald green to dark sapphire.
If you want your pictures in Bora Bora to capture the beauty of the lagoon, and the magnificent mount Otemanu in the background, the best time would be very early in the morning (around 7 to 9 am).
That implies having to go out at times when you'd rather be curled up in bed, but it's worth the effort.
As an added benefit, there are generally fewer people around than there are at other times of the day, giving you a chance to capture your images in relative peace.
I totally discourage people to shoot in midday (from 10am to 2pm), the sun is way too harsh, not flattering, it will get too hot so you will be sweating a lot and most importantly, you won't be able to open your eyes.
Long shots during the morning: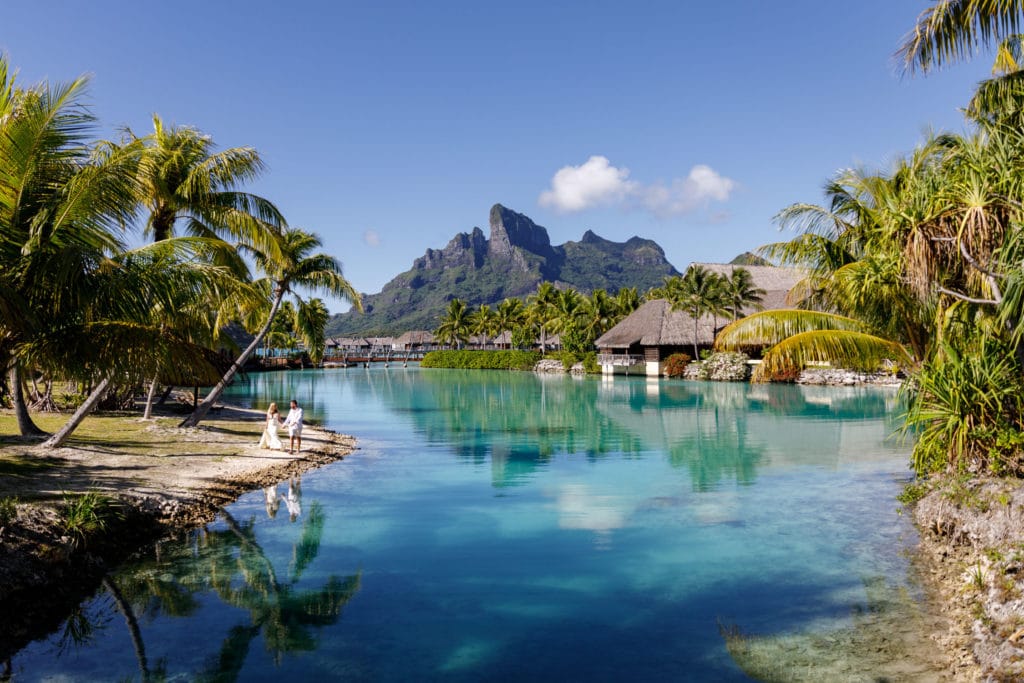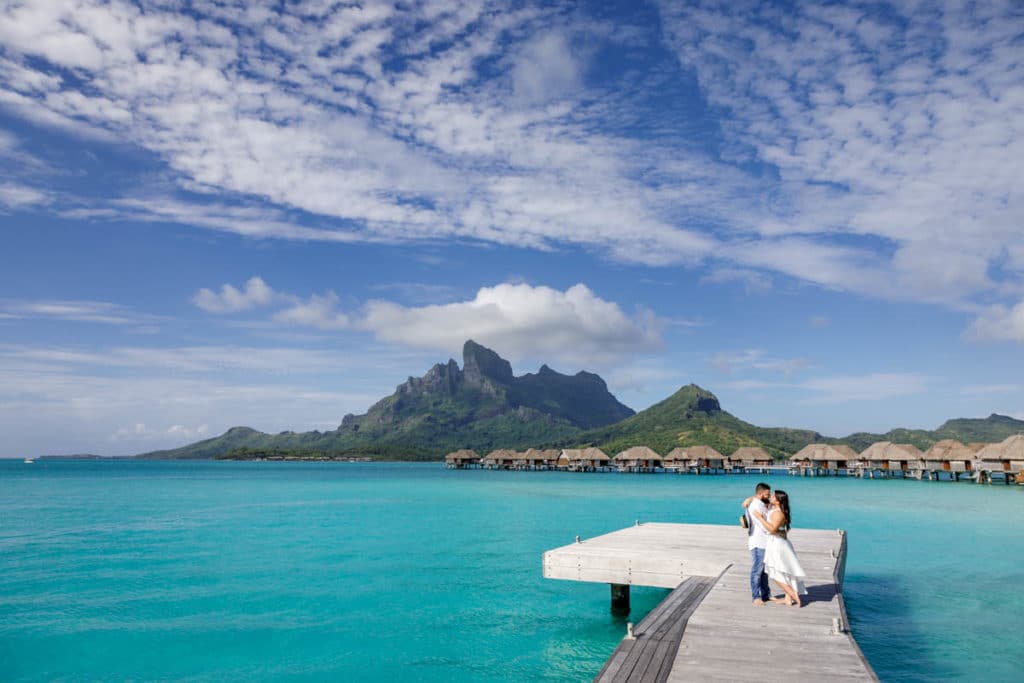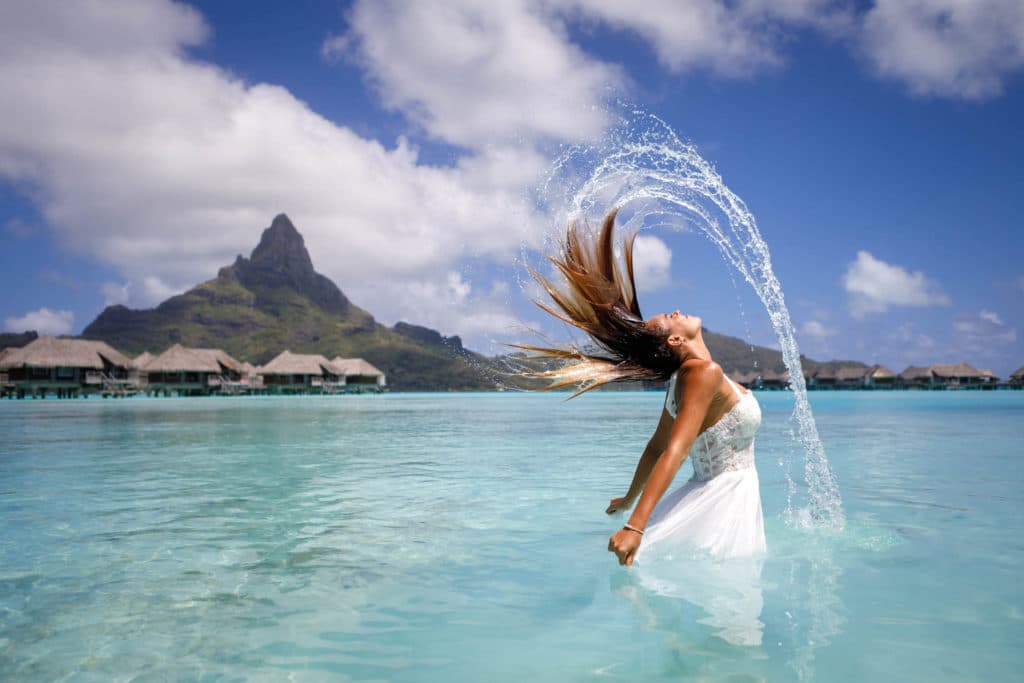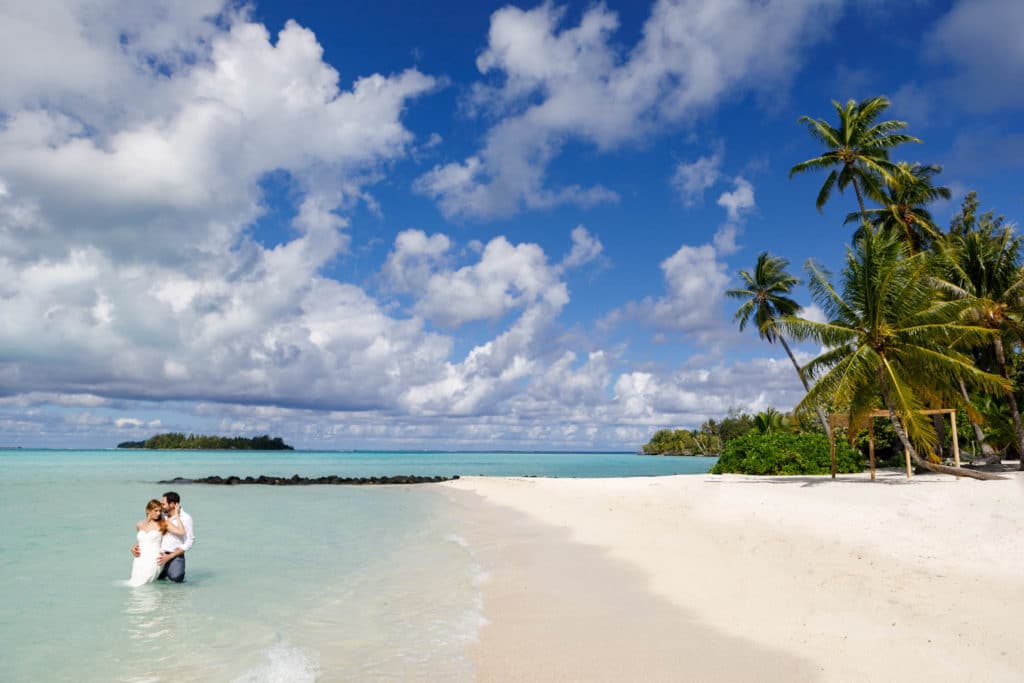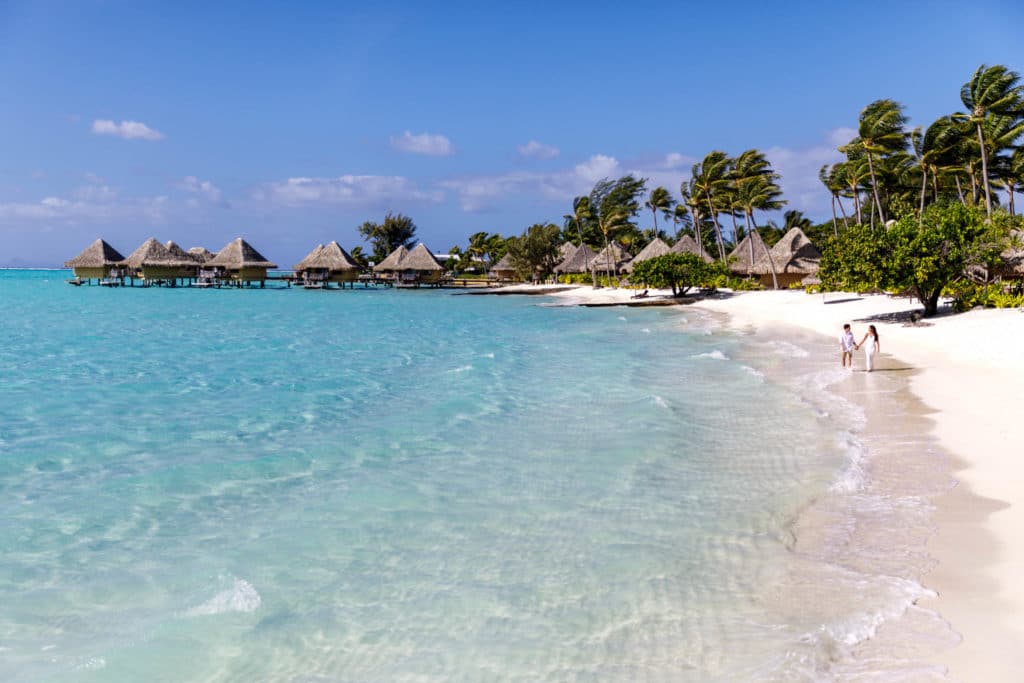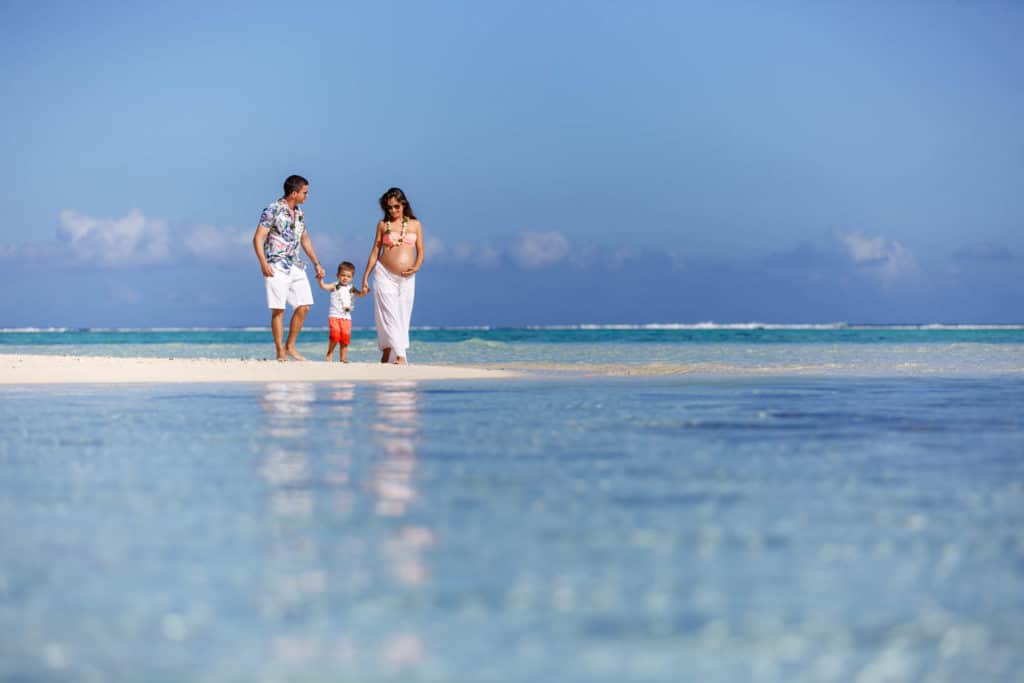 Medium shots in the morning: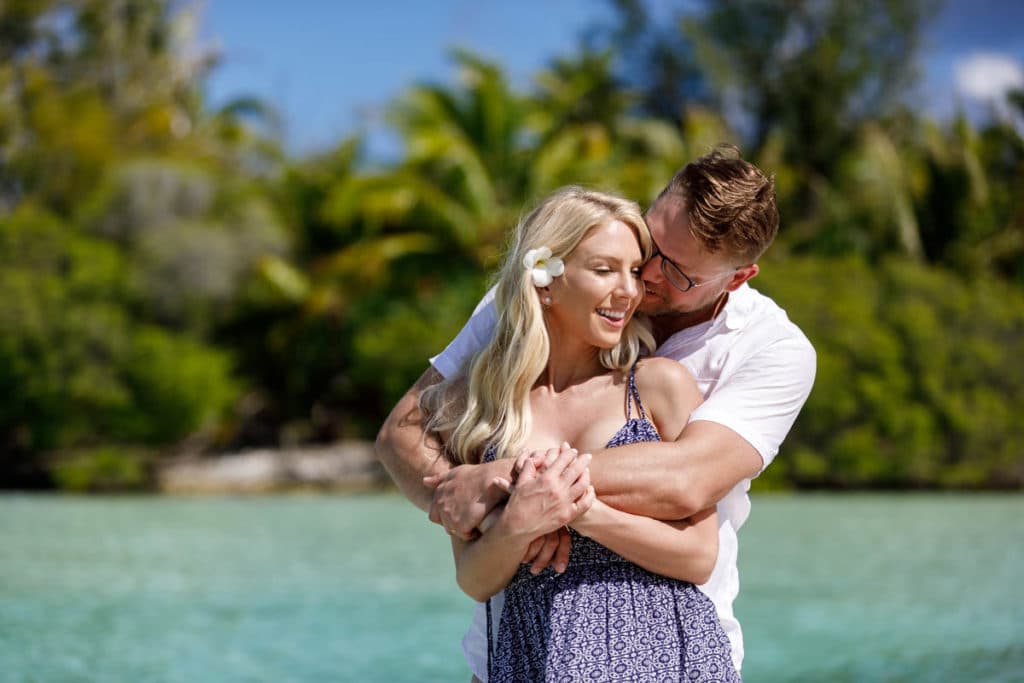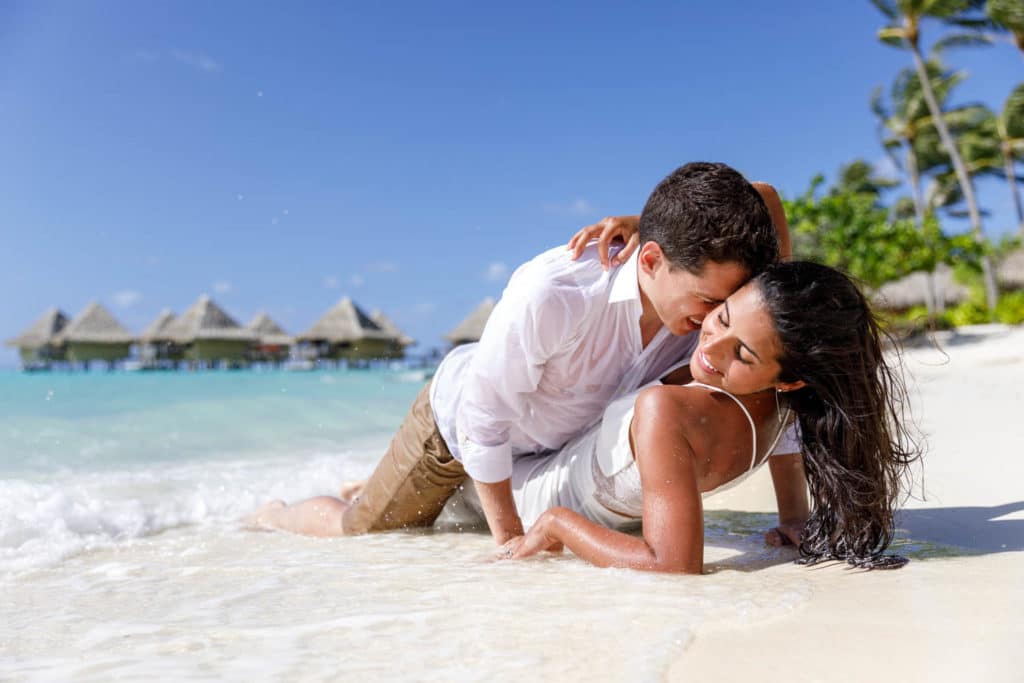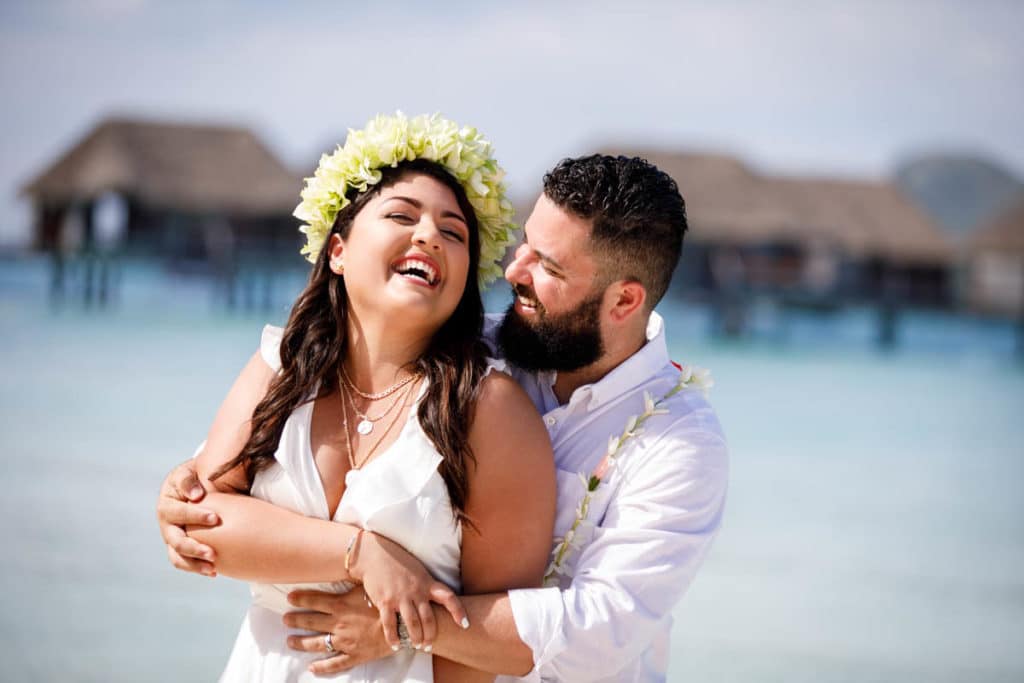 Sunset photography
If you are not a morning person, or you wish you have your hair and make up done for your photo shooting in Bora Bora, the afternoon is your best choice (from 3 to 6 pm). This light is softer and more flattering for the subject. Also, if you eyes are very sensitive to strong light, it will be easier for you to open them. The warm glow and the golden hour adds a pleasing feel to the scene, making the picture more dreamy and romantic. As an added benefit, you can have the sweet light of the blue hour and silhouettes sunset pictures with the last rays of the day.
What is the Golden Hour?
The golden hour, sometimes called the "magic hour", is roughly the last hour of light before sunset, although the exact duration varies between seasons. During this time, the sun of Bora Bora is low in the sky, producing a soft, warm, diffused light which is much more flattering for photography than the harsh midday sun.
What is the Blue Hour?
Also known as "sweet light" starts roughly 10 to 15 minutes after the sun has set. The sky picks up a cool, crisp blue colour before it gets too dark or what we refer to as night. This light is almost ethereal, with a soft blue glow bathing the scene. The light is soft enough to emphasise most of the dark of the scene, and yet not so dark that it necessitates the use of additional light source. But whilst it's called the blue hour, it doesn't actually last an hour. In fact, on average it lasts around 20 to 40 minutes but can be even shorter. If the sky is overcast then the duration of Blue Hour will shorten and in some instances the clouds can be too dense to wash it out.
Long shots during the sunset: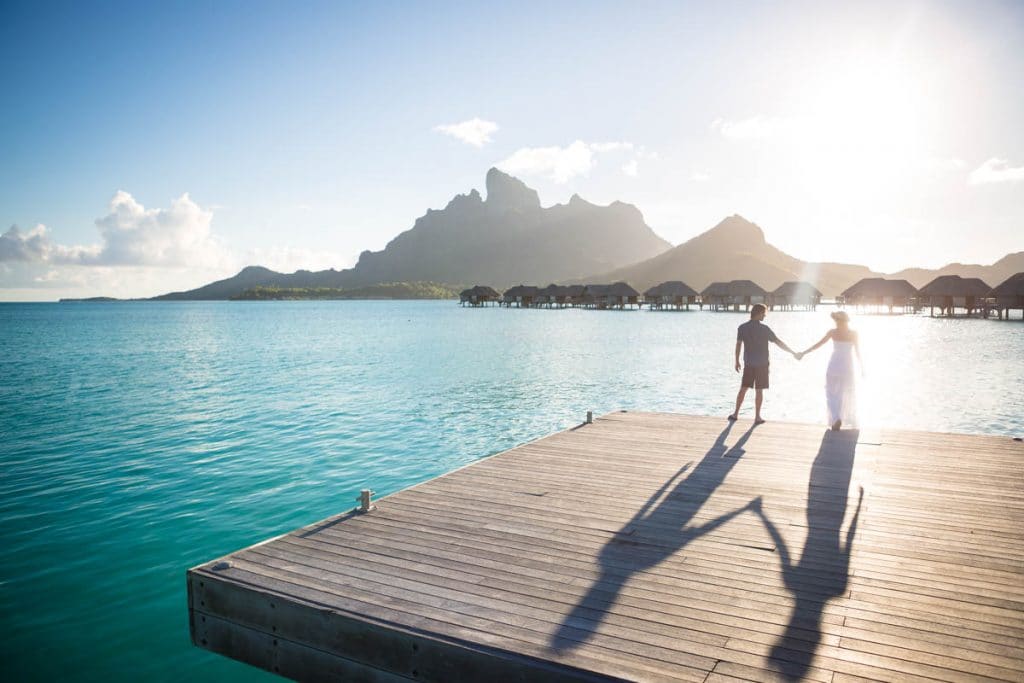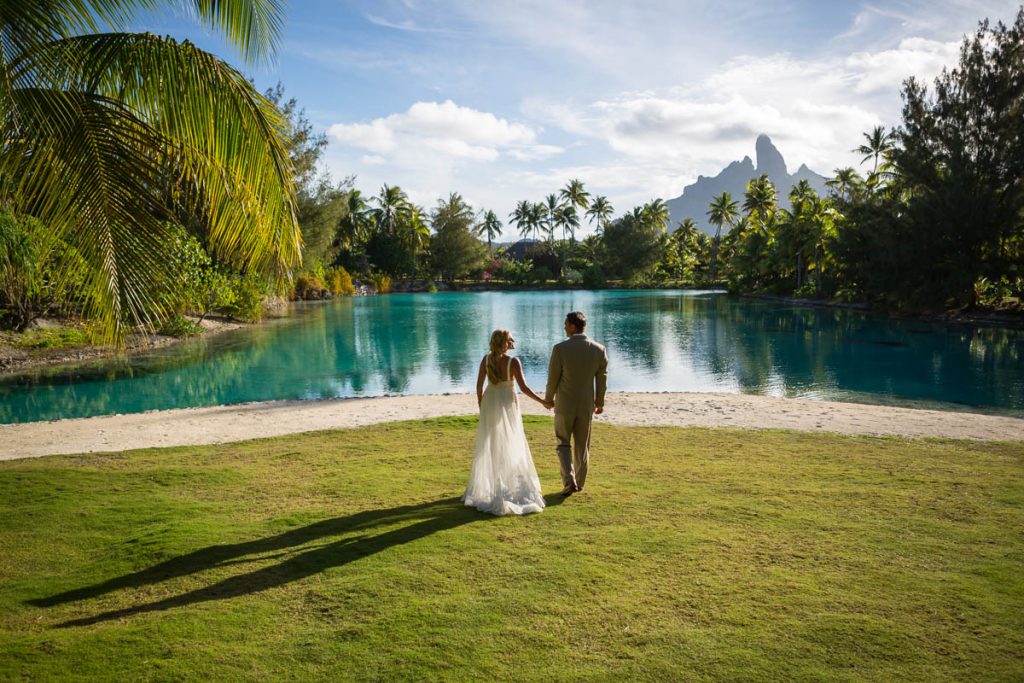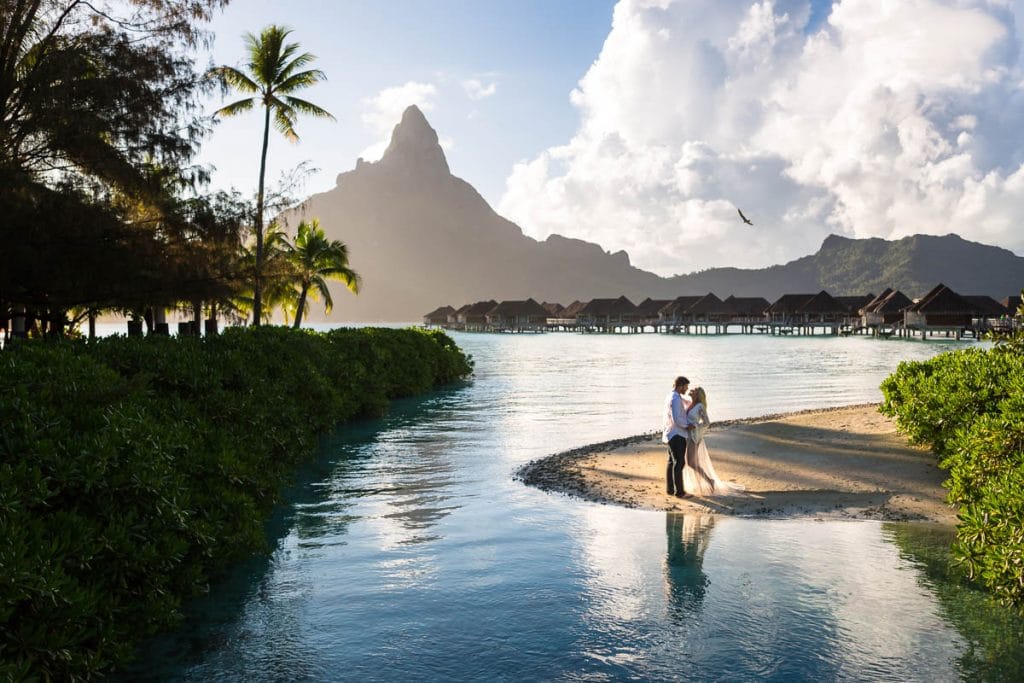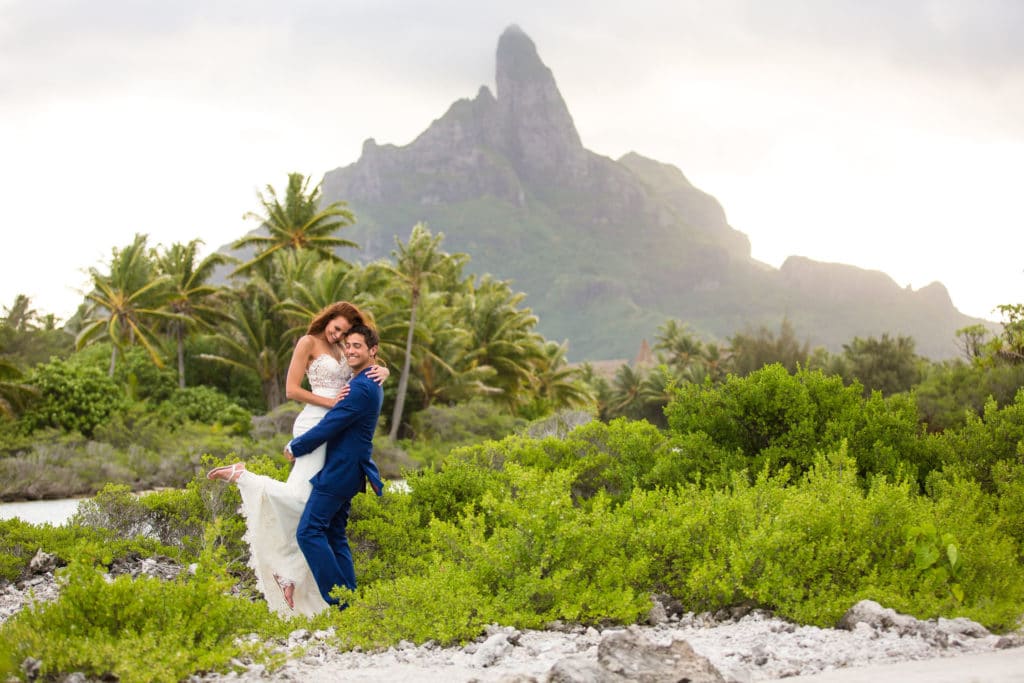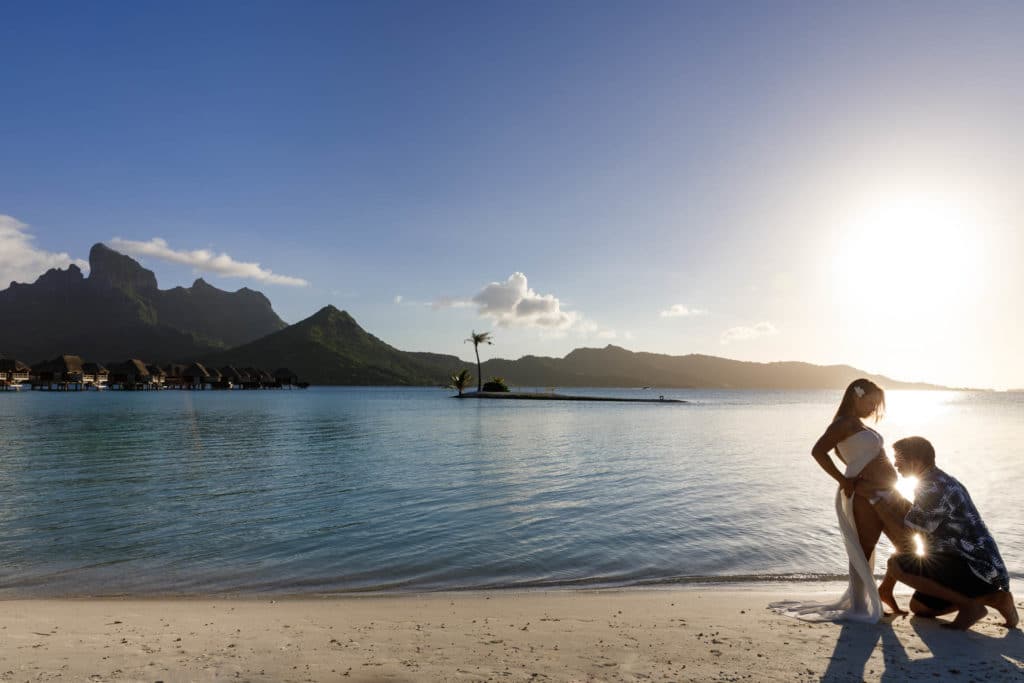 Medium shoots during the sunset: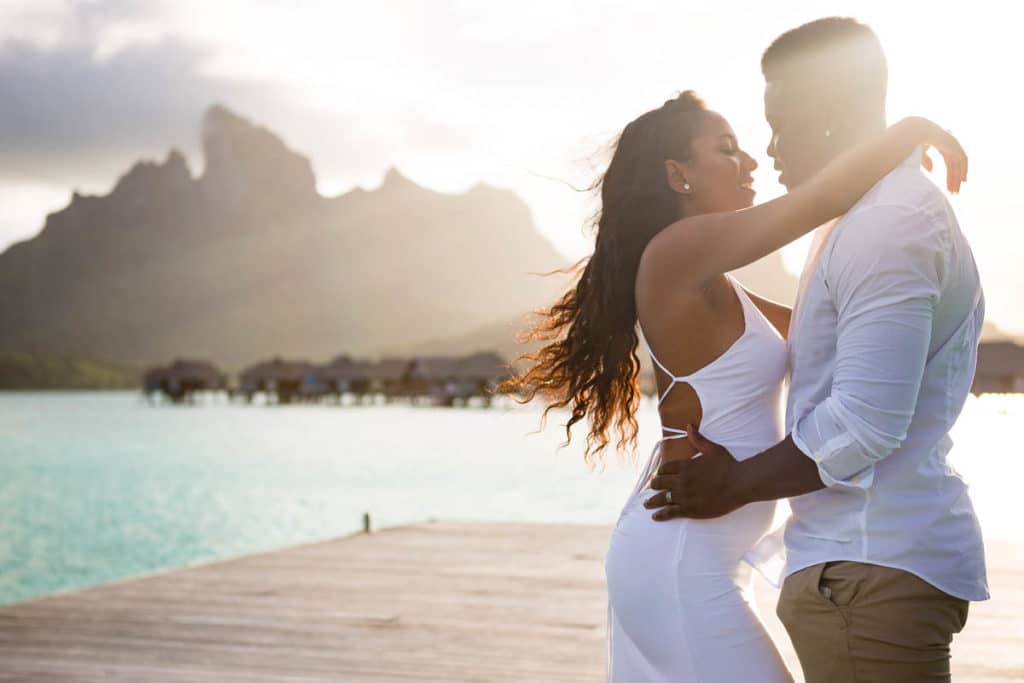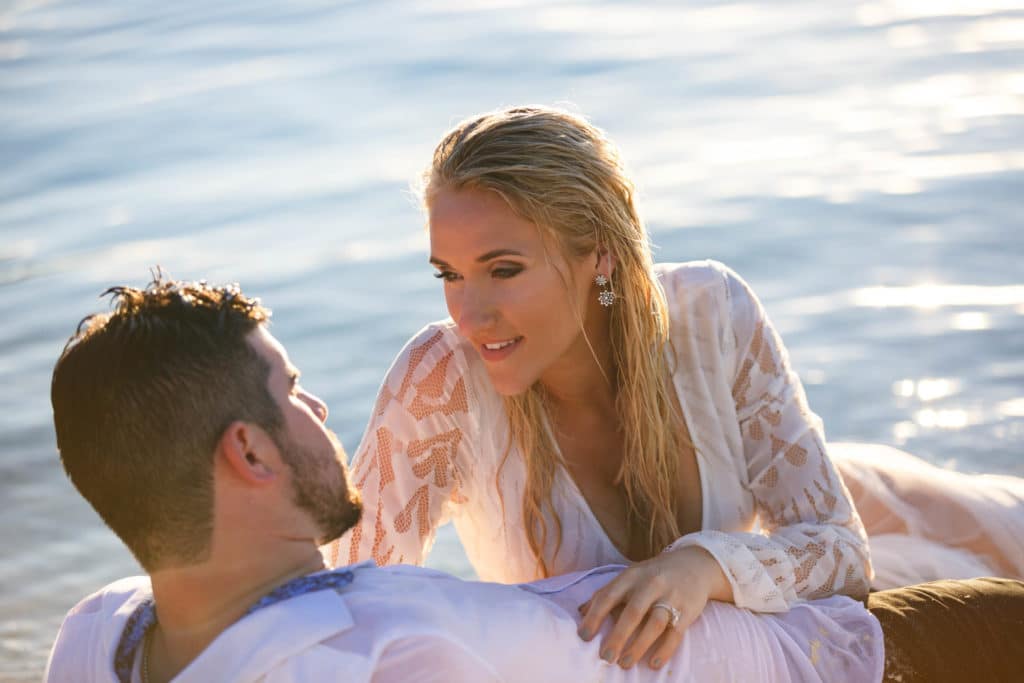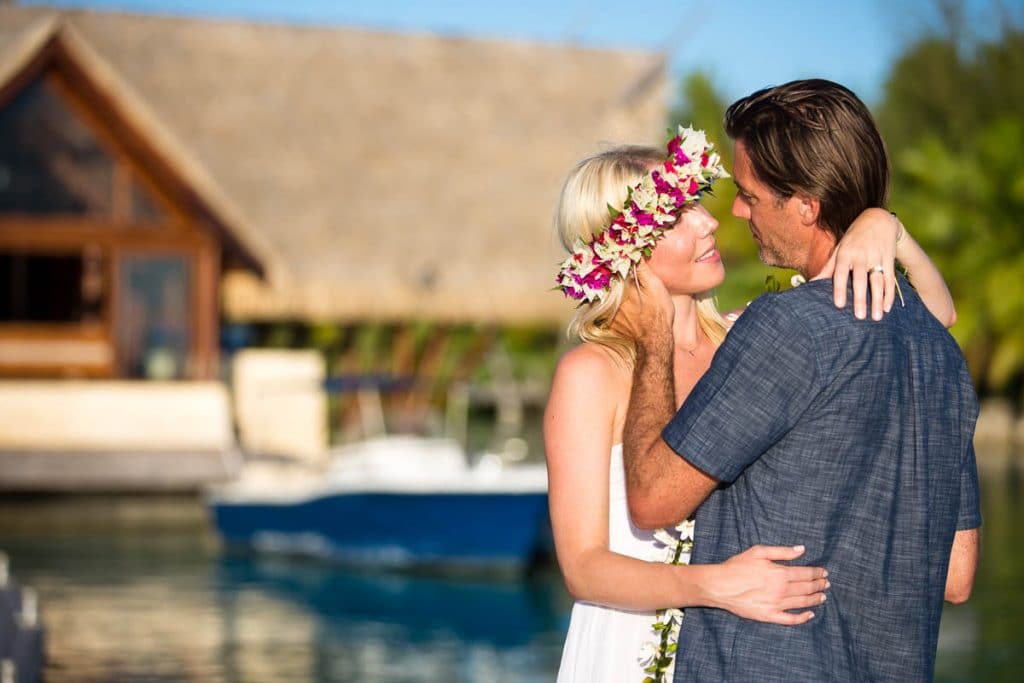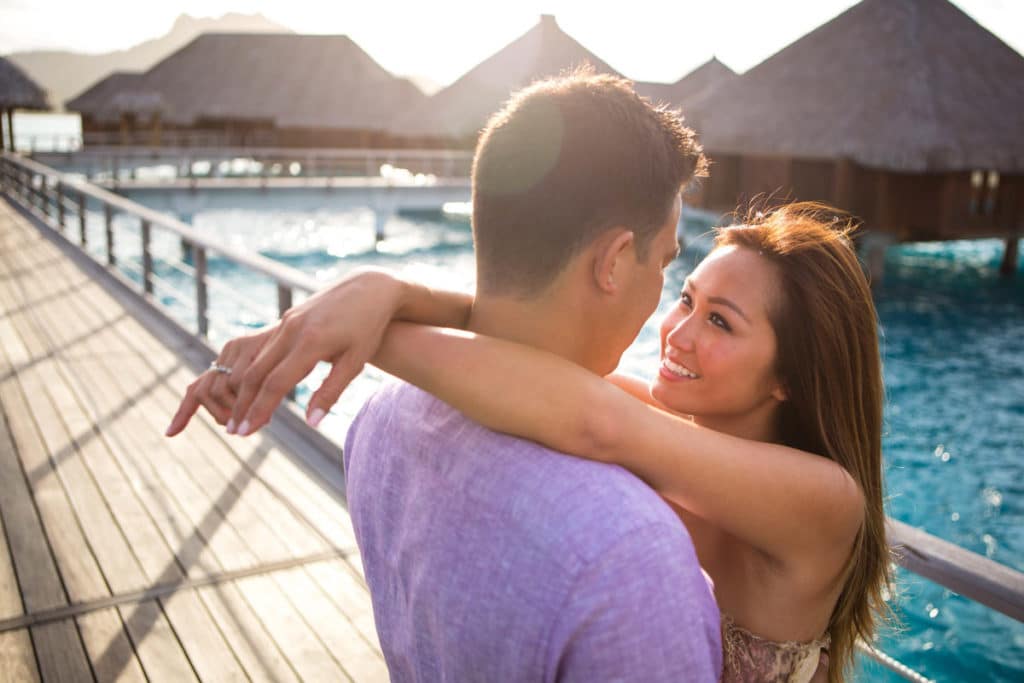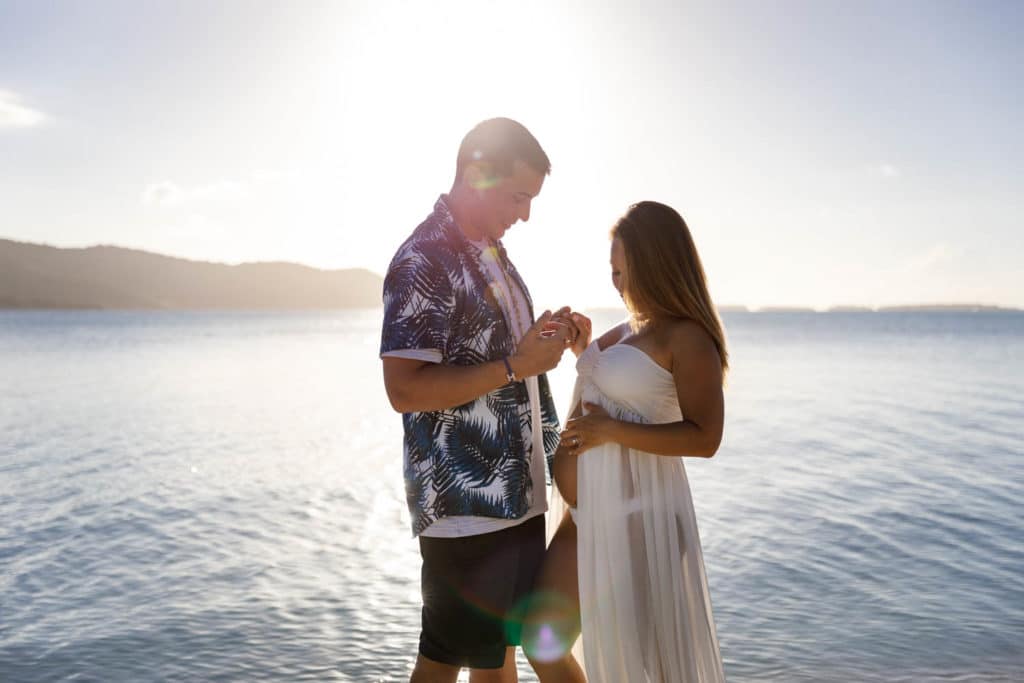 In order to know the exact time of the sunset and schedule your photography session in Bora Bora accordingly, you can follow this link
However, don't see this time as a target but more like a limit.
For example, if sunset time is 17h30, I recommend a session from 16h to 17h. Consider that horizon is always a bit cloudy so we will loose the light around half and hour before the sunset time. I'd rather make sure we have great pictures secured with available light for granted rather than risking a late shooting if the sunset is not perfect. When the sun is gone, there is no more light and the session is over.
Golden and Blue hour is what we are looking for here. Avoiding mid day is the most important, getting early and late light is the best, but it does not have to be the first or last rays.
To summarise:
Morning session
Pros:
Best moment to capture blue colour of the lagoon and to have the mountain exposed by the sun
Vivid and colourful pictures
Cons:
You have to wake up very early (even more if you want your hair & make up done, sometime it won't even be possible to request it).
The light might be challenging for people with very sensitive eyes
Sunset Session
Pros
Soft, flattering light
Best light for people with sensitive eyes and kids
Cons
The lagoon turquoise colour won't show the same and the mountain appears in back light (you get mostly only the silhouette of it)
How to choose? What is better?
There is no better or worse. It all depends on you, what you want to record visually, the goal and what moves you.
Tip- Check my portfolio and create a collection of your favourites, but don't overthink it. Be spontaneous, and you'll realise that you naturally gravitate towards morning or sunset pictures. If you are still having a hard time choosing and can not decide, you can always book one session in the morning and another one for the sunset, that will give you a variety of pictures, change of outfits and a break between the sessions.
What about night photography in Bora Bora?
Every guest of Bora Bora expects to have the opportunity to enjoy a traditional Polynesian dancing and fire show. Night photography can be challenging so let's see some examples and tips.
Switch to the speed mode in your camera and play with long exposure to capture the trails of the fire 🙂