Bora Bora is one of the few places on earth that everyone hopes to witness in their lifetime and once you see it, you are forever enamoured. It comes as no surprise that Bora Bora is an internationally acclaimed top best proposal destinations in the world.
You have found the love of your life, you have picked out the perfect engagement ring, you know you want to pop the question during your holidays at Bora Bora. But are you slightly unsure how exactly to pull it off?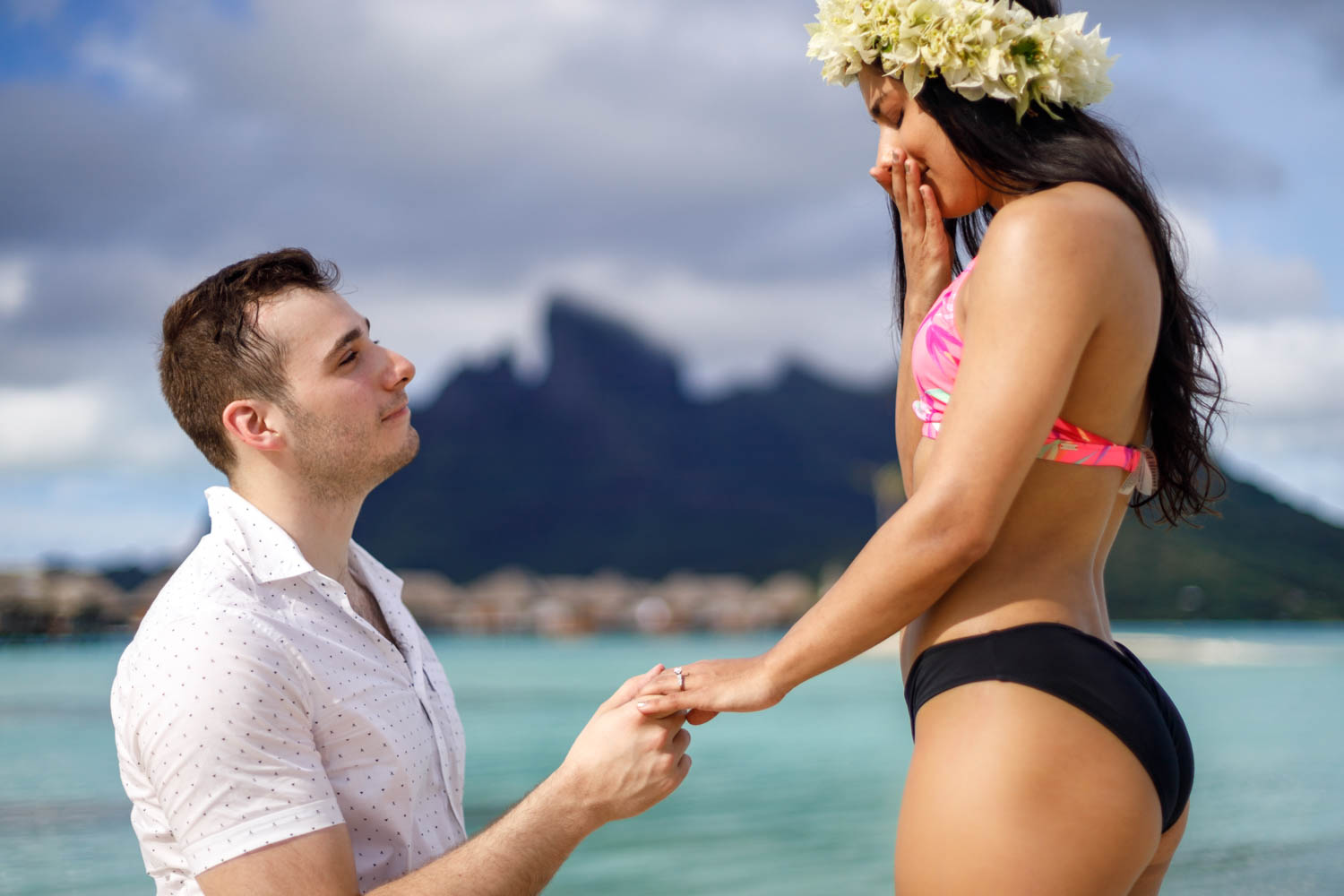 Thanks to its amorous essence and striking beauty, Bora Bora almost proclaims your love for your loved one by itself, though there are countless creative ways you can choose to get down on one knee to make your wedding proposal especially creative and one of a kind.
Each resort has a romantic concierge / wedding team exclusively here to make your every wish come true, so whether you want to propose in the lavish comfort of your overwater bungalow, be transported on a helicopter to an awe-inspiring heart-shapped island or get down on one knee surrounded by candles with mount Otemanu and the sunset as your backdrop during a romantic beach dinner, Bora Bora can accommodate.
How about one of the following engagement ideas to get your darling swept away with the moment?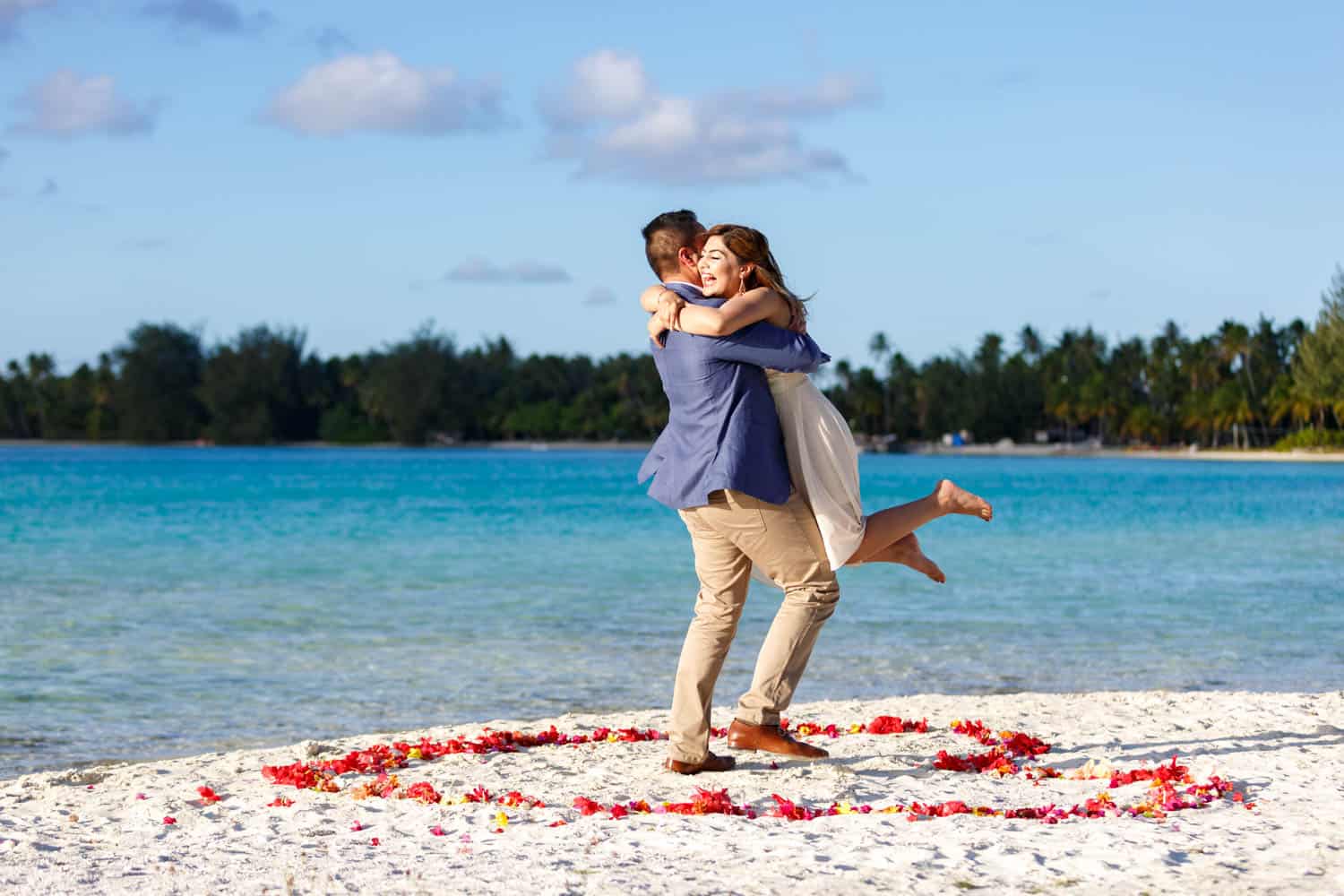 Unique Wedding proposal ideas in Bora Bora that guarantee a 'YES'
1. Proposing during a romantic beach dinner
A pristine stretch of soft white sand and the gentle stillness of the lagoon provide an intimate setting for a meal on the beach. Allow international french chefs to spoil your taste buds with delicacies during a candlelit dinner. The way to someone's heart is through their stomach, and with such set up and backdrop, not to mention the delicious dishes, her 'yes' will surely echo across the Pacific Ocean. To offer a full cultural experience you can enjoy a private Polynesian Dancing Show and Fire Dance and even some fireworks to celebrate your engagement. Ukulele player is also great to create a very intimate and romantic mood.
Beach Dinner at Four Seasons (including champagne) : 69 000 xpf
Private Ukulele player and singer : 17 500 xpf
Fire dance and drums show : 70 000 xpf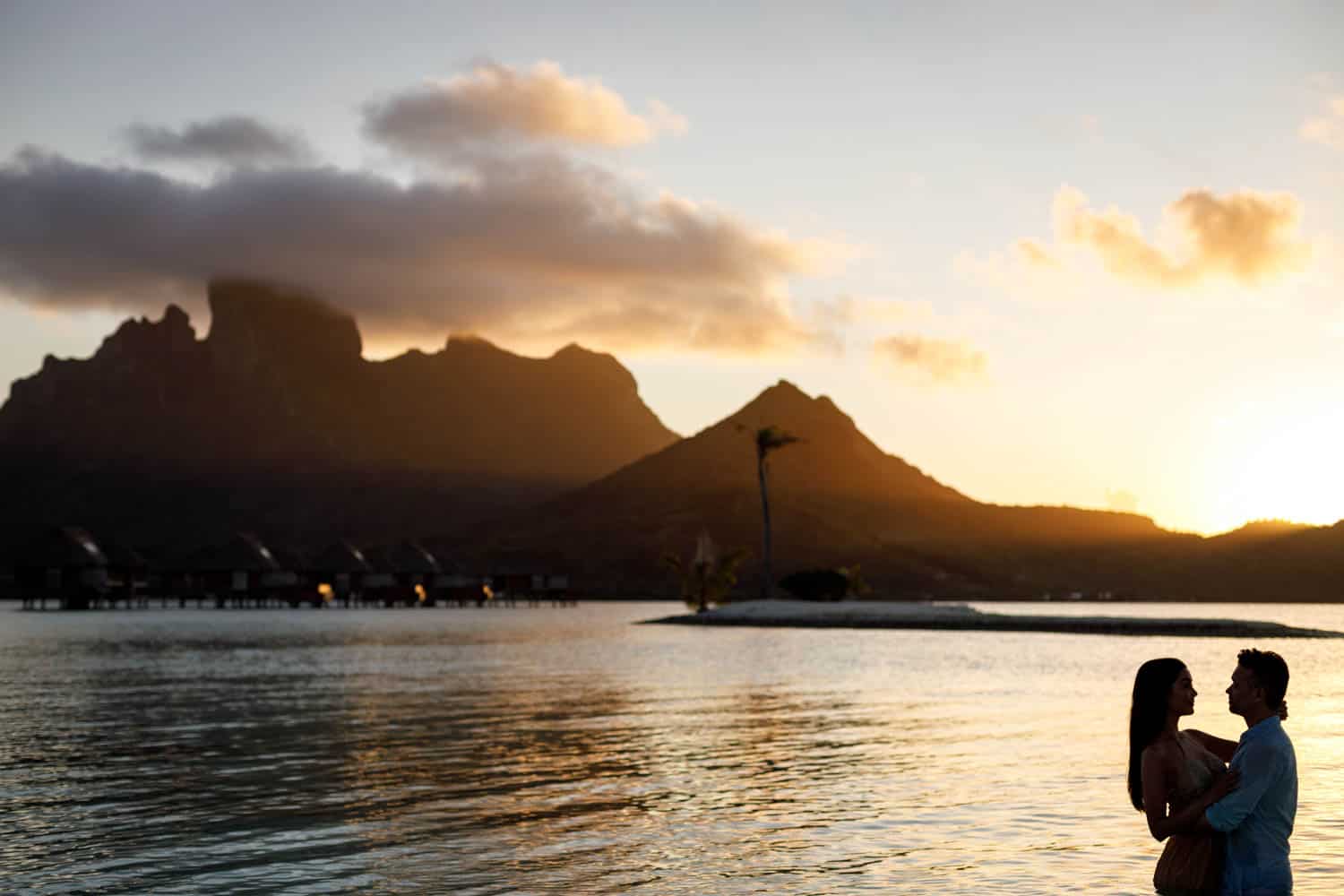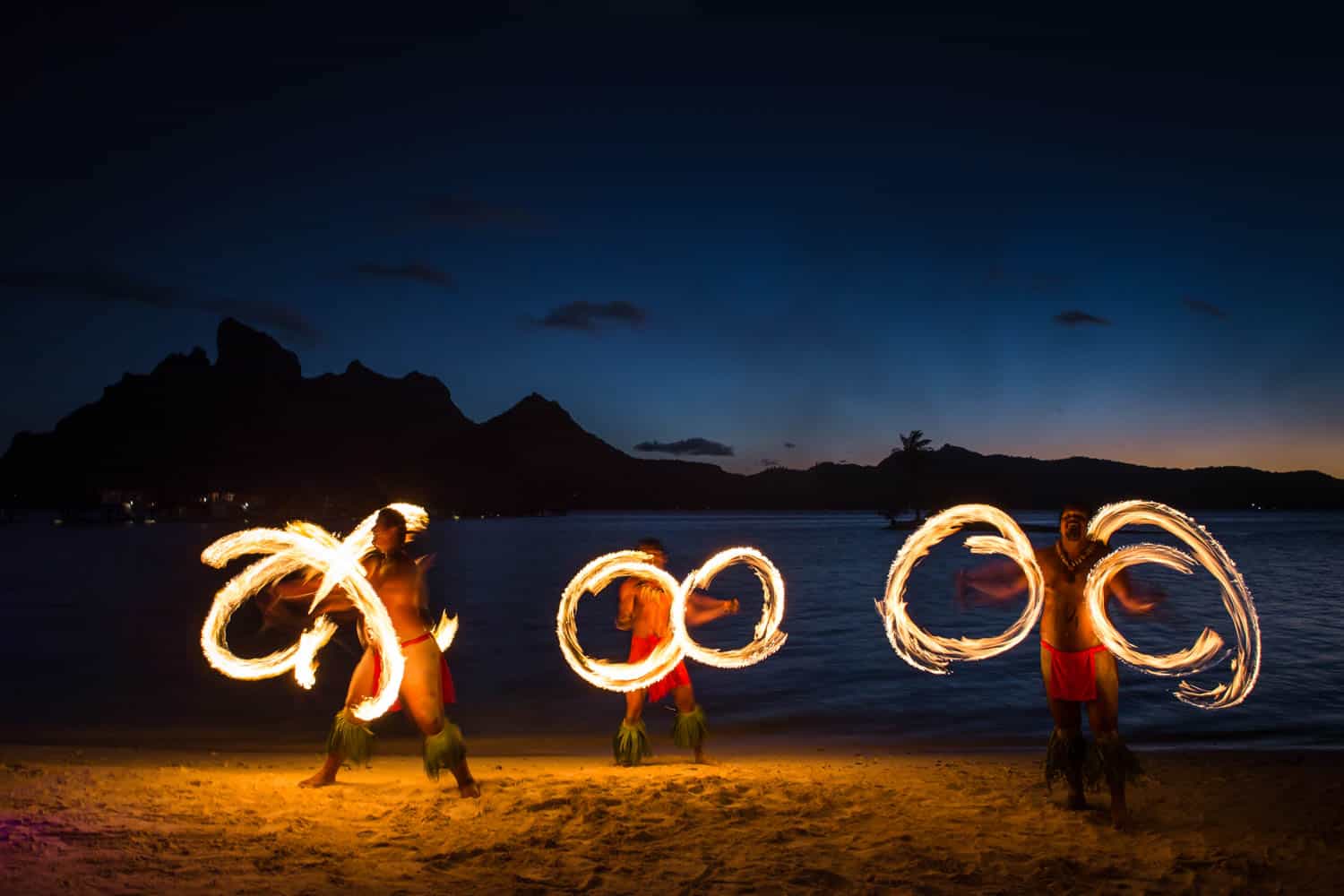 2. Romantic Room Makeover
Your partner will like your luxury overwater bungalow so much that he/she will never want to leave, especially if you make the evening when you are ready to propose even more special. Here's our idea: romantic candle dinner, flower petals, champagne and a flower bath.
Wedding Flower Turndown at the St Régis : 18 500 xpf
Aisle of petals from door to bed and "marry me" written : 22 500 xpf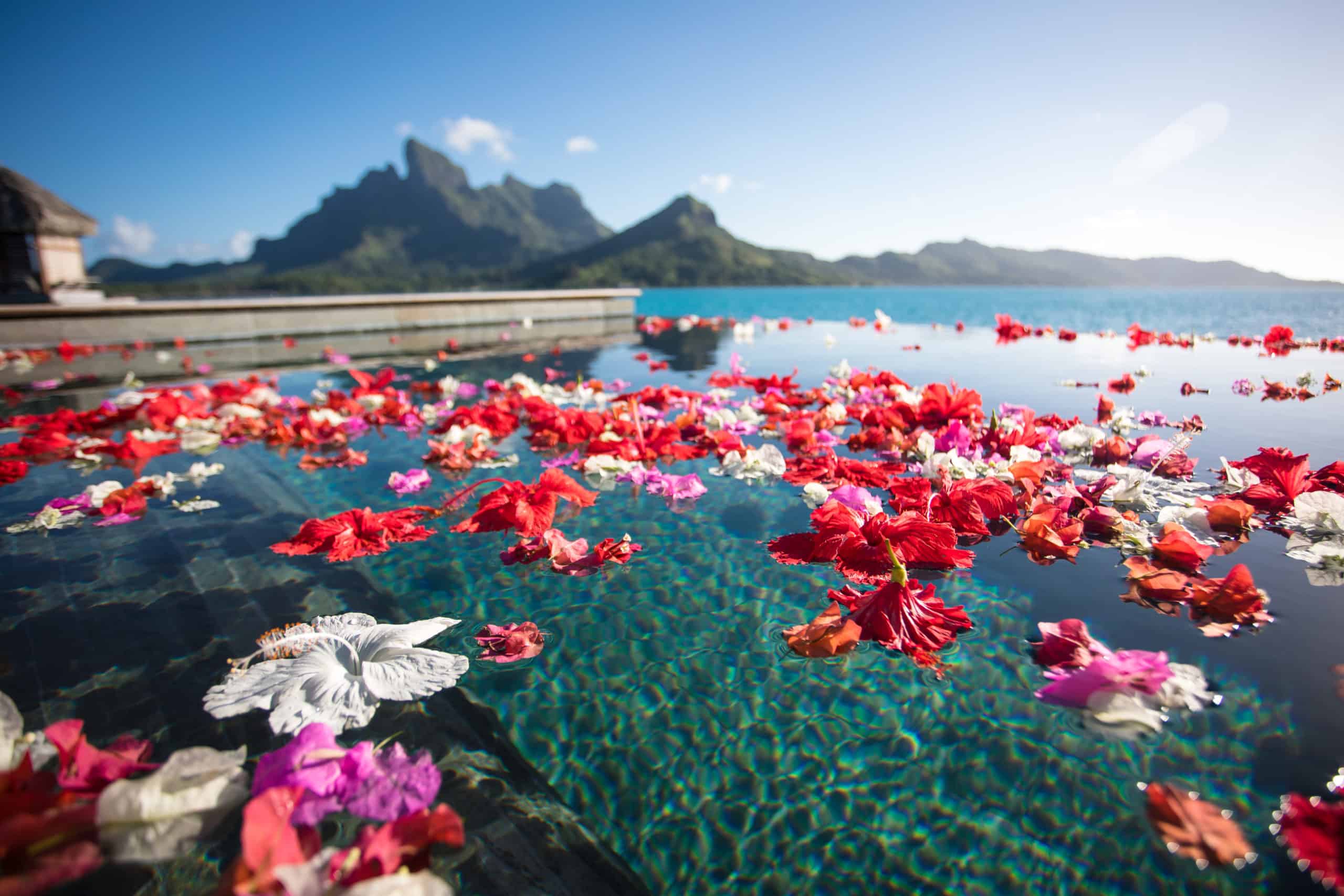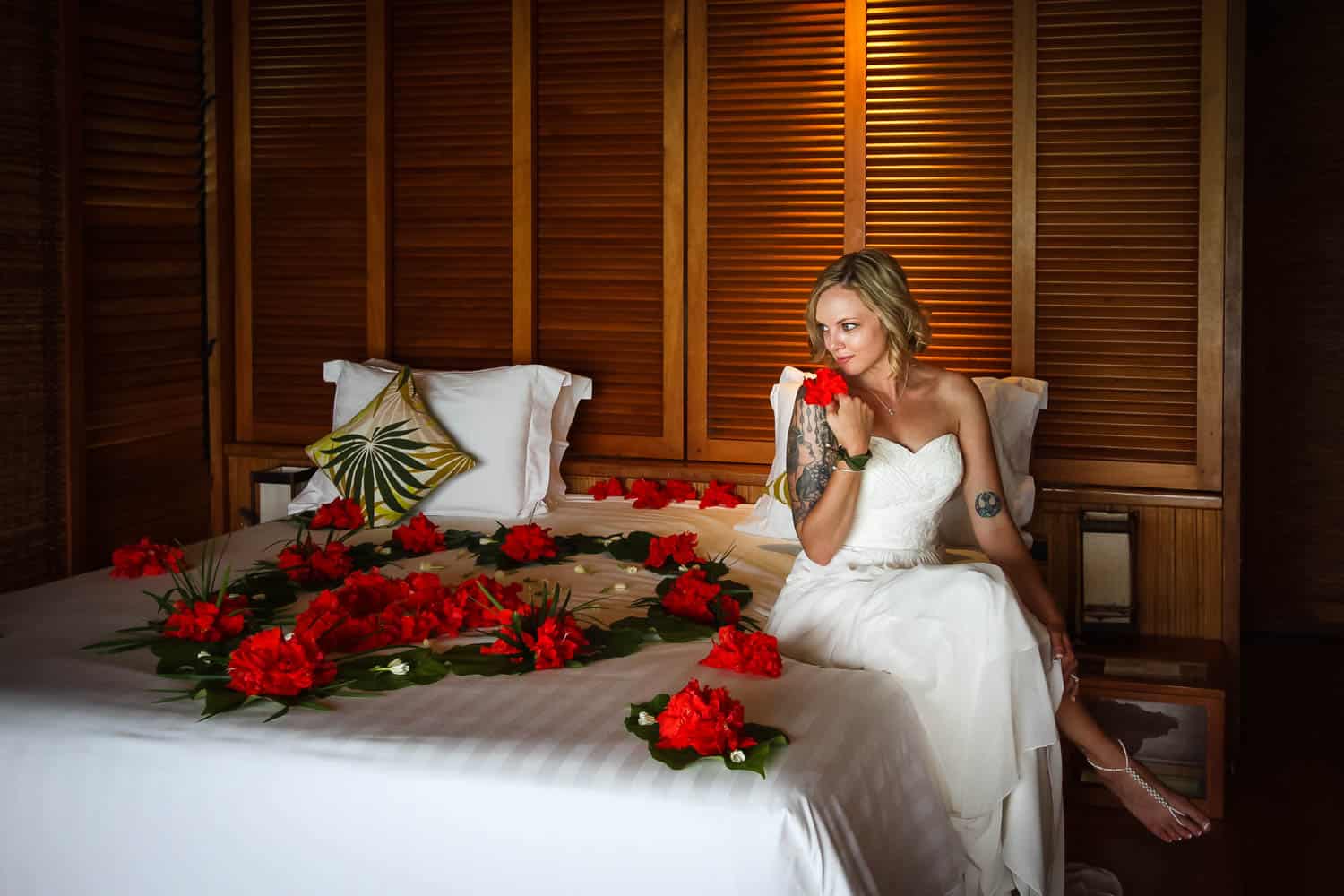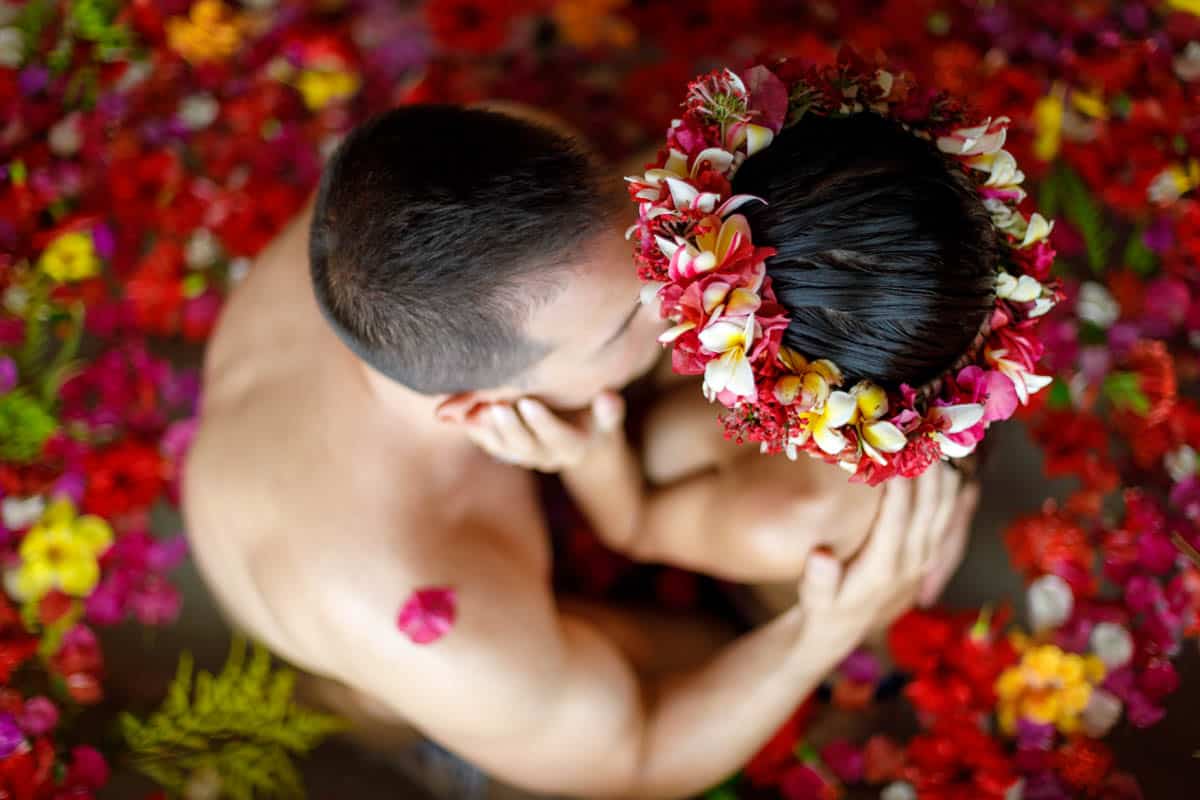 3. On a boat at sunset
Sunsets in Bora Bora are magnificent. Admire the moments when the daylight bids farewell sipping champagne – and return to the resort as an engaged couple and celebrate the occasion with a dinner on a private islet.
Private boat sunset cruise: 60,000 XPF
Sunset cruise plus dinner for 2 people (food & beverage included):
Polynesian Menu: 95,000 XPF
Lobster Menu: 105,000 XPF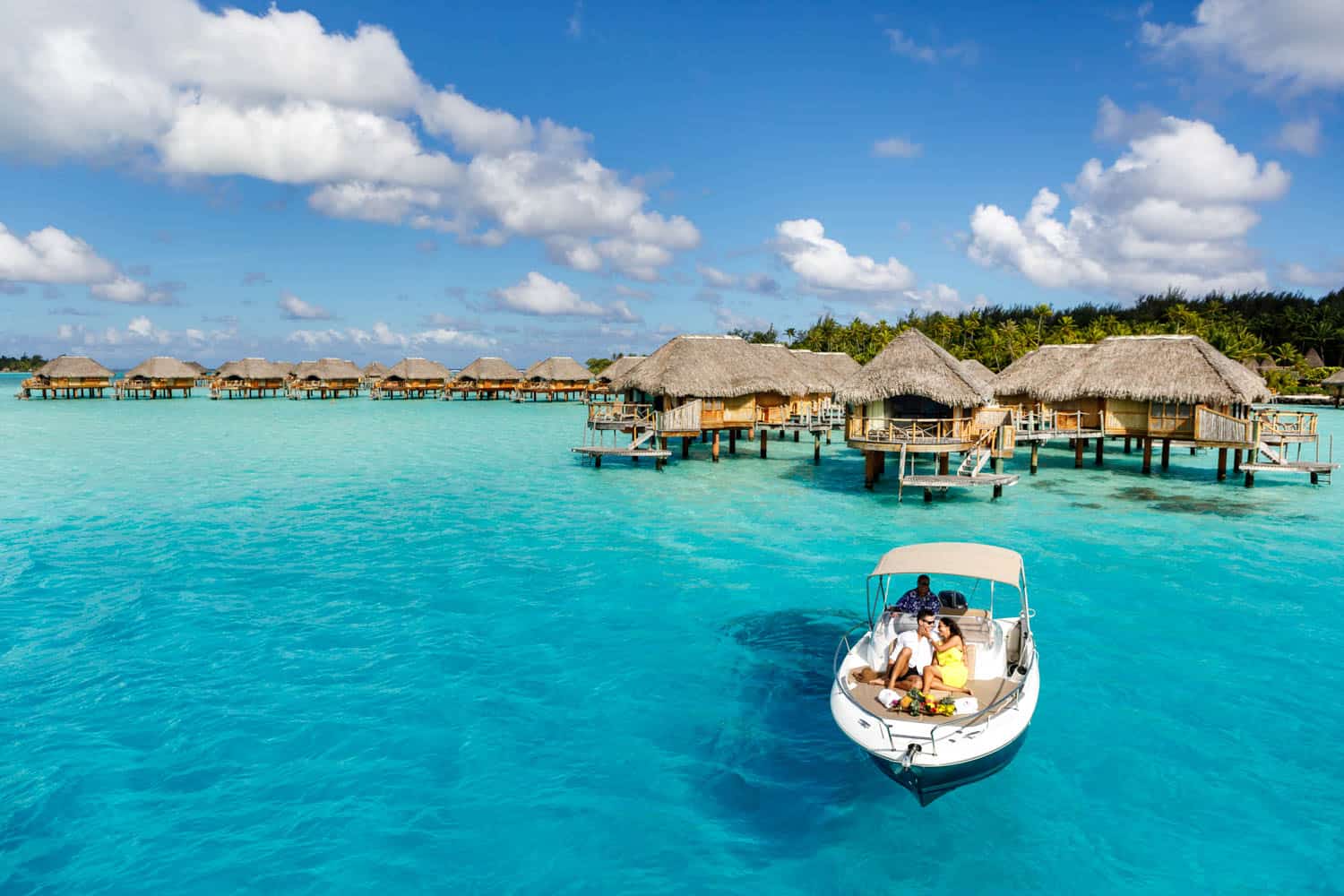 4. Proposal in Bora Bora on a private snorkel tour and lunch in a private island
Not all the proposals have to happen at sunset. What about organising a day full of adventures? Swimming with manta rays or sharks and stingrays, romantic lunch on a table with your feet in the water on a deserted island. Using the adrenaline of the day to propose is a great way to start a life full of adventures together.
Private snorkeling and water lunch (6 hours): 169 000 XPF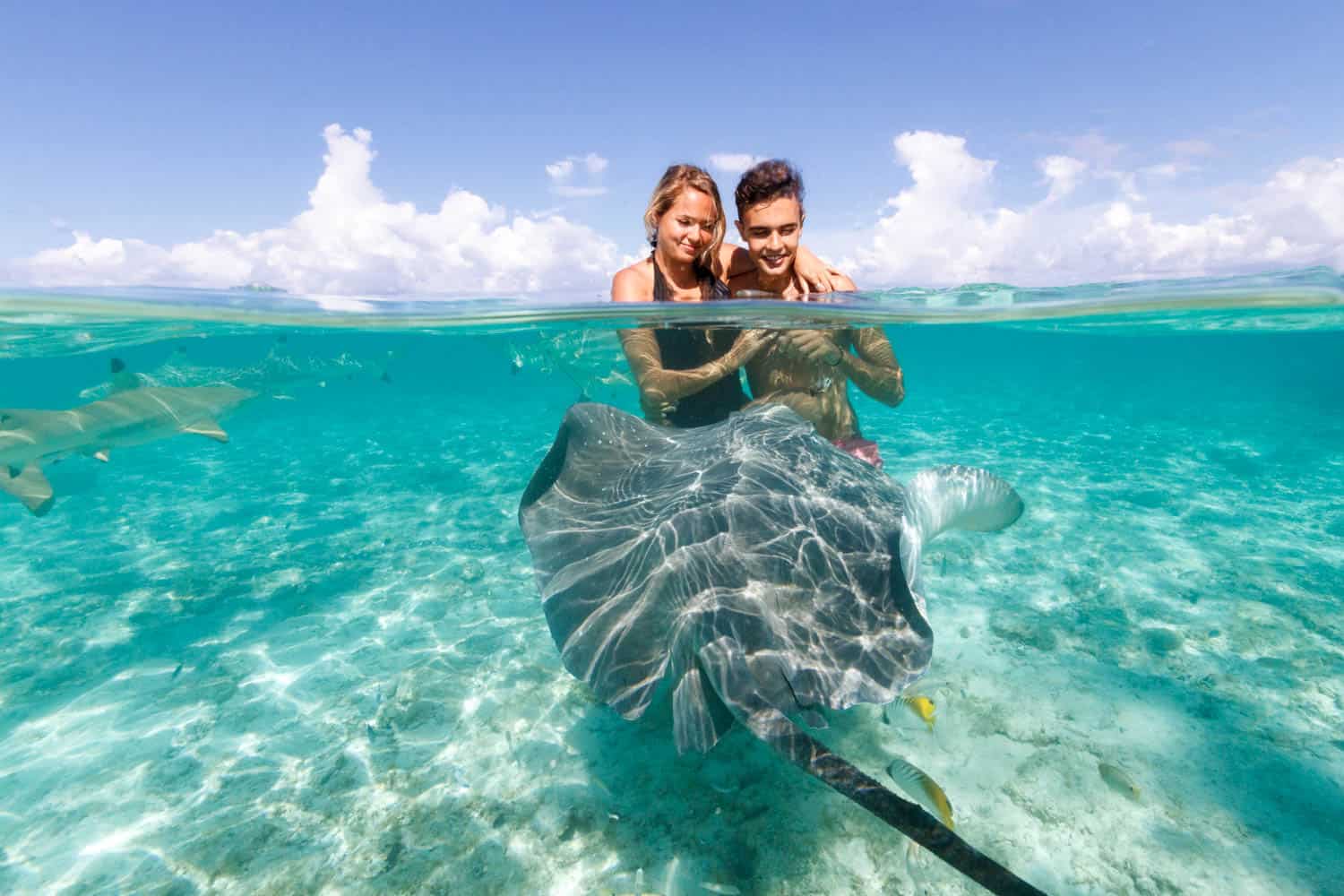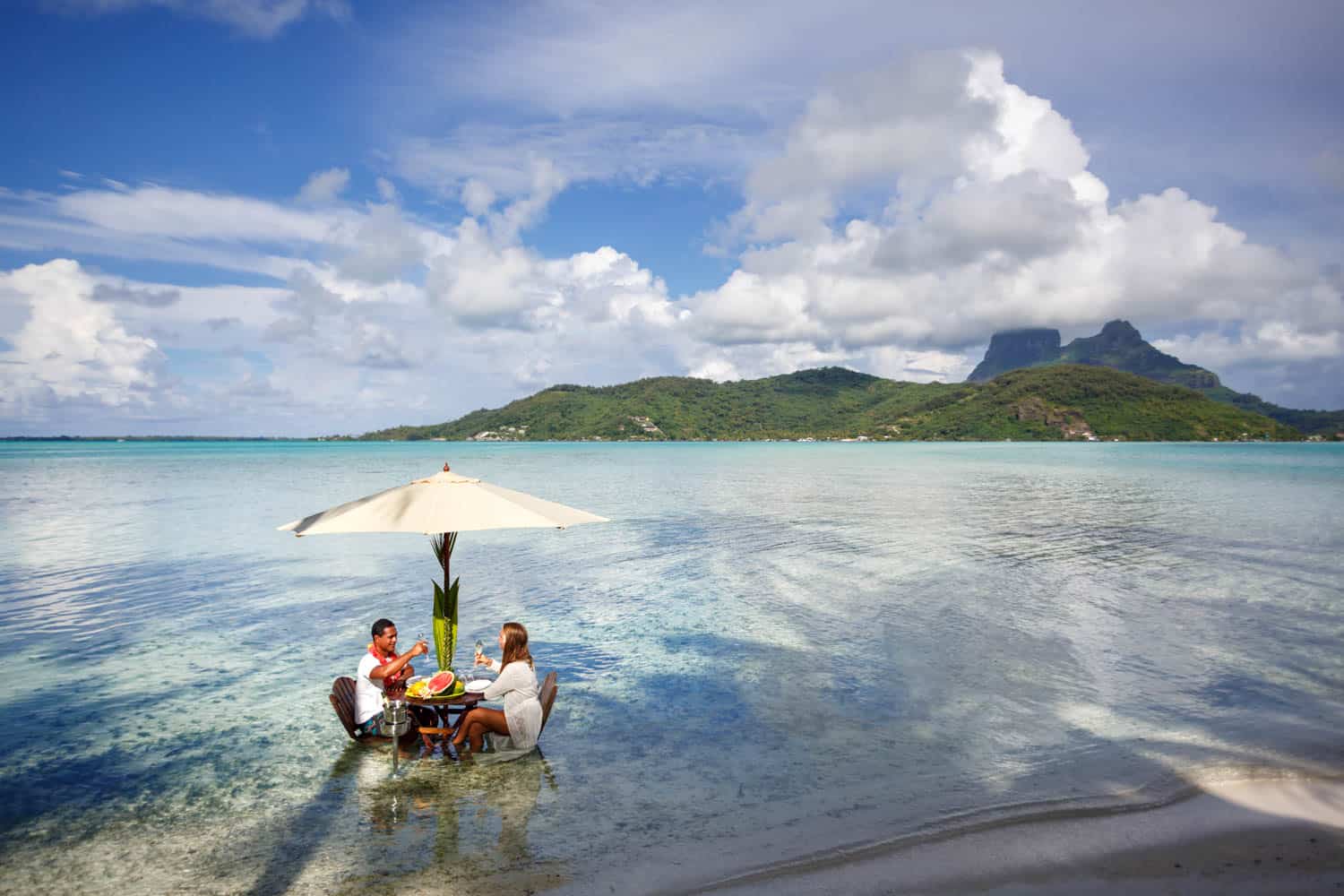 5. Helicopter tour to ask 'Will you marry me?' on a secluded island with the shape of a heart
Tupai, your tropical engagement dream come to life, is a deserted island with the shape of a heart. With a helicopter you can visit the romantic island and have this little patch of paradise and white diamond sand all to yourselves to pop up the question.
The cost of helicopter tour at Tupai including a 30mn flights + 40mn stop on the beach with champagne : 225 000 XPF
(Optional "Marry me" setup with petals, palm tree leaves or coconuts on demand.)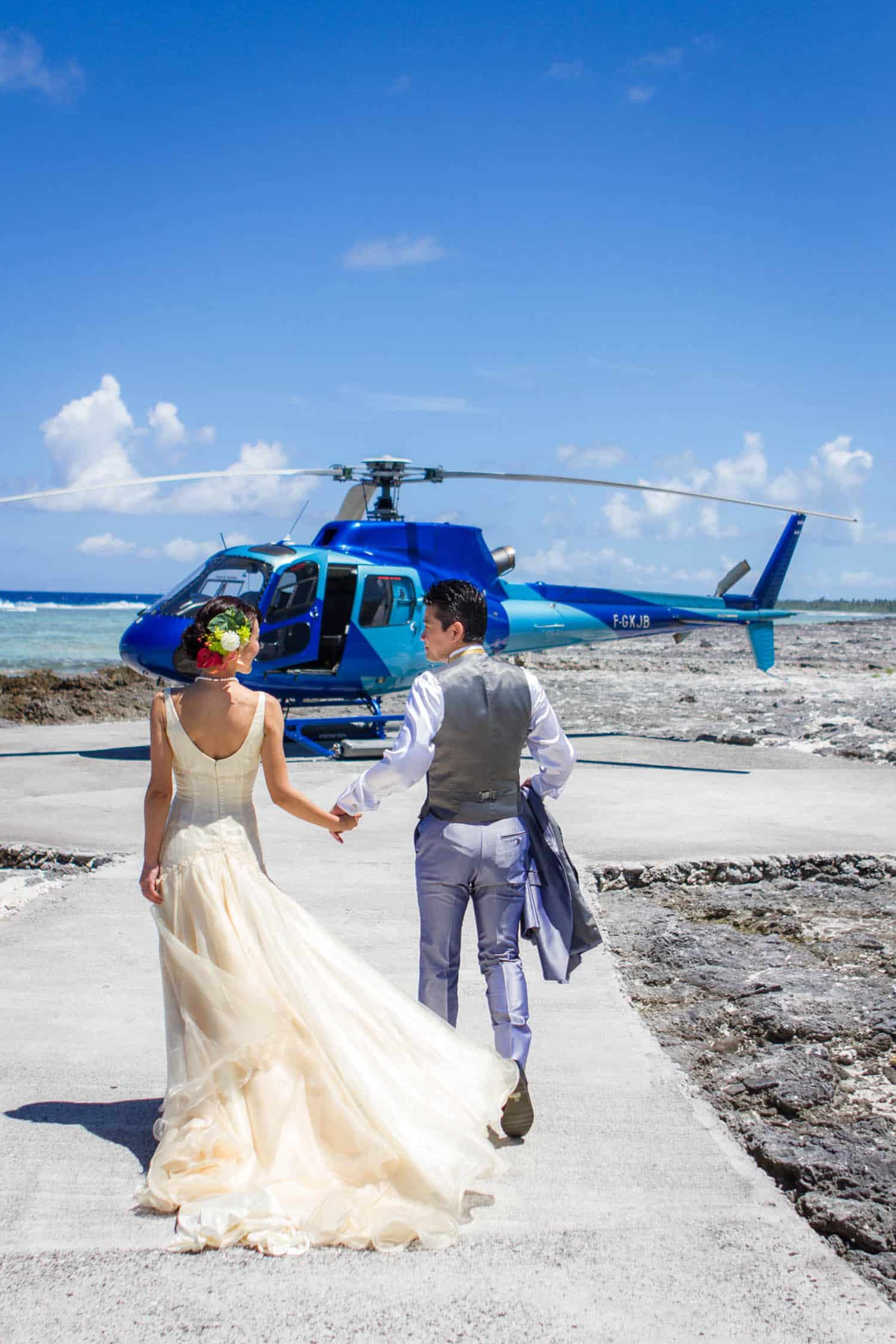 6. Underwater proposal in Bora Bora
There are plenty of places to profess your love but none as clear and turquoise as Bora Bora's lagoon. Why not arrange a scuba diving session and propose underwater by showing the ring or with the help of a banner? Your darling won't be able to say much, but the instructors can arrange a writing slate so you have her 'okay'.
Semi-private dive for certified diver (two tanks) : 31,000 XPF per person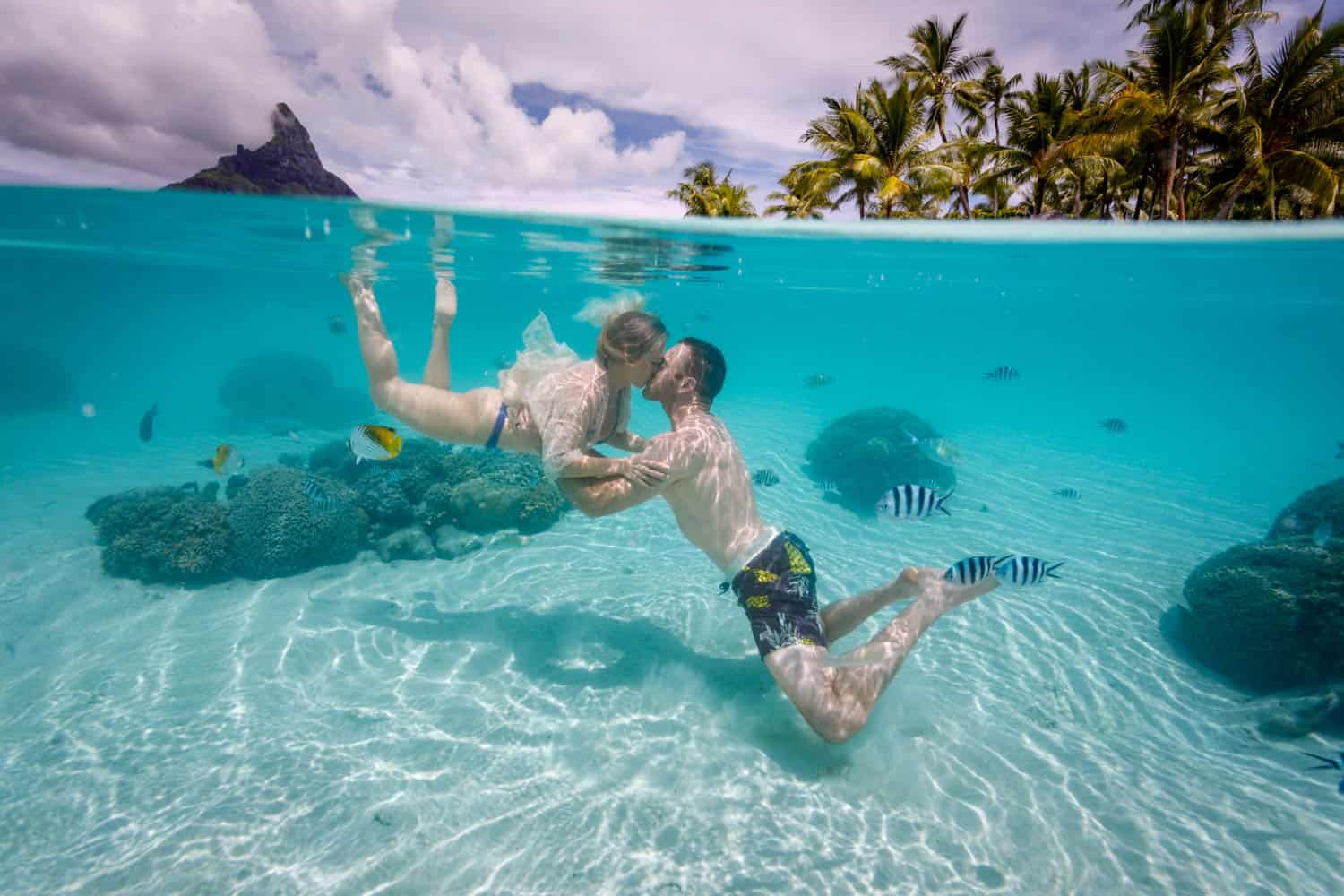 7. Go for a hike and propose
For fit, seriously adventurous couples, you can propose at the highest hiking point Bora Boa's iconic summit, Mount Pahia (661m). It's a six-hour hard-going return hike from Vaitape, with some difficult uphill scrambles and a few treacherous sections, but the panoramic 360º views will be etched in your memory forever.
It is strongly recommended to hire a guide, there have been instances of walkers getting lost and injured along the way. Due to the steepness, don't do the hike after rain, It can be muddy and slippery.
The cost of a private guide to hike Mount Pahia is 112 000 XPF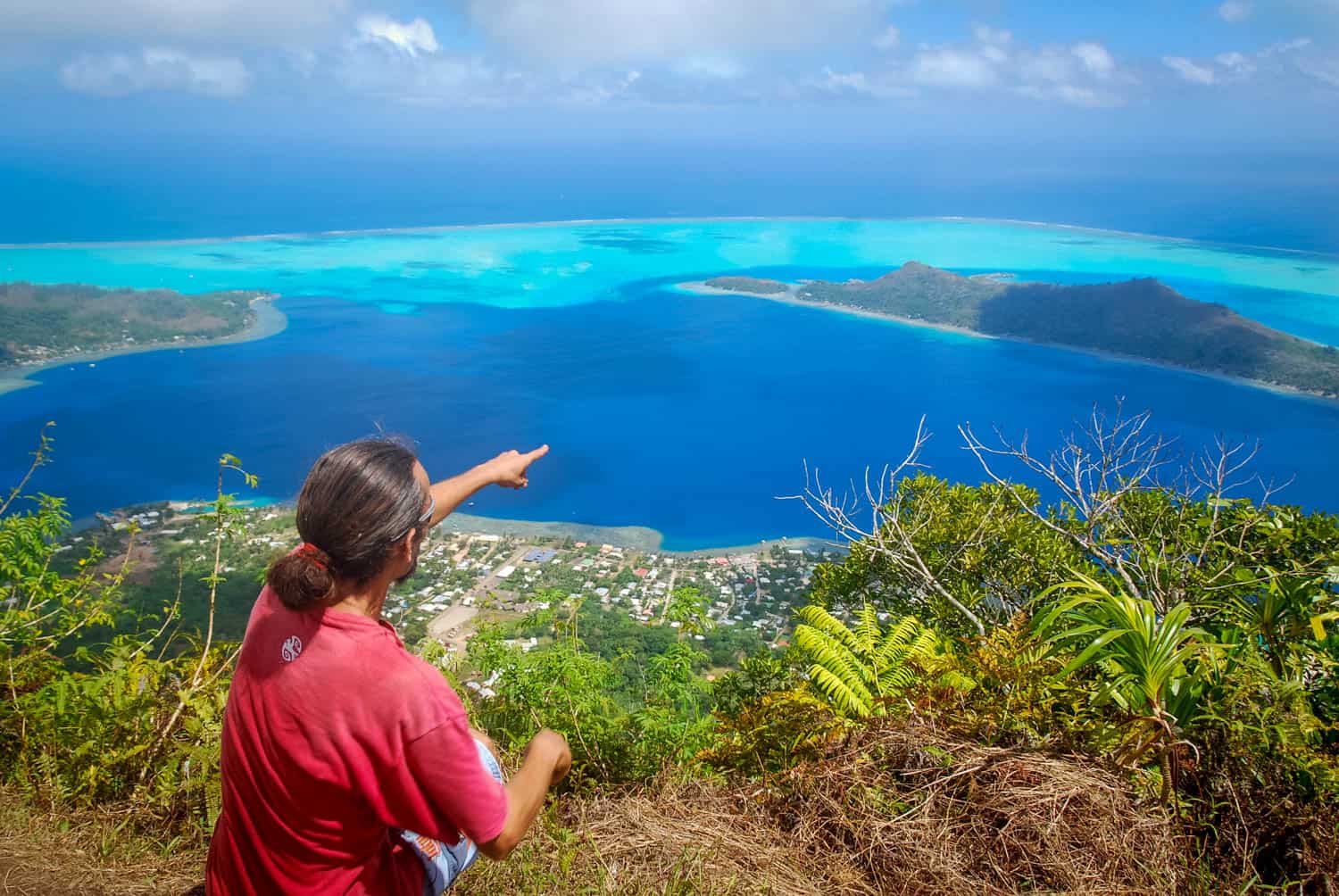 8. Skydive proposal
It's unique, memorable, different… a skydive! If you've never done it before, discuss the possibility of skydiving in Bora Bora and test the response. If it's all good, go for it. If neither of you are regular skydivers you'll want to organise a tandem jump. Maybe it is not really going to be possible to propose when you're in free-fall or under canopy so discuss it with your instructor and decide whether you are going to pop the question in the plane just before you jump out of the door or when you are both back on the ground.
Private Couple Tandem Jump + Video & Photo: 258,000 XPF
Hire a Professional Proposal Photographer
I may be SUPER biased, but I totally recommend to hire a photographer for your proposal in Bora Bora! Having photos taken of this moment is such a beautiful way to remember an epic memory in your life. Not only can a professional capture that glorious look of surprise and pure joy on your faces, but it's a wonderful memento to look back on!
Reasons to hire a photographer: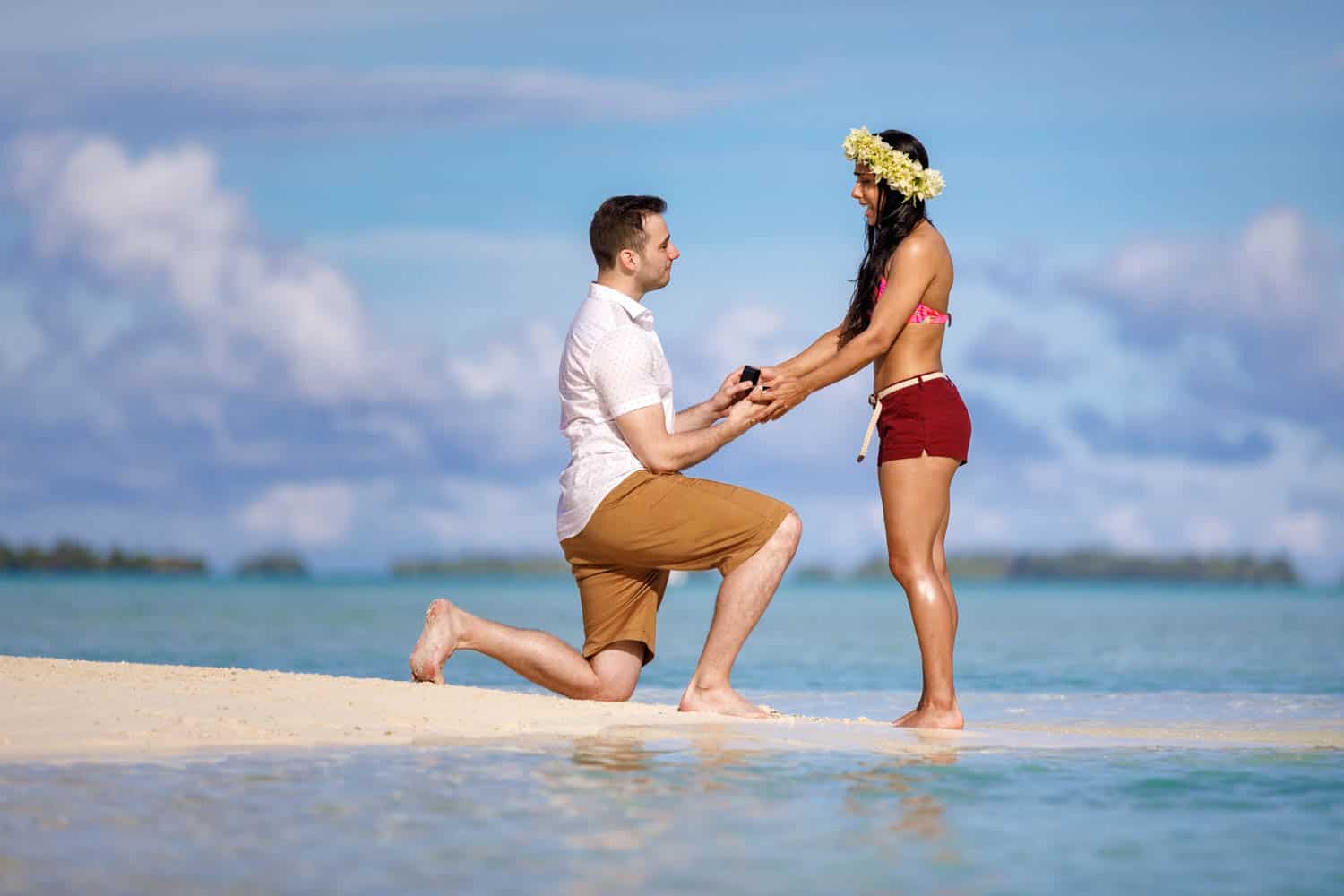 Get engagement photos done at the same time
You can announce your engagement to friends and family. Ask for a sneak peek to spread the great news!
Because they can help prepare your proposal. Professional proposal photographer's have done this before. They can help with tips on the best location, the best time of day to propose (based on location), the best clothing to wear for the occasion and much more…
Our top tips to plan the most romantic proposal in Bora Bora
Make it personal. This is somewhat of a disclaimer and something to keep in mind, for everything you read on this list and every piece of advice someone gives you on proposal planning. It will do no good if you plan for your beloved an underwater proposal, like the one you read above, if your partner is afraid of water.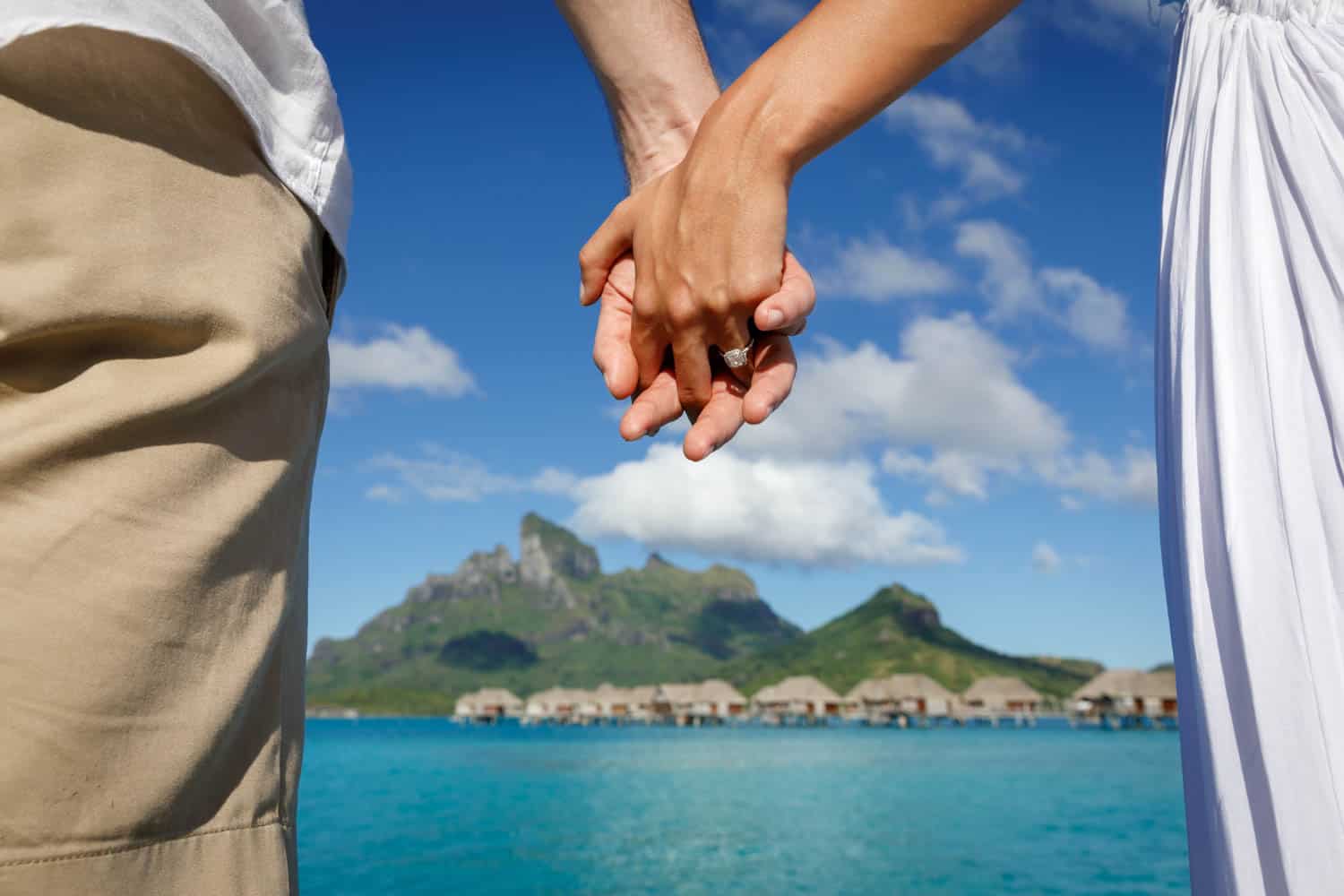 Pop the question at the beginning. If you have a whole range of activities planned, propose early so you won't be nervous and stressed. This way you can just enjoy the ride, plus your fiancé gets to show off the ring all the time and get congratulated everywhere you go.
Keep it a surprise. You've talked about it, you know he/she'll say yes, but that doesn't mean you should give away the mystery. Be your sleuthiest and protect the surprise details at all costs!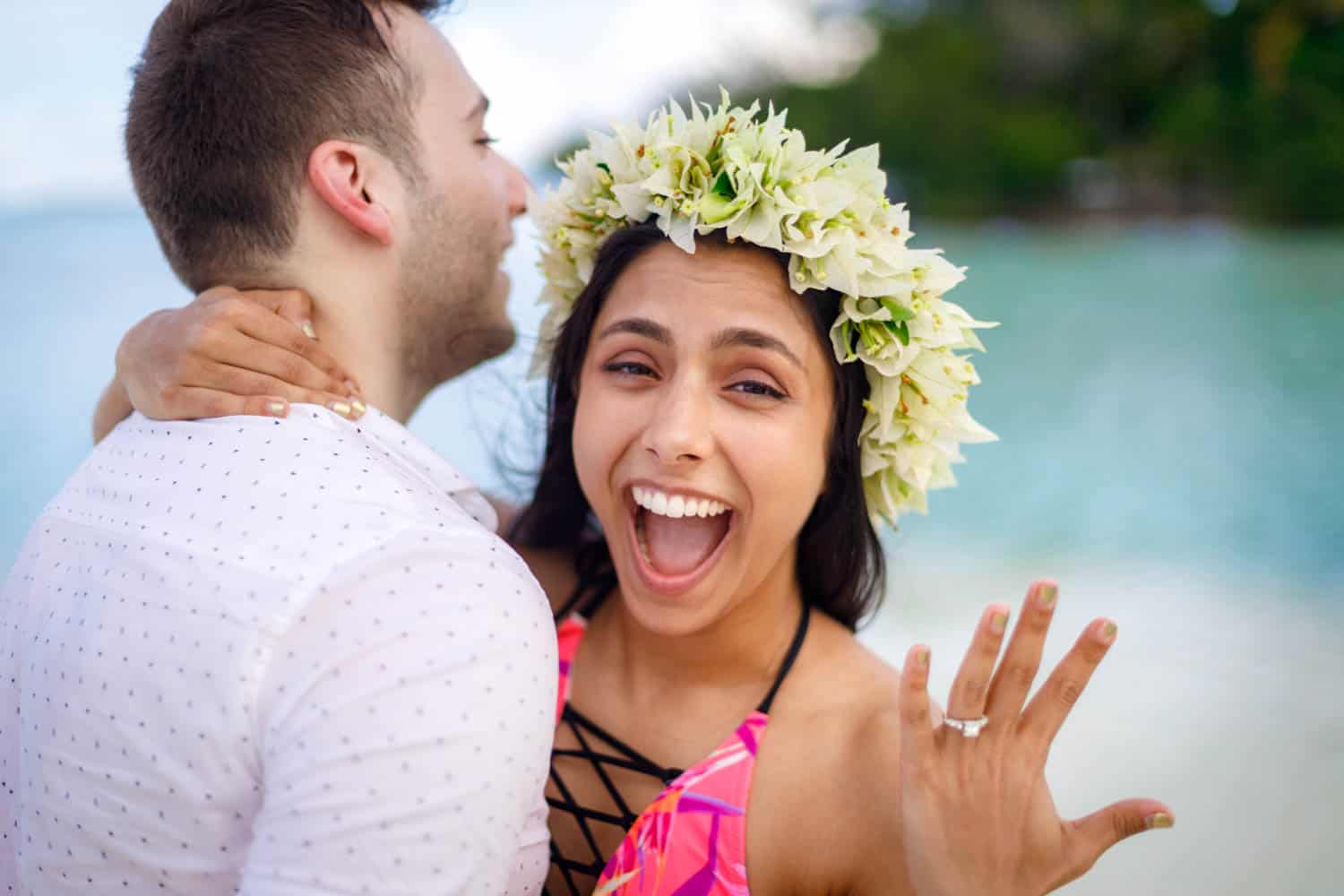 Think ahead of time about what you'll say. Even if you plan nothing elaborate, telling your significant other why you love them, why you want to spend the rest of your life together, this is what they want to hear ALL ABOUT. So think about it ahead of time, practice it aloud, even write it down and take it with you if needed. It doesn't have to be spontaneous to be romantic. And who doesn't love someone thoughtful enough to plan ahead?
Try the outfit with knee lunges. Trying to figure out what to wear? Make sure you do a few tests of you kneeling down on one knee to see how it feels, and try out a few places to hide the ring box so you're ready and won't have any wardrobe malfunctions.
Practice opening the ring box. Picture this, you present the ring at it's upside down and falls out and into the sea. Practice to avoid potential disasters.
Plan a post-proposal event. After the crying and the kissing, your fiancé will LOVE IT if you've planned some alone time for the two of you to bask in the big moment. A special dinner or a cocktail under the stars—make it romantic!
Plan a manicure ahead of the big event. This is a pro tip. This ensures the digits are in top form for all the ring showing off, and you can book it a few days ahead if you don't want to arouse suspicion.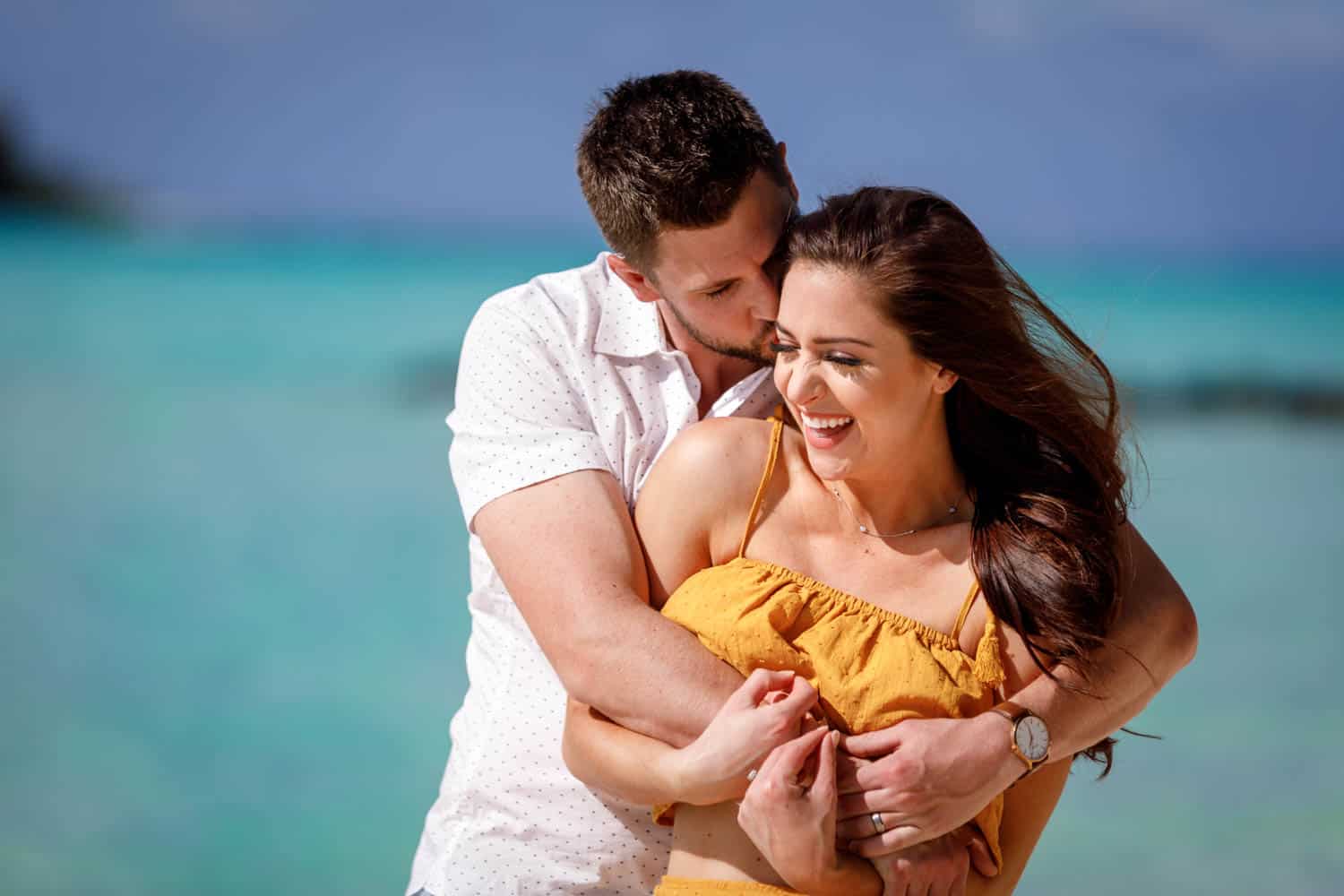 If you hire a photographer…
Choose between two marriage proposal scenarios:
1- Scenario : The total Bora Bora Surprise Proposal- Paparazzi Style
As the name suggests, your loved one has no clue what you're about to pop the question.
You and your photographer need to create a foolproof Shoot Brief, including:
specific proposal location
the time you intend to propose
how you and your photographer will recognise each other
you need to rotate your partner such that both of you are parallel to your backdrop and your photographer
try to get her to carry as few accessories as possible; you'll want her hands to be free
for extra credit, come up with an excuse for her to dress up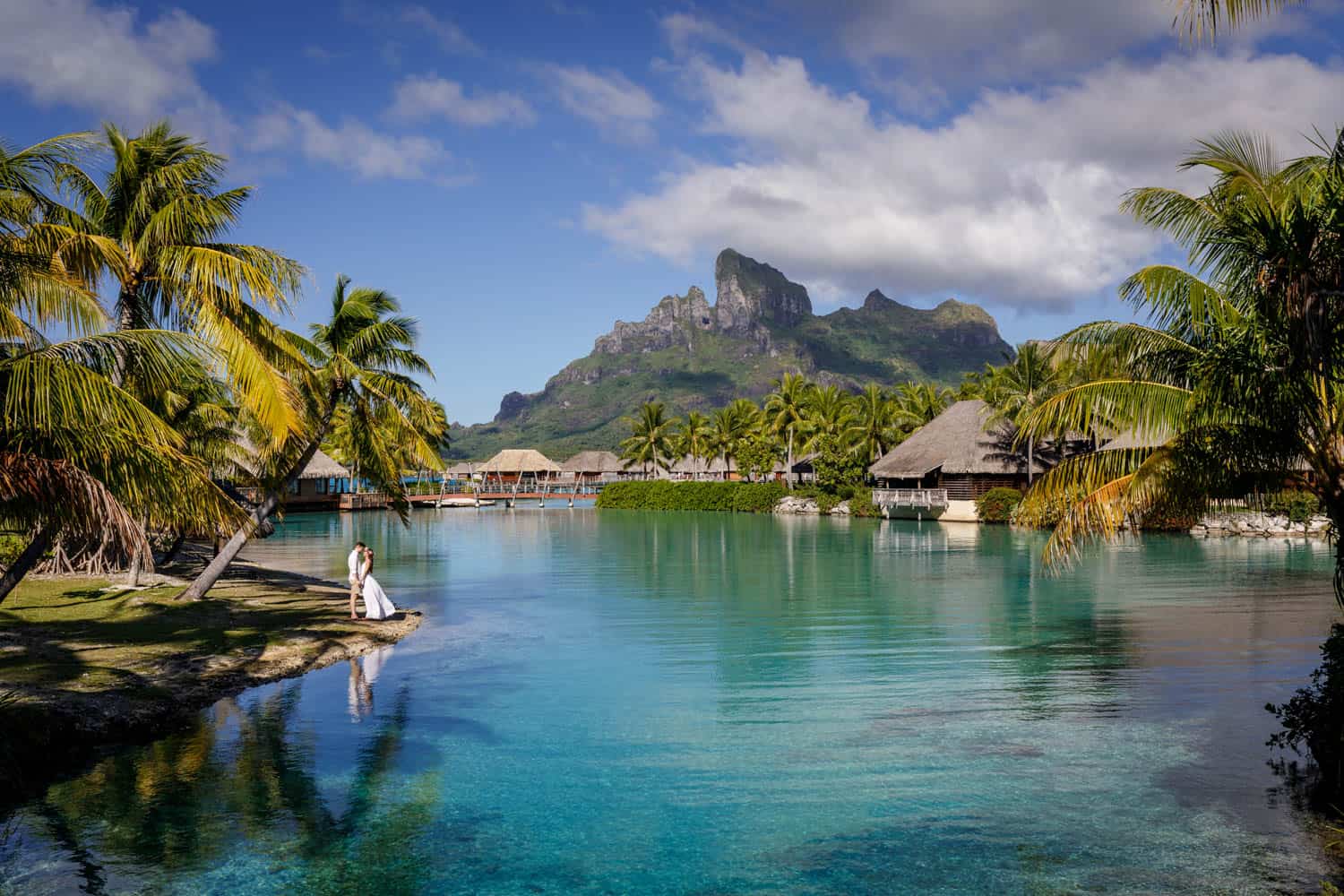 2- Scenario: The proposal inside a "pretended" Bora Bora photo session
This scenario is often referred to as the "Safe-play" since it differs from the total Surprise Proposal in that pretty much everything is easier to coordinate.
Here's the deal: your woman already knows that photos will be taken, you can fool her thinking that the shooting is complimentary or a present from a friend, therefore she has no idea that you're about to propose. The advantage is that her hair and makeup will look the best, and you both will have an opportunity to coordinate attire for the shoot.
Your photographer can choose the perfect angle to cover your proposal and "dial-in" her camera settings to perfection.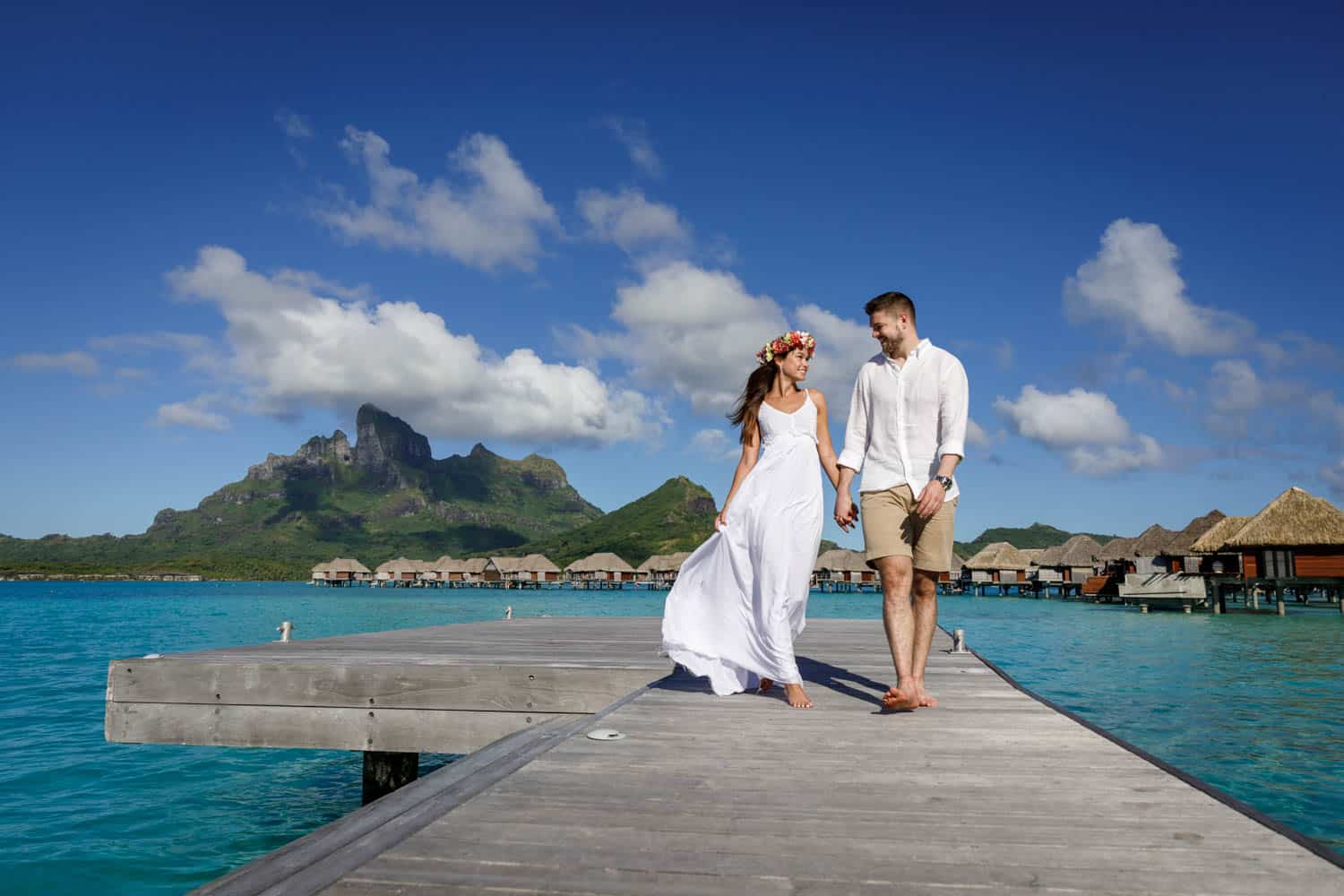 After the "Yes"
Your loved one said "Yes," and the left hand now feels a touch heavier than the right-hand. Congratulations!
Yet, stopping your photography coverage right now would be missing a precious opportunity, and here's why: your emotions will be at a unique high, and you already have a photographer whom you trust by your side.
And that's why we recommend that you transition into a engagement session—and add at least 1 hour of photography coverage—it's your opportunity to get as many fabulous photos as possible in Bora Bora.
Learn more about photography packages here