As of July 10th 2020 there have been 0 cases of coronavirus COVID-19 in Bora Bora. We have been very fortunate so far and pray that less fortunate countries see relief soon.
Latest update
The country's authorities announced June 5th that the borders will be re-opening to international tourism from all countries in French Polynesia, starting on July 15th, 2020.
Prior departure
French Polynesia's authorities confirmed on July 9th the conditions of entry and stay to the country applicable to all travelers arriving by air.
Starting from July 15th, 2020: Quarantine measures will be lifted and French Polynesia's borders will re-open to international tourism from all countries. All travellers will be subject to the following mandatory conditions:
A SARS-CoV-2 virus genome test (the SARS-CoV-2 RT-PCR test) has to be carried out by all travelers in a health authority center (hospital, clinic, medical centre, Covid-19 testing Center, or medical analysis laboratory) three days before the flight to Tahiti (at the passenger's expense).Ex: flight departure on Monday 11pm, possibility to realize the test from Friday morning. The results of this test must be negative and will need to be presented to airline staff upon check-in prior to boarding the flight to French Polynesia. No boarding will be allowed if the test is positive.
After obtaining the negative test results, each adult must fill out a digital Sanitary entry form online on the dedicated platform (Etis.pf) mainly agreeing to:
Respect the prevention measures and all health safety instructions issued by the authorities of French Polynesia for the pre-boarding phase, during the flight, disembarkation and throughout the stay.
Call the 40 455 000 in case of cough, fever or respiratory difficulty. If you feel any sign of distress, dial "15" (emergency services).
Submit yourself to the health surveillance system organized and set up by Polynesia government which, among other things, makes it compulsory to carry out a self-test for the SARS-CoV-2 virus, provided by the country, 4 days after arrival in French Polynesia.
Have travel insurance or personally assume all expenses related to cost of care including hospitalization, confinement, or repatriation, should the visitor fall ill during their stay.
Provide information about the stay in French Polynesia (except for residents) : itinerary, inter-island transport, accommodation (e-mail contacts / telephone / dates of stay).
Once completed a receipt with an ETIS number will be issued by email.
A printout of this receipt, must be presented upon check-in together with the test results to be able to board the flight to French Polynesia and at the arrival.
The printout receipt of the health engagement form is to be kept with you at all times and in all places during your stay in French Polynesia.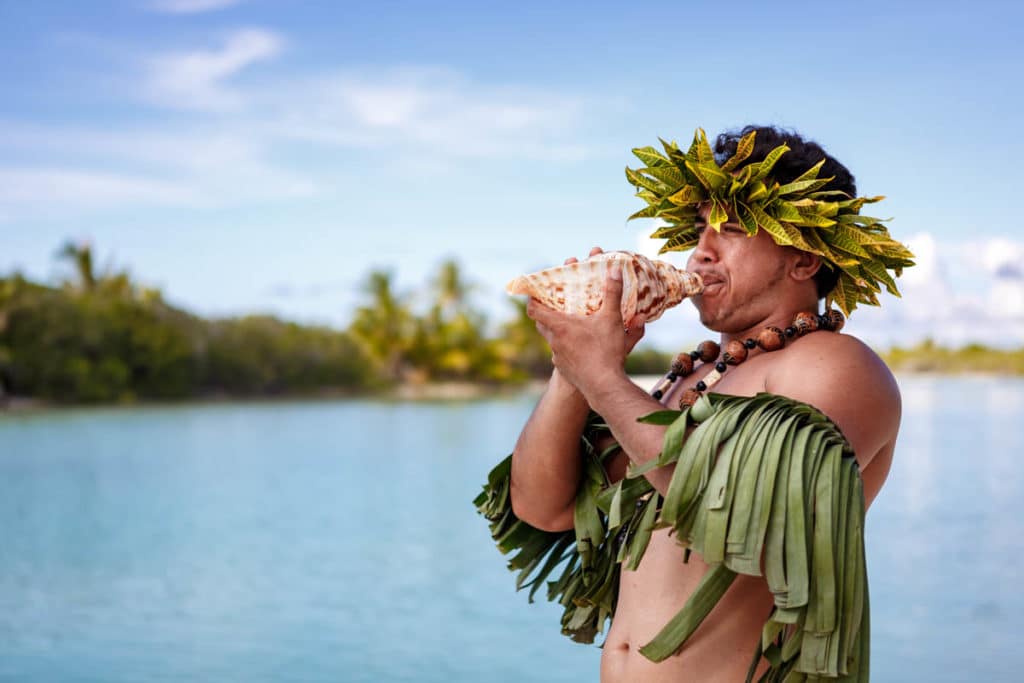 During the flight
During the stay
Wearing a mask is recommended (from the age of 11 years old);
Respecting prevention measures at all times and in all places;
In case of a change of itinerary, please update the "itinerary" part of your file on the Etis.pf website;
In addition to the test provided before your departure, a self-test provided by the country, will have to be carried out on the fourth day after your arrival in French Polynesia. An envelope will be given to you upon your arrival at the airport. This test consists in an oral and nasal swab, to be self-performed at the date indicated on the envelope containing a self-test kit with instructions and an information note.
Self-diagnosis of visitors: in case of doubt on your state of health (fever and/or flu symptoms), contact the reception of your accommodations and/or call directly to (+689) 40 455 000. If you feel any sign of distress, dial "15" (emergency services);
Depending on the diagnosis made by the Health Authorities, follow their instructions which may include isolation measures and / or carrying out an additional RT-PCR test..
Where can I get a test for COVID-19?
These are normally performed via nasopharyngeal swab and they detect the genetic information of the virus, the RNA, and show a positive result only if the virus is present and someone is actively infected. PCR tests are used to directly detect the presence of an antigen, rather than the presence of the body's immune response, or antibodies. By detecting viral RNA, which will be present in the body before antibodies form or symptoms of the disease are present, these tests can tell whether or not someone has the virus very early on. PCR tests have an extremely high degree of reliability.
Within the Southern California area, Air Tahiti Nui suggests visiting a Reliant Urgent Care center for Covid-19 testing. There are 5 locations spread across Southern California. The LAX location on Century Blvd is open 24/7 and in most cases is able to provide results within 48 hours of testing. For clients who present their Air Tahiti Nui ticket, there is a reduced charge of $149 per test, payable directly to Reliant medical center. Click the following link to visit the Reliant Urgent Care center website:
If originating outside of Southern California, it is recommended to contact your Physician or a local urgent care center who may be able to recommend a PCR testing site or perform the test themselves.
The entry requirements for French Polynesia stipulate that testing must be done no earlier than 3 days prior to departure of the flight to Tahiti. It is strongly suggested that this test be conducted immediately after the 72 hour mark, to ensure the test result prior to flight departure.
Covid-19 In French Polynesia latest updates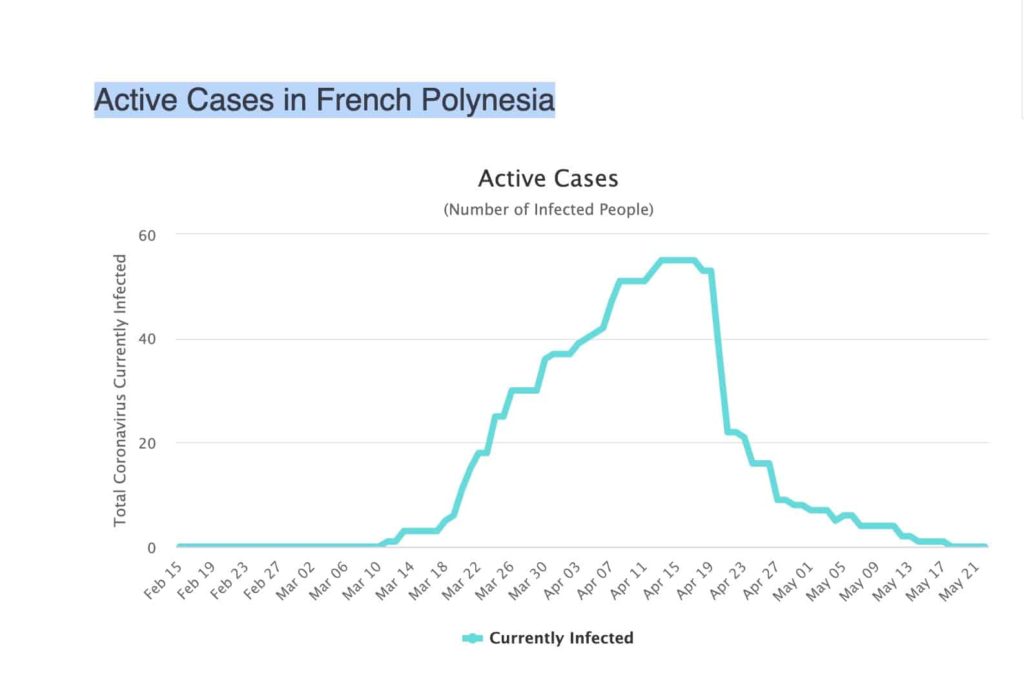 As of July 10th 2020, there have been a total of 62 confirmed cumulative cases of coronavirus on French Polynesia (but none in Bora Bora).
The positive cases of Coronavirus Covid-19 have been found only in the islands of Tahiti (Tahiti is 170 miles/ 277 kilometers away from Bora Bora and 51 minutes away from Bora Bora by plane) and Moorea (is 150 miles / 241 kilometers away from Bora Bora and 47 minutes by plane) .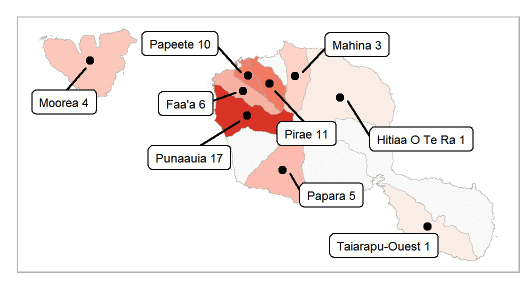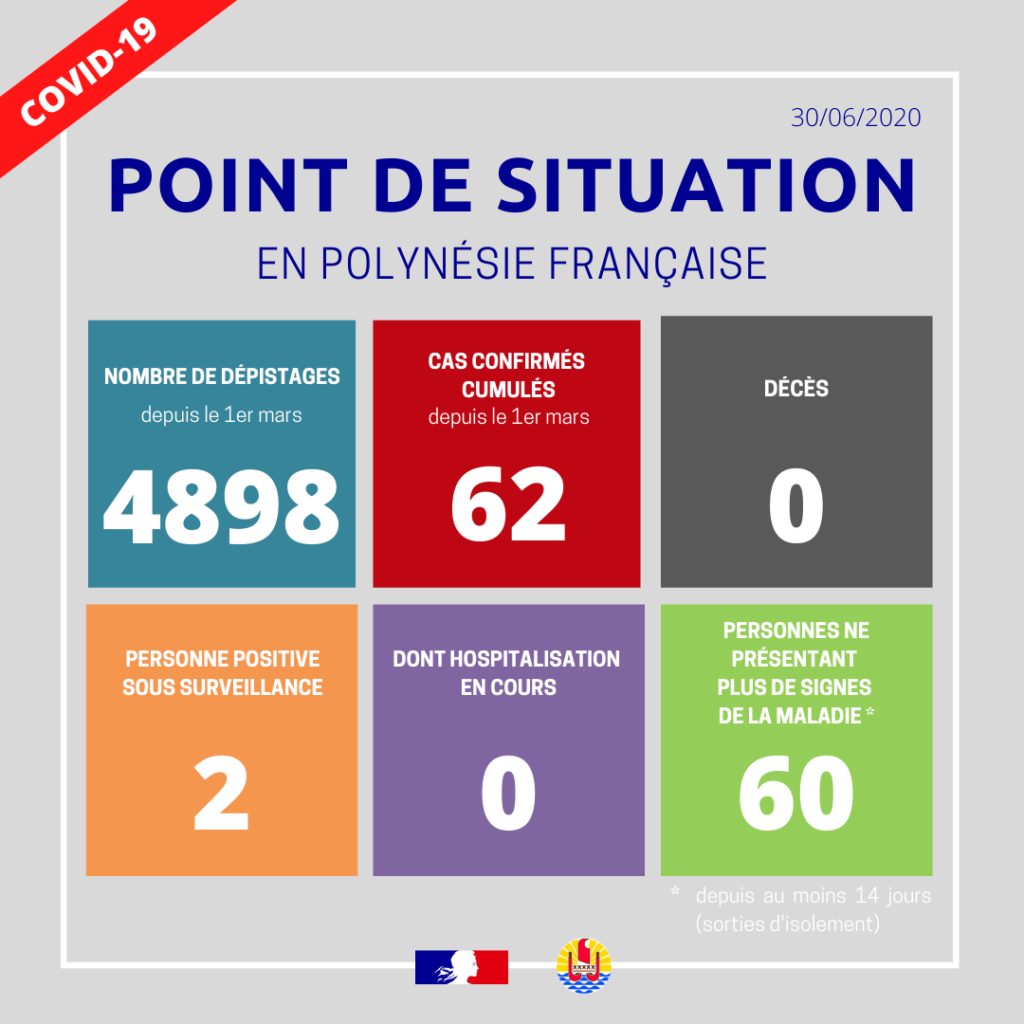 Number of screenings (since March 1st) = 4898
Cumulative confirmed cases (since March 1st)= 62
Deaths= 0
Positive cases under surveillance= 2
Currently hospitalisation cases = 0
People no longer showing signs of Covid-19= 60
Please click here for official updates on the confirmed cases in French Polynesia (website in French).
Currently French Polynesia has 2 active cases of COVID 19 under surveillance in Tahiti. The country's authorities announced June 5th that the borders will be re-opening to international tourism in French Polynesia starting on July 15th, 2020. Quarantine measures will be lifted and French Polynesia's borders will re-open to international tourism from all countries.
When will it be safe to travel again?
French Polynesia borders will be re-opening to international tourism from all countries, starting on July 15th, 2020.
Resorts Reopening Dates:
Four Seasons Bora Bora plans to re-open on July 15th, 2020. Here is a message from the Four Seasons resort Bora Bora general manager Diego Stembert.
InterContinental Thalasso & Le Moana Bora Bora plans to re-open from July 15th, 2020.
Conrad Bora Bora Nui plans to re-open July 15th,2020.
St Regis Bora Bora plans to re-open July 23th ,2020.
Sofitel Private Island plans to re-open July 15th,2020.
Bora Bora Pearl Beach Resort plans to re-open on September 1st 2020 with a soft opening phase and fully re-opening on October 1st 2020.
Le Méridien Bora Bora is closed for renovations until 2022.
Sofitel Bora Bora Marara Beach Resort : closure for renovations is extended until the end of the year.
Airlines Reopening Dates:
Air Tahiti Nui flights will being daily from LAX to Papeete as of July 16th 2020.
Air France flights are expected to begin on July 11th – From Paris to Papeete via Vancouver . Not stopping in Los Angeles.Unfortunately boarding not permitted at this time in Vancouver.
French Bee flights are expected to resume July 15th, details to be confirmed.
Hawaiian Airlines extends the suspension of its operations between Honolulu and Papeete until June 30th, 2020 inclusive.
United Airlines flights are expected to resume in August,details to be confirmed.
Is Bora Bora free of coronavirus?
YES. Fortunately for the island of Bora Bora, we haven't had any case so far.
Faced with the 6 cases of Corona Virus in Tahiti and Moorea, the authorities decided to stringent suspend any access by planes or boats to Bora Bora since March 18th . Because it's easier to control the flow of passengers here than in a much larger country, Bora Bora has remained unreachable, therefore safe and protected.
Chronology of the coronavirus in French Polynesia
Upon the March 9th mandate, all travellers were required, regardless of nationality, to provide a medical certificate of clean health before entering the country. The certificate must be dated within five days of the last port of departure.
On 11 March, the first case of Coronavirus COVID-19 in French Polynesia was confirmed in Tahiti (but not in Bora Bora). The first patient was Maina Sage, a member of the French National Assembly coming back to Tahiti from France.
The number of cases reported rose to three on 13 March. Three new cases were confirmed on 18 March, and five on 19 March.
On March 11th the Polynesian Goverment announced mandatory 14 day quarantine to all people arriving by plane on international flights.
Faced with the number of increasing cases (6 cases total) in French Polynesia, the authorities decided to take fast and drastic measures to protect the population and suspended access to the territory for all non-residents. The French Polynesia travel ban was effective from March 18th.
On March 18th started the repatriation for all non-resident travelers.
On March 20th, a mandatory lock-down was announced for all the population in French Polynesia. Any flights or boats inter-Island were also suspended to protect all the little islands, including Bora Bora.
Starting on 24 March, alcoholic beverage were forbidden from being sold. This measure was very unpopular and highly criticized.
On March 27th , curfew was imposed, lasting from 8pm to 5am.
After 40 days of strict lockdown, president Edouard Fritch and the French High Commissioner Dominique Sorain said isolation had worked, the pandemic was under control, the curve of Covid-19 was flattened at 58 cases and 0 deaths and the authorities decided to lighten the lockdown from April 29th.
Light alcoholic beverages (beers and wines) became available again.
Retailers were able to open, whilst ensuring barrier gestures were respected; restaurants and food trucks were therefore able to reopen.
Beaches were also re-opened, whilst respecting social distancing, even on the seaside. Individual leisure, sports and nautical activities were therefore be allowed.
The reopening of administrations was gradual, prioritizing teleworking where possible.
However, bars, discotheques, cinemas but also sports clubs remained closed, collective trainings were still prohibited, as well as gatherings in public and private meetings with the extended family or friends gatherings were strongly discouraged.
Maritime and air travel between the islands was still prohibited in order to ensure active surveillance and control of the epidemic. However, access was possible between Tahiti and Moorea.
The curfew was maintained but it shifted from 9pm to 5am.
After two months of lockdown, following again the improvement of the health situation with only a total of 60 cumulative cases, the authorities declared the end of lockdown in French Polynesia starting from May 21th, 2020:
Access to the territory for all non-residents of French Polynesia was still suspended (since March 18, 2020).
Domestic flights started their operations from May 22nd, with Air Tahiti flights serving only 10 islands: Huahine, Raiatea, Bora Bora, Rangiroa, Tikehau, Fakarava, Rurutu, Tubuai, Nuku Hiva and Hiva Oa.
Sailing yachts which have been stopped in mooring areas were able to resume their trips.
All companies and administrations resumed their activities.
Restaurants, bars and nightclubs resumed their activities under usual conditions.
The country's authorities announced June 5th that the borders will be re-opening to international tourism from all countries. in French Polynesia starting on July 15th, 2020
Two new Imported cases of Covid-19 were detected 30th June and are currently under surveillance in Tahiti.
What is the current situation of coronavirus Covid-19 in Bora Bora?
Being a secluded island in the middle of the Pacific ocean, Bora Bora have remained in a little bubble, safe and protected with 0 cases of Coronavirus Covid-19.
However the coronavirus is causing major problems for Bora Bora's economy, bringing setbacks that could take years to recover from.
All resorts, hotels are temporary closed because they can not afford to re-open without international clients.
Guest houses and small businesses start to re-open to local inter-island tourism from May 22nd.
We don't have official numbers about the job count fall in the service and tourist industry. But because Bora Bora is a 100 % driven by tourism, from the 20th of March almost all the island is unemployed.
The hotels are helping giving forced paid vacations to their employees and the fallout may be softened by a series of relief bills coming from the Government.
Two hotels have decided to use this off time to renovate. Le Méridien and Sofitel Marara have temporary closed, leaving hundreds unemployed.
Due to the travel ban, the island continues on lockdown to any international flights, cruise ships or boats until July 15th 2020.
People are spending quality family time, fishing, practicing sports outdoors and the schools are welcoming kids. The beaches, restaurants and shops are opened and we are looking forward to welcome tourists again.
I was supposed to visit Bora Bora soon…
You've waited for your dream vacation to Bora Bora for long time. After carefully making all the arrangements for your flight, booking a resort – you started to breathe easy and let yourself get excited visiting Bora Bora.
…then the unexpected coronavirus and the travel ban. What should I do?
Contact your vendors
If the coronavirus has affected your travel plans, contact your vendors, resorts, travel agencies and airlines. They are waiving change fees to offer you flexibility with your bookings.
Try to re-schedule if possible to help the island, re-scheduling your trip you will be the reason we will be here in the years to come, THANK YOU 🙂 Click here to find out the best time of the year to visit Bora Bora.
If your travel plans are from July 15th you can start preparing your stay 🙂 Remember that you are going to need travel insurance and a A SARS-CoV-2 virus genome test (the SARS-CoV-2 RT-PCR test) negative test 3 days before boarding and to fill out the online sanitary entry form.
The coronavirus COVID-19 in Bora Bora: Final Thoughts
We recognise that traveling to Bora Bora requires planning ahead, coordinating schedules, and saving up those hard-earned dollars to have your dream vacation. We hope that this article has armed you with the facts and the current update on coronavirus disease COVID-19 status on Bora Bora. We recommend that you follow the State's guidance and come see us this summer!
Disclaimer: This article was written on July 10th, 2020. Sources for this article include Direction de la santé and the World Health Organization and is believed to be accurate at the time of posting.