Trash the wedding dress (TTD) in Bora Bora is a new trend becoming more and more popular as brides are becoming increasingly more daring and adventurous. Trashing the dress involves getting in your wedding ensembles and then head to Bora Bora's turquoise lagoon, jump from your overwater bungalow or roll in the white sand at the beach.
So you're married, you find your wedding dress carefully hung up on the back of your bedroom door and think to yourself "What am I going to do with this dress?"
So what do you do? Store it? Donate it? Ever thought of TRASHING IT IN BORA BORA?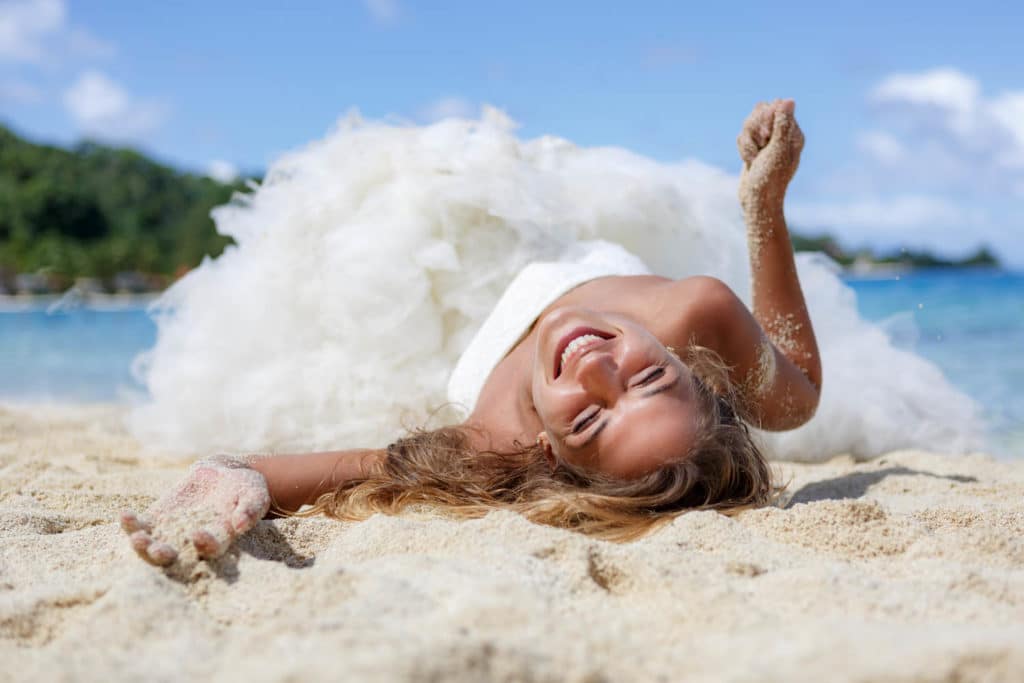 Reasons to do it :
Newly weds that are eloping on the island : why don't you use the rush of adrenaline of the moment and finish by jumping in the water? No one will be able to say that your wedding album was boring!
Honeymooners who got married back home, specially if you got married at the Civil Hall and it was not-so-thrilling, and want to give a second life to their gowns in a breathtaking location. It can be super fun and wild like jumping in the water, but also sexy and romantic. All wet on the beach, salty kisses and messy hair.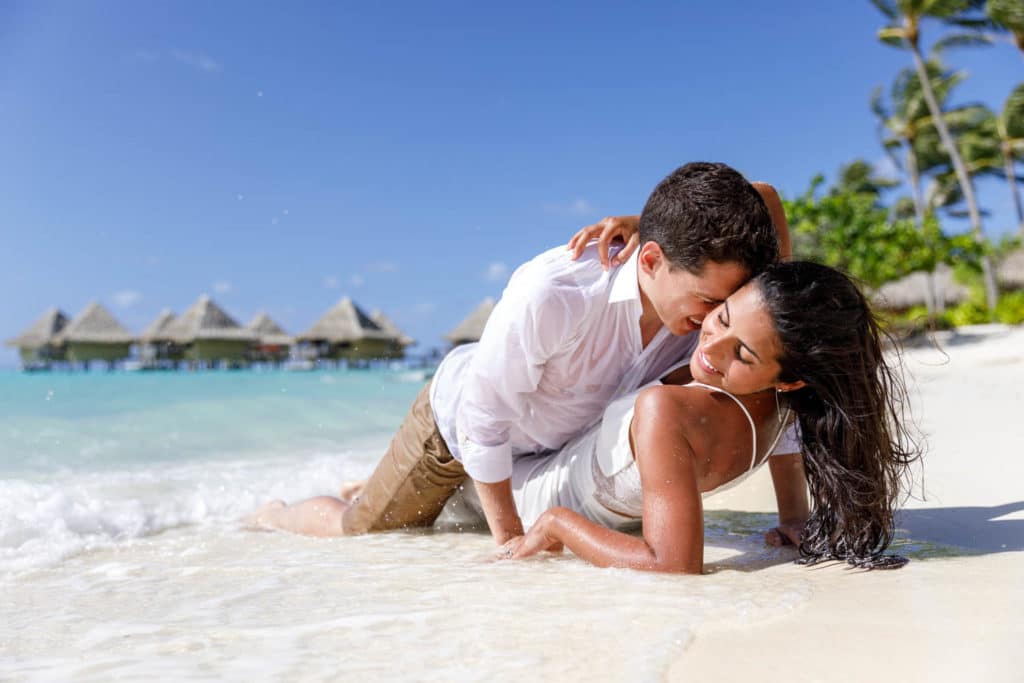 Couples renewing their vows or celebrating their anniversary. Does your heart skip a beat when you imaging putting your wedding dress back again one last time? Then you should do it! You only regret the chances you didn't take.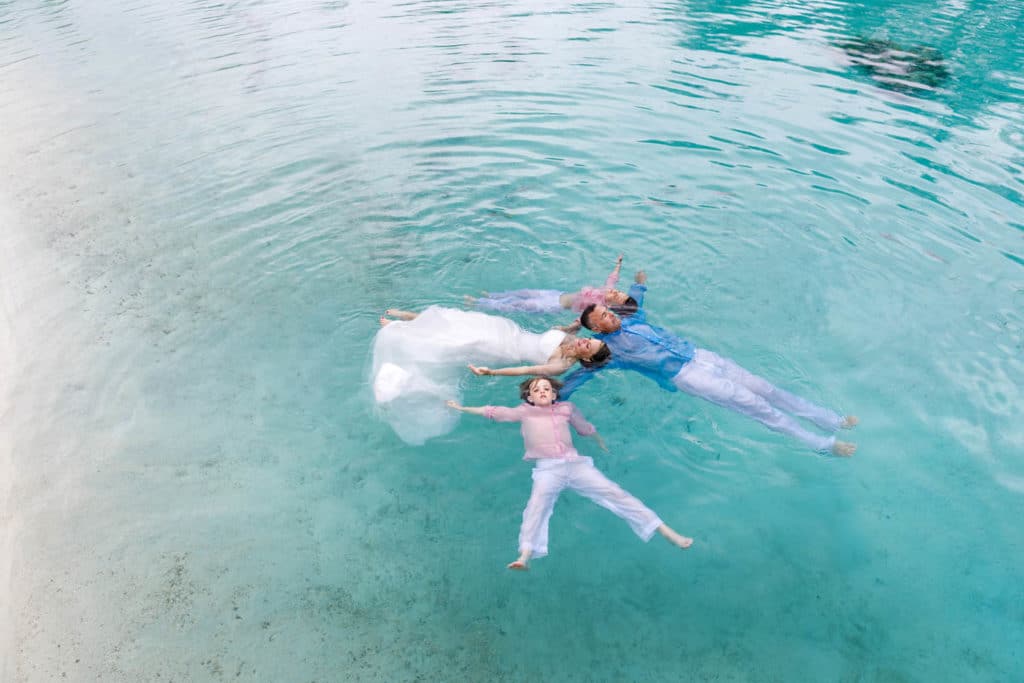 But you still don't have the heart to trash your precious and expensive wedding dress….
You love the idea but can't bring yourself to ruin that dress you paid a whole lot for?
No worries, check out local thrift stores to snag a cheap lookalike to use for your photoshoot.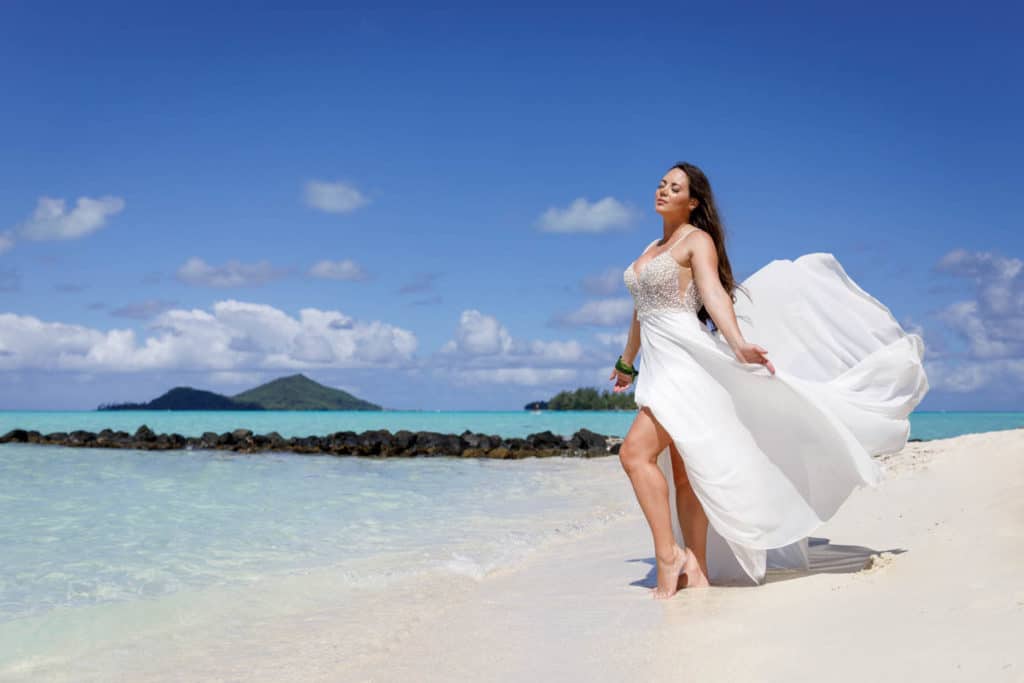 Should I do over-under water photography ?
Definitely YES!!! At the end of your session is going to be the perfect end for a unique handcrafted album.
This half-in-half-out view allows us to see the iconic mount Otemanu and epic skies while simultaneously showing the gorgeous movement of your gown and the clear water of the lagoon.
The over-under or half and half image provides a window into two very different worlds in a single frame, and can be a powerful tool to show the beauty of Bora Bora above and below the surface.
It doesn't require to know how to swim and you can even keep your top half out of the water.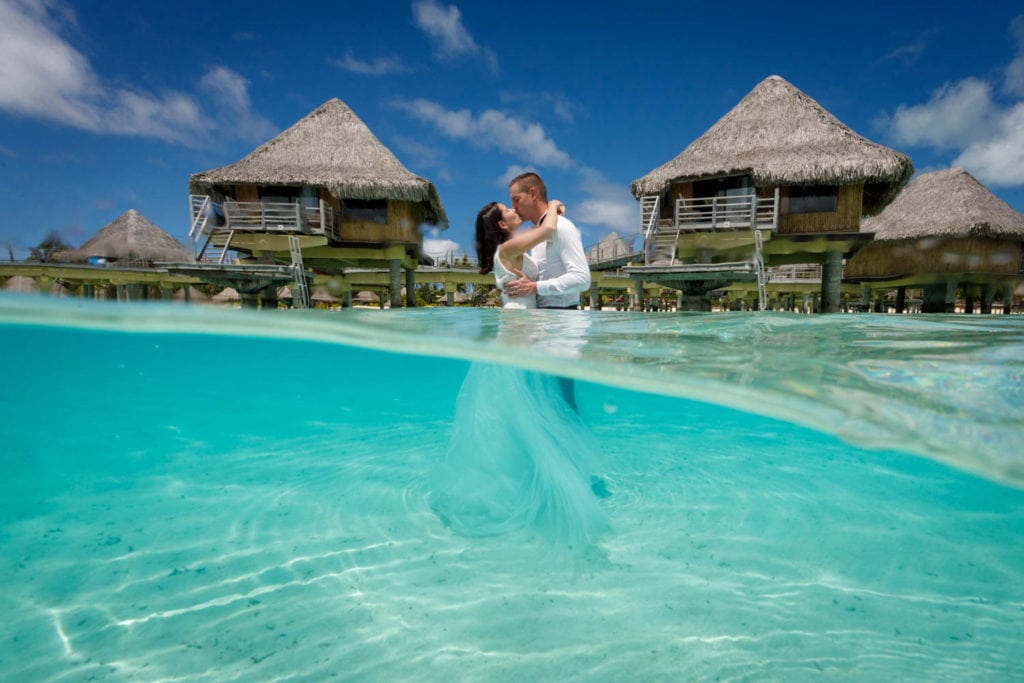 Completely underwater?
A trash the wedding dress does not have to be underwater but most couples are drawn to the underwater world.
It can be just a few feet down or if you are comfortable in and around water and you are a strong swimmer, then you can dive deeper.
Are you ready to dive in?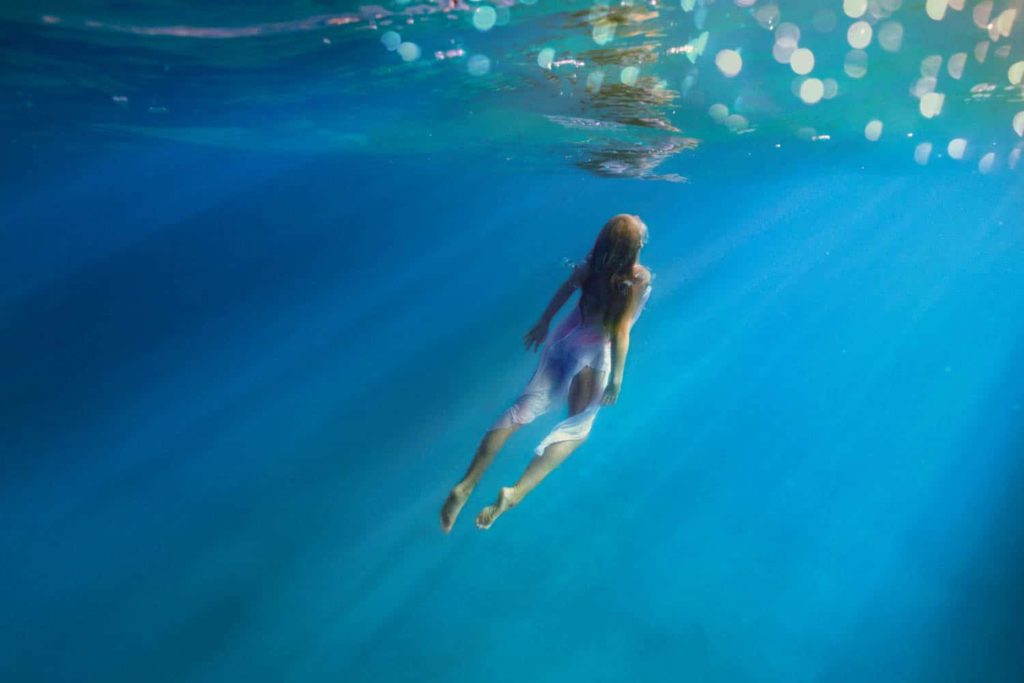 Perfect dress to trash
Most brides do not consider what their dress will look like underwater when they are choosing their wedding gown. But if you are a mermaid bride going shopping for a gown to trash, here are a few tips:
Multiple layers look amazing. Sheer layers with embroidery over the main fabric look incredible as they float away from the base layer of the dress and the embroideries are suspended in the water. Even the underskirt of your wedding dress that gives it it's volume looks incredible underwater. As the tulle floats up you become surrounded by a gorgeous fluffy cloud of delicate fabric – like a dream.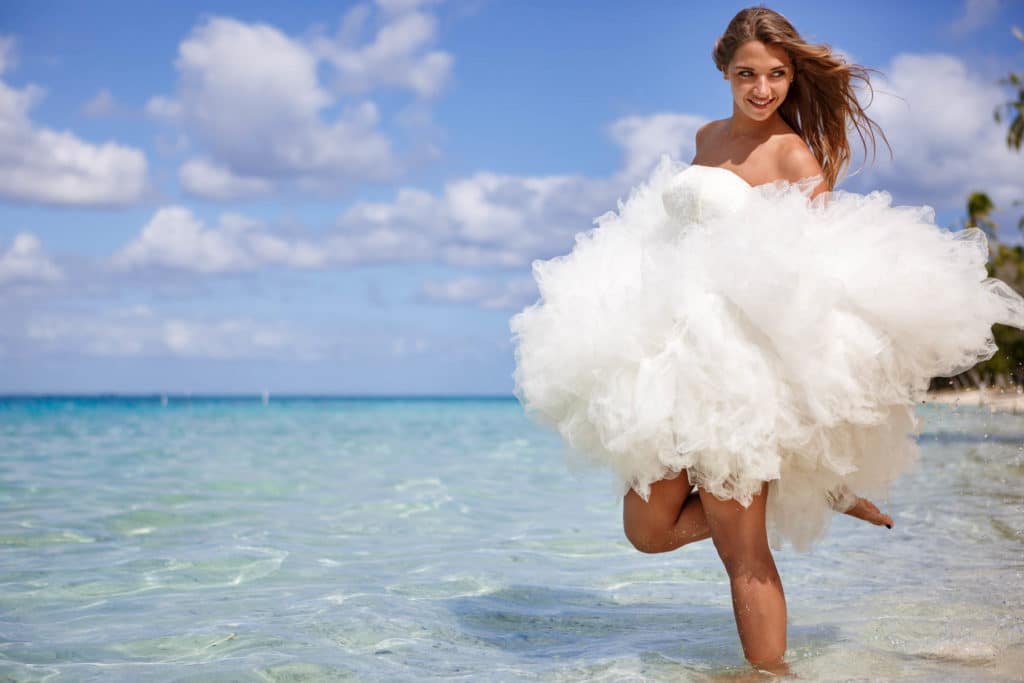 Mermaid wedding dresses If you are going mermaid style – be generous! Mermaid or trumpet silhouettes are tight above the knee flaring dramatically out towards the floor. In a trash the dress this can be tough to swim in so – if you love this style try to have the flared part of the skirt starting mid-thigh rather than at the knee. Also the more volume the better so the fuller the skirt the more spectacular the effect will be underwater.
Simple dresses can also be spectacular. Clean lines and drapery looks beautifully fluid underwater and can look very elegant and chic.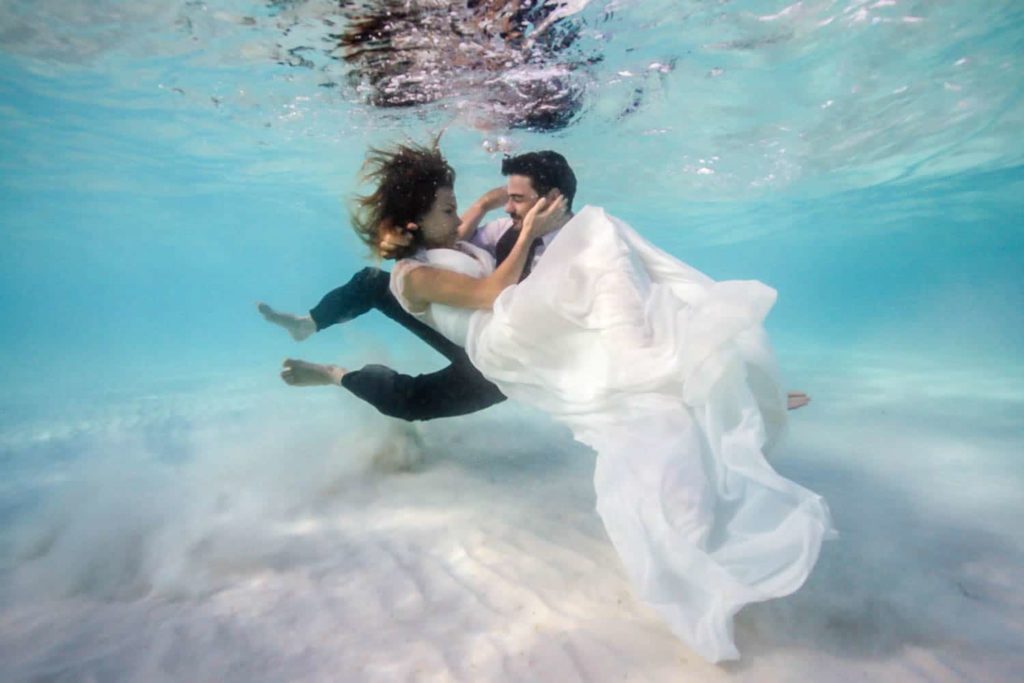 Colorful dress Weddings are white but that doesn't mean you can't throw a dash of color in there! Red ALWAYS looks amazing as it's a complimentary color to the blue of the water and the green of the palm trees.
Wear a LONG bridal veil
Long bridal veils look amazing. Even if you didn't wear a full veil on your wedding day consider it for your trash the wedding dress session.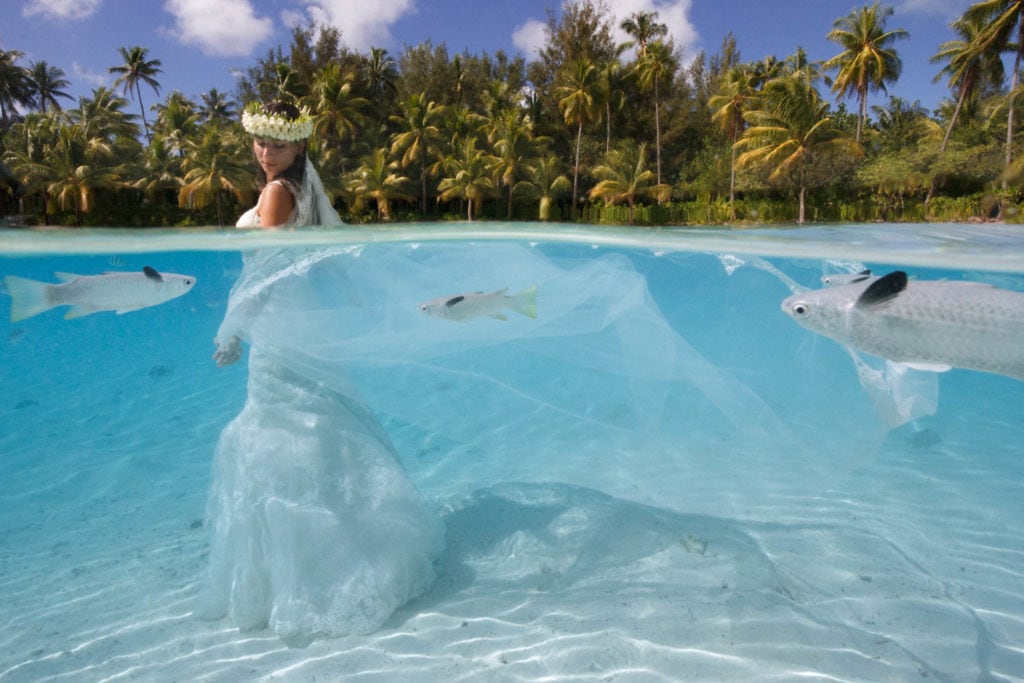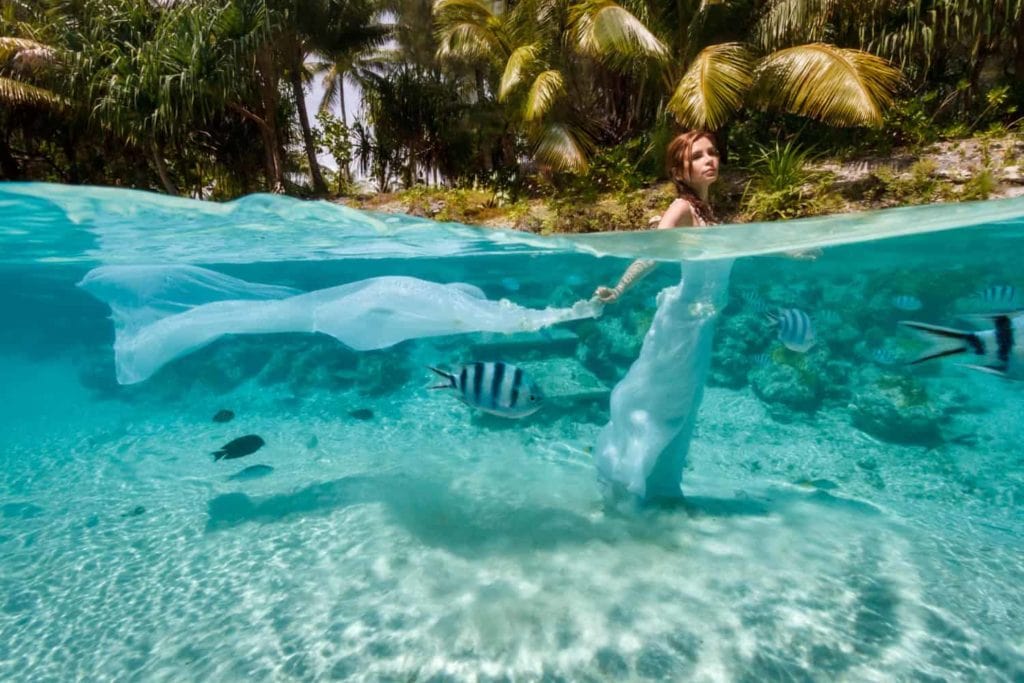 Best time of the day to trash the dress?
I recommend to do the shooting in the morning to take advantage of the stunning color of the water and specially if you also want to do over-under water pictures.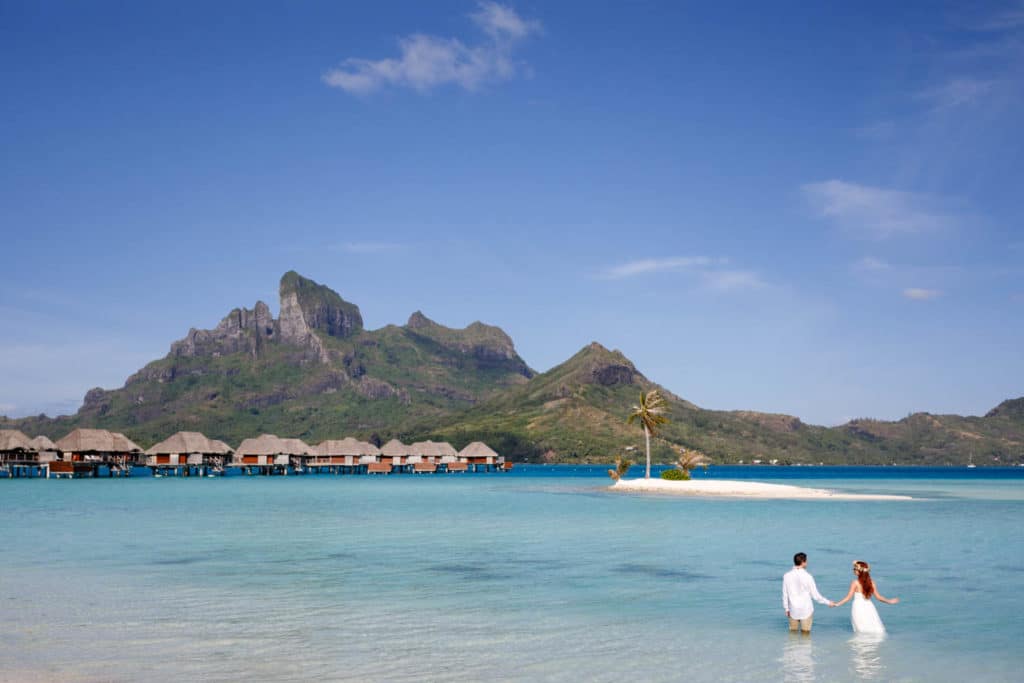 Trashing the wedding dress in the afternoon is for the sunset lovers however the light won't be enough to take mermaid underwater pictures.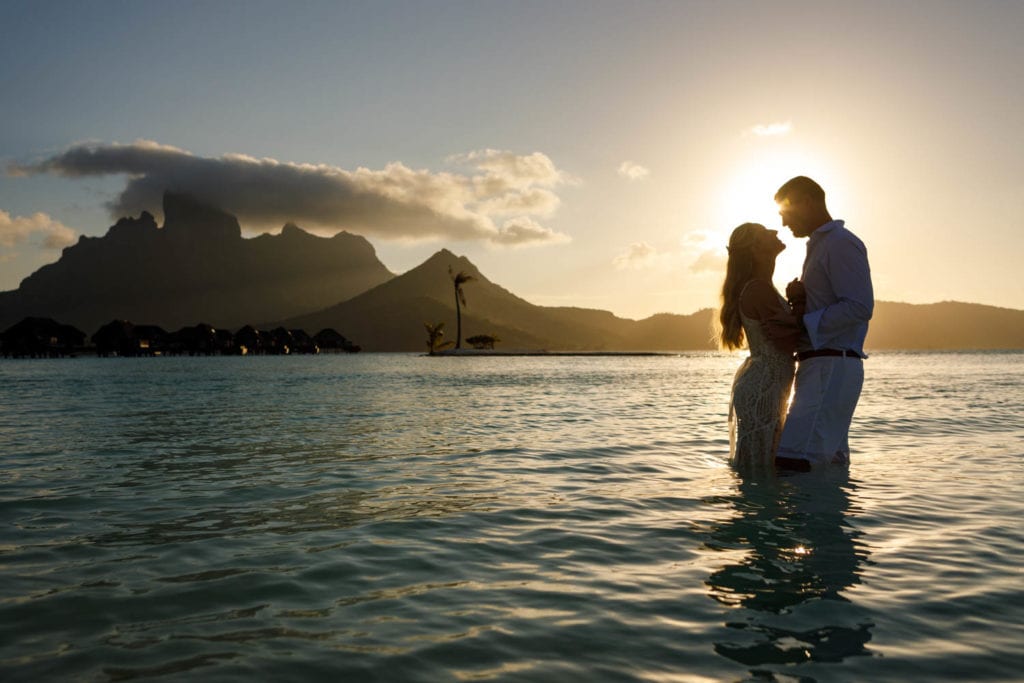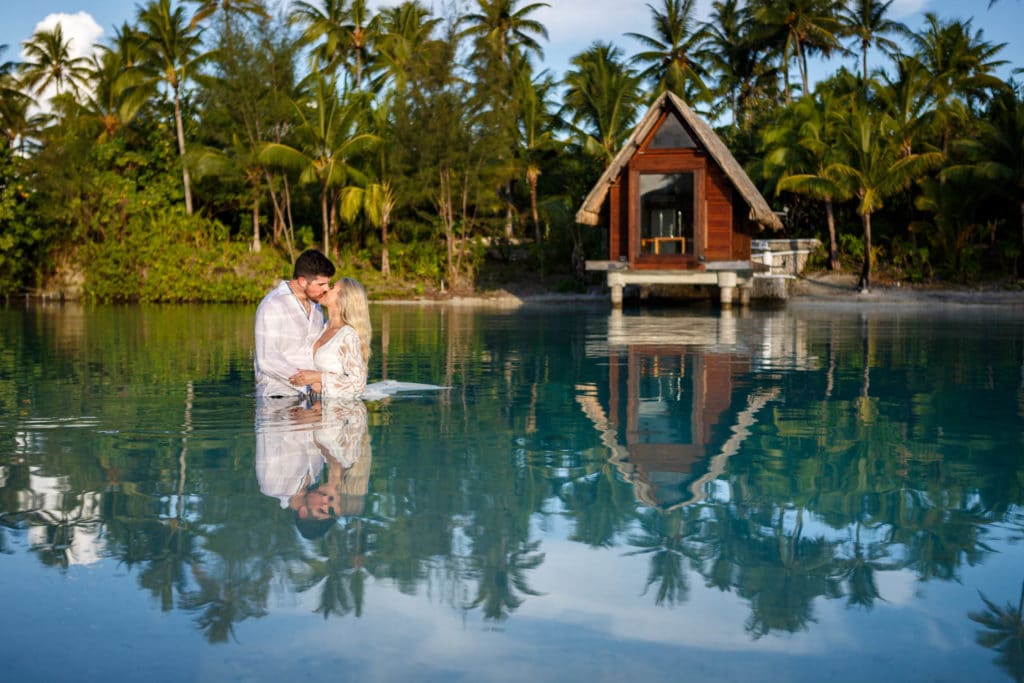 Check my post Best time for a photo shooting in Bora Bora to help you to choose between morning or afternoon session with some examples.
How to pack your dress?
Remember that you are going to trash the wedding dress so it doesn't have to be perfect, use a vacuum bag and suck all the air out of the bag so it doesn't take all the space in your luggage and unpack immediately after arrival to hang it up to let the travel wrinkles shake loose.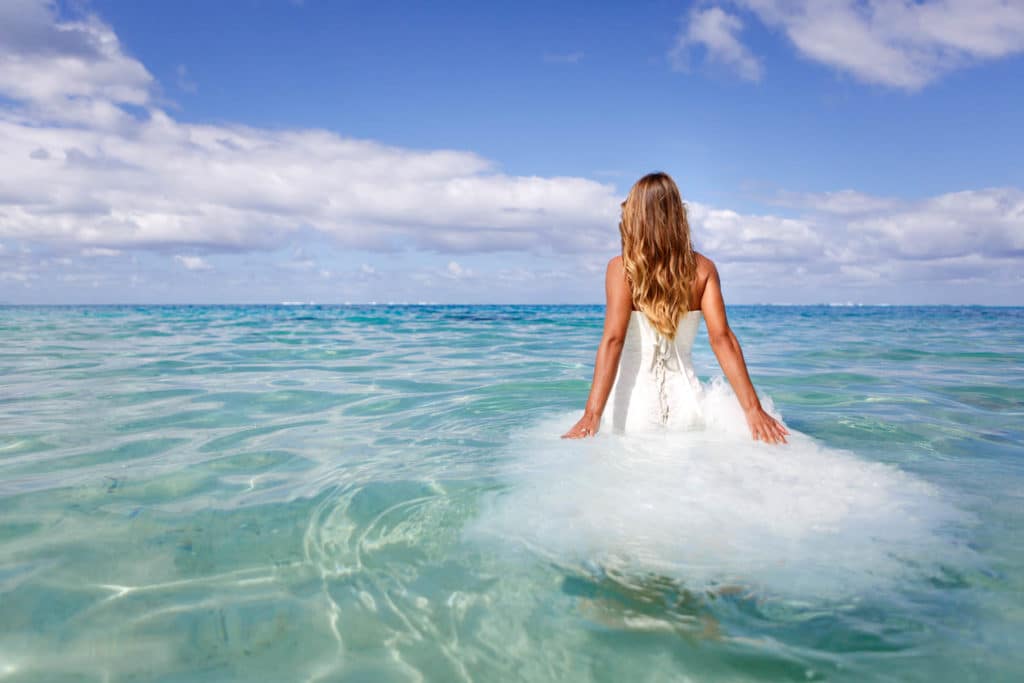 Is the wedding dress ruined forever?
Not necessarily. Should you decide to give this trend a try, you (and your photographer) will discuss beforehand just how badly you'll trash your gown. The concept is to relax (finally!), let your creativity flow, and enjoy wearing your dress one last time in a fresh, liberating way.
Some take a subtle approach for their photo session with a walk through the beach , while others go a step further by going completely in the water or even heading to a muddy water -lily pond.
If you want to trash your dress without ruining it too, be sure to look first at the care label in your wedding gown and ask your designer if ocean water is harmful, before you make the decision to go. If the fiber content is 100% polyester, go ahead, a cleaner who specializes in wedding gown cleaning should have ways to make your wedding gown look almost as good as new.
However, if the care label in your wedding gown says 100% silk—or some percentage of silk, think twice before diving into the water.
TIP- After the session, soak your wedding gown in fresh water inside the hot tub to take off the salt and just hang it up to air dry. Back home, bring it to a dry cleaner so your wedding dress can have a happy ever-after, too.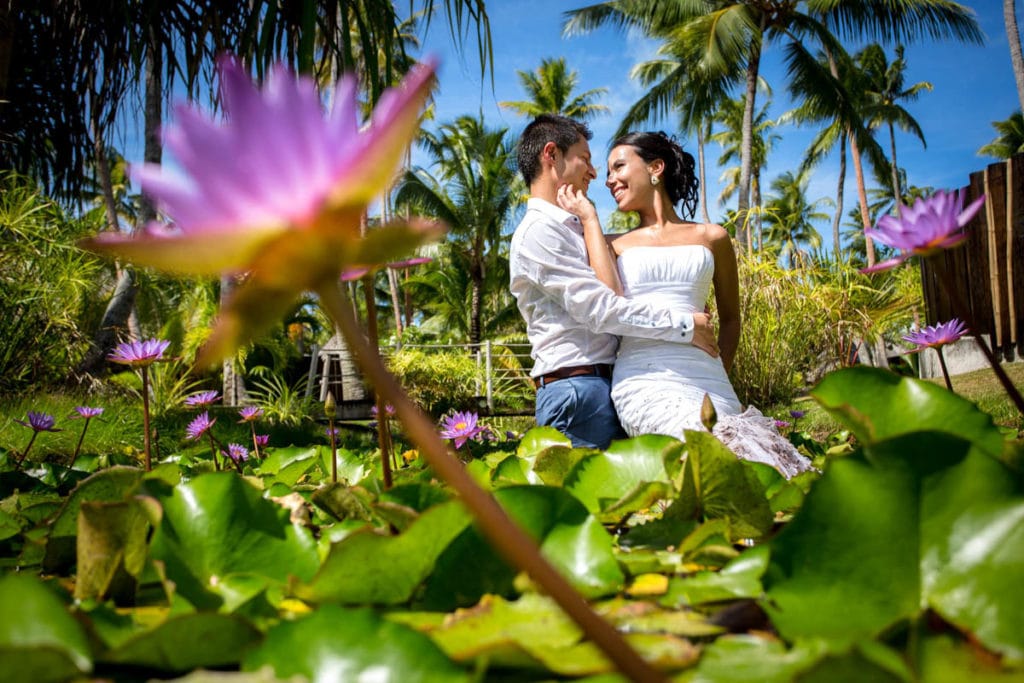 Is it worth doing my hair or makeup before the session?
You'll cherish and may want to blow up many of these images, so why don't you pamper yourself and get your hair and make up professionally done?
Although some of your photos will be taken as you're being a mermaid under water, there are plenty that will be taken half in the water, lying on the beach, in a hammock, against palm trees and beyond. A little rouge on the lips or lengthy eyelashes are small things that when enhanced subtly can really pop in your photos.
I do not personally think that an intricate hair design is necessary, but bed head may not be the way to go either. A little beach wave can go a long way in these photos.
Also don't forget the local touch, flower crowns and leis can add to your pictures the Polynesian twist that everybody loves.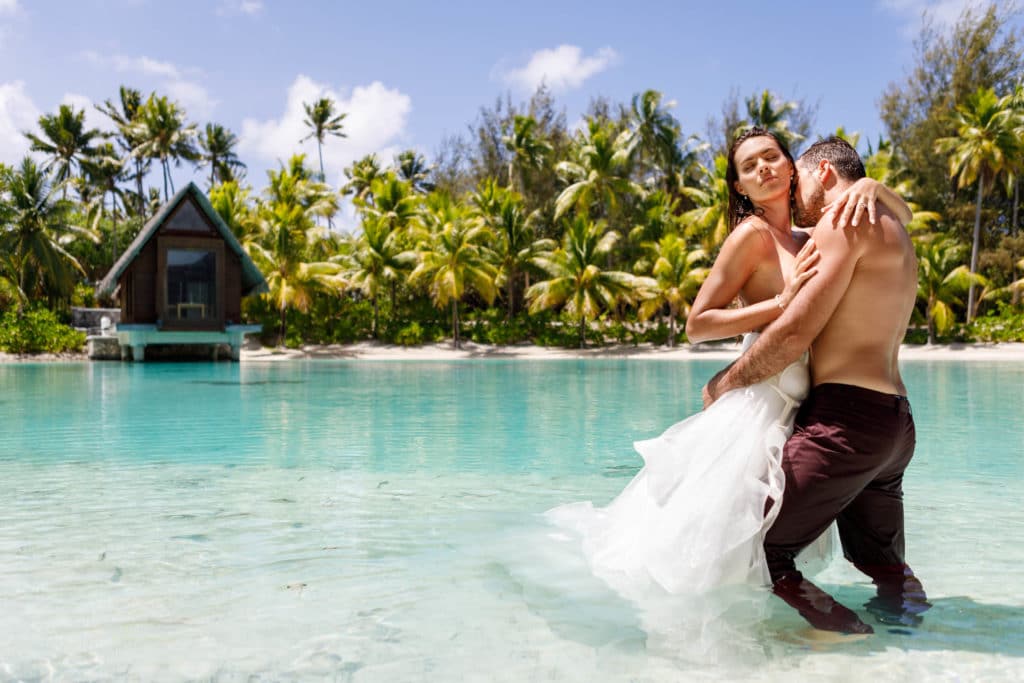 1,2,3 and Jump!
There is no more exhilarating feeling that jumping with your loved one from your thatched roof overwater bungalow. How should you jump?
Jump forward: This picture was taken from the bungalow, with a view to the iconic Mount Otemanu. For the romantic sunset lovers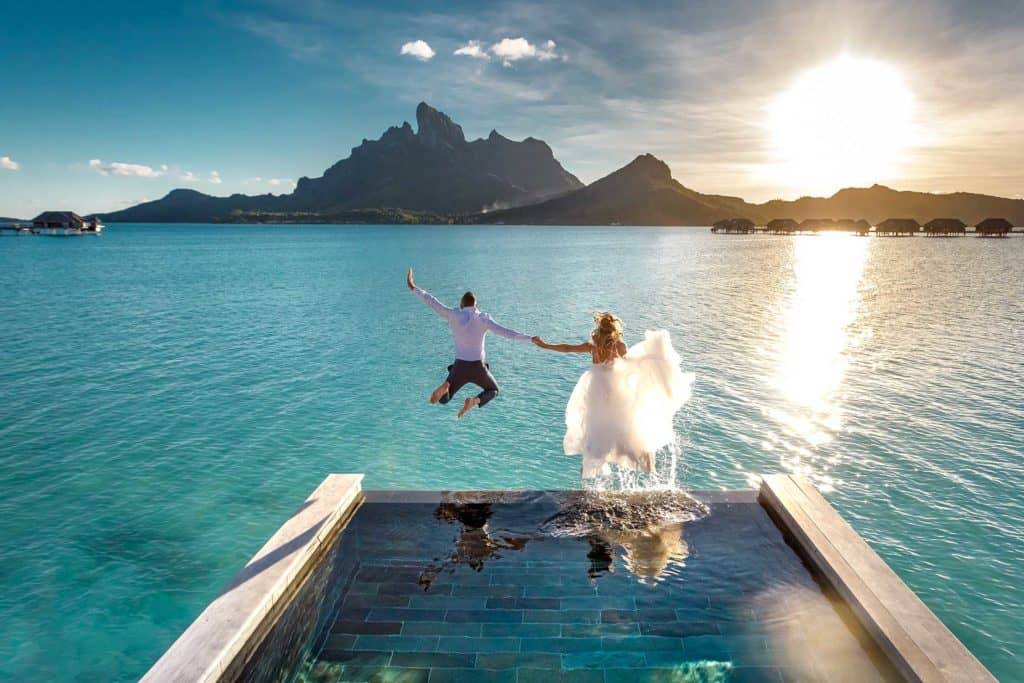 Jump down to the water: This picture was taken from the water. Is very powerful, fearless and so refreshing!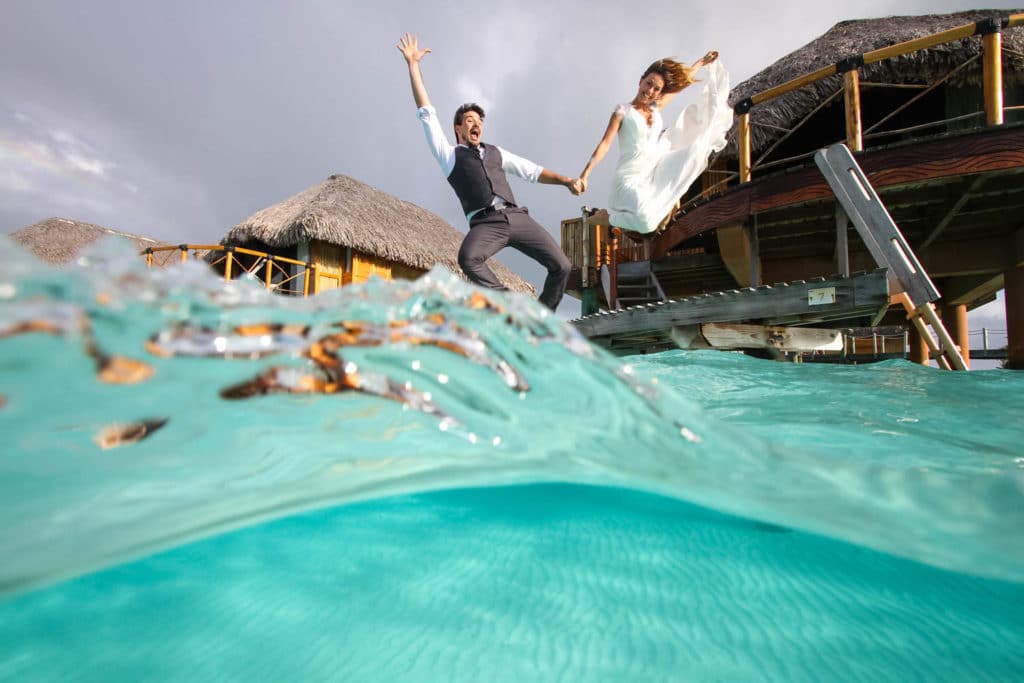 Jump sideways: If you don't want to lose sight of your partners face, try this one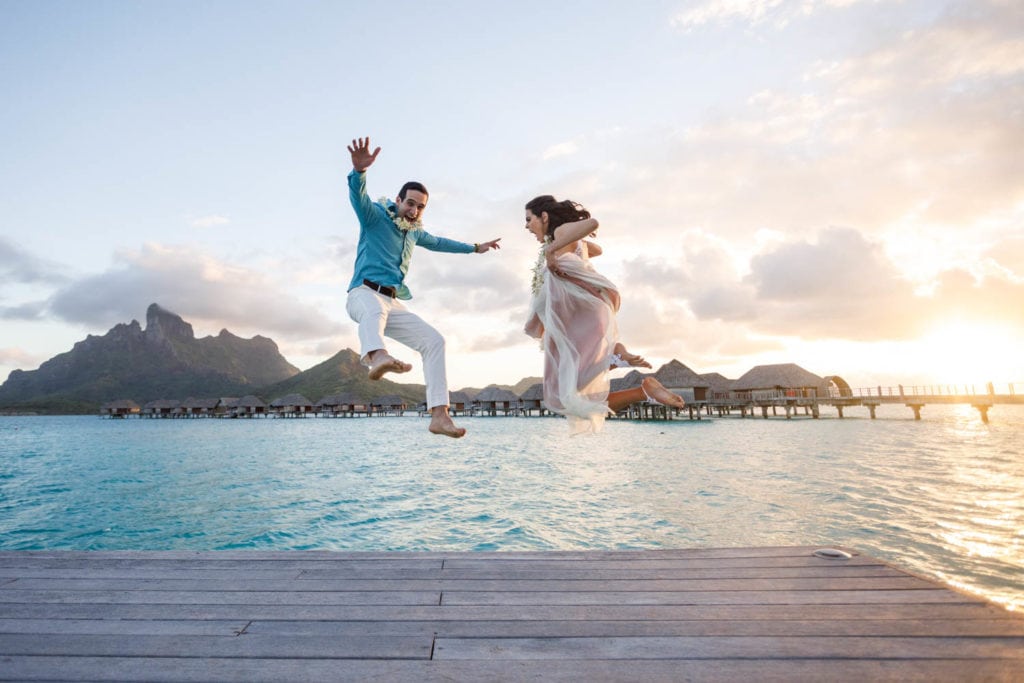 Jump backwards: Do you trust the universe? Jump backwards looking at the camera and smile!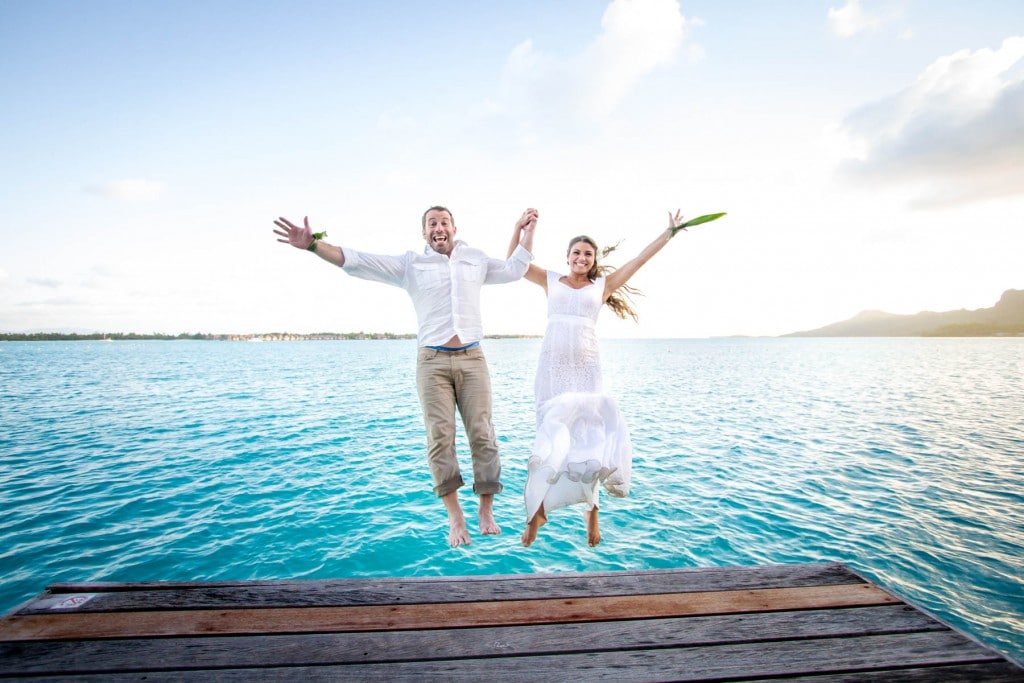 Free style and Repeat because jumping is addictive !!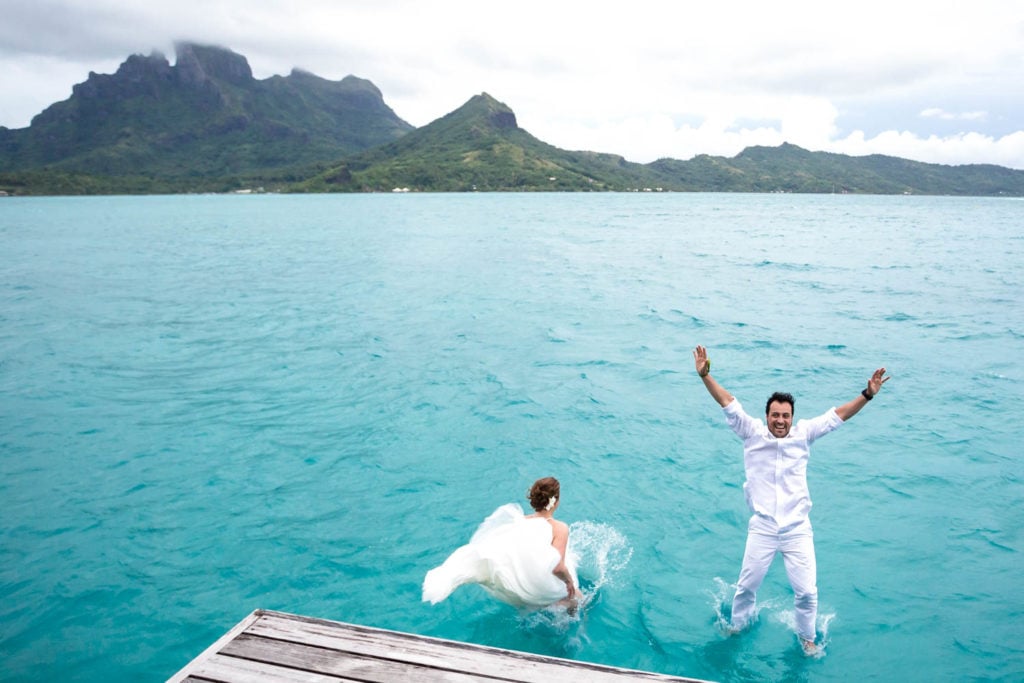 OMG, is it safe to jump?
Yes, very safe with some precautions.
I am a PADI Certified Scuba Diving Instructor and have years of experience in the water : safety during my session is key. I am ready with flotation device if needed and I will always watch you as you're underwater.
A wet bride's wedding dress can become very heavy in the water and it could drag you down. So I recommend caution, use the services of a professional photographer familiar with the surroundings, alert security and only jump from the bungalow if you know how to swim and you check with the resort that the water is deep enough to jump and the current is not strong that day.
Where Do Trash The Dress Sessions Take Place?
Normally my water sessions are just a complement to end your shooting so they take place in the resort, in your bungalow and in the inner lagoon of your resort to capture the aquatic life.
Sometimes the sessions can also take place outside the resort. I can tag along on your boat to a snorkel or paddle excursion and document your first encounter with sharks and rays. Nothing makes me more happy than a day in the lagoon.
We want you to have fun during your session and enjoy a once in life time experience while creating unique pieces of art.
Who came with this crazy idea first?
Las Vegas wedding photographer John Michael Cooper is credited with staging the first TTD shoot. After becoming bored with more traditional wedding photo sessions, Cooper began asking brides to pose after their wedding day in unusual (and less pristine) settings. The sentiment among many photographers who offer TTD shoots is the same: Given the unique photos that result, it's a win-win opportunity for brides and photographers alike.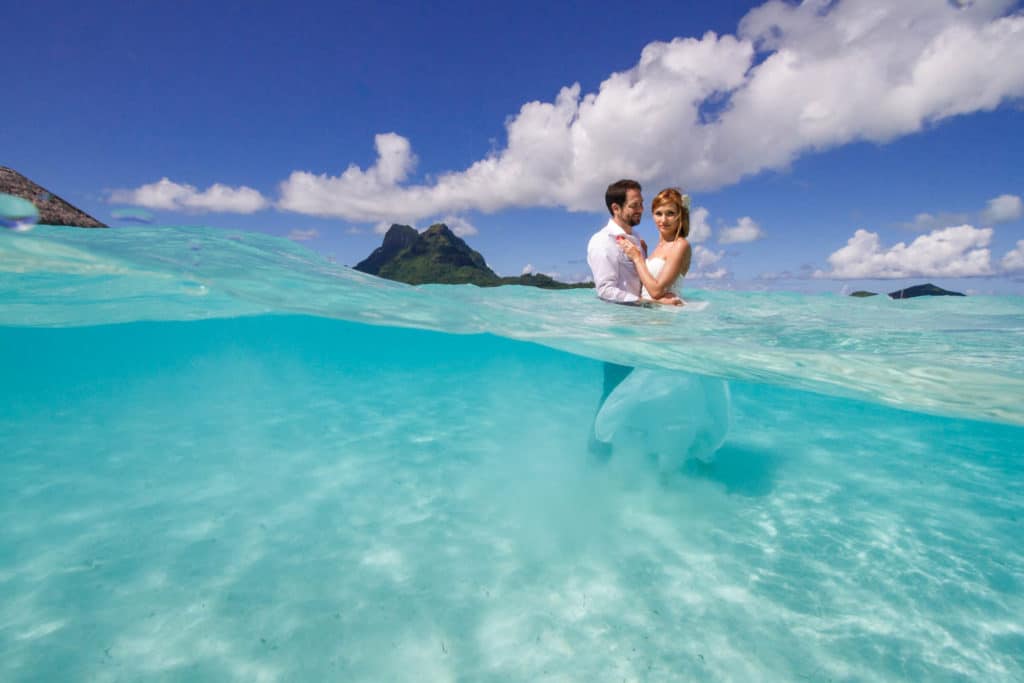 Sold, Let's do it! How do we do it?
Slowly….
First some shoots in the sand.
The moment where you first hit the water.
Then half in the water, half out.
Completely wet and messy.
Or just 1,2,3 jump!
Floating
For the most adventurous : under the water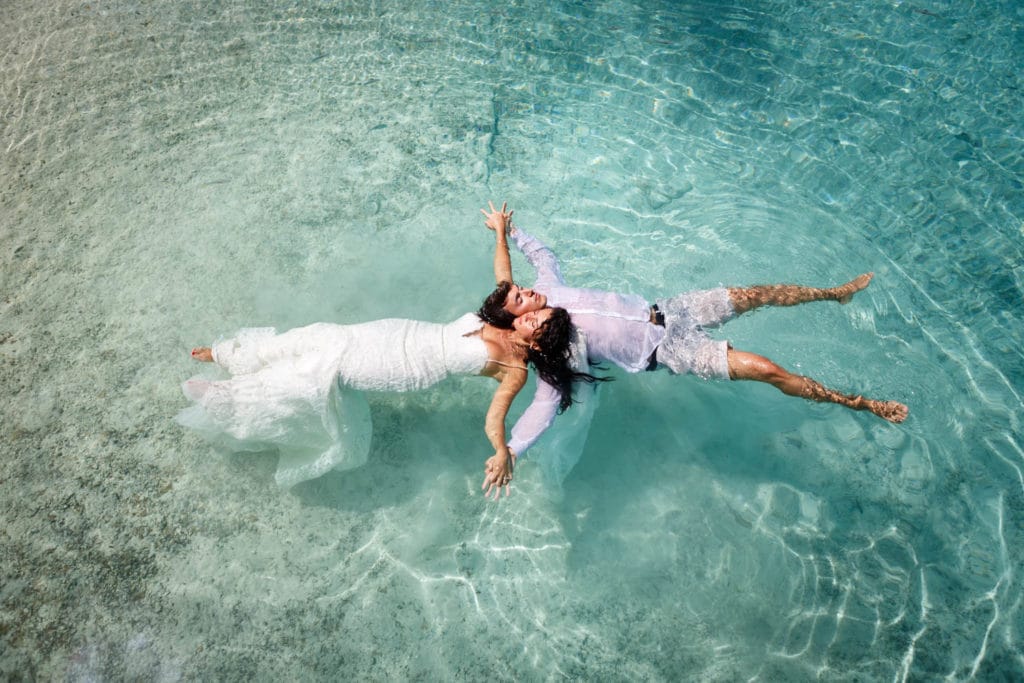 Please, let me know beforehand if you are planning to trash the wedding dress and take some underwater pictures as extra equipment and some planification are required.
To see more pictures, check my portfolio here :