When I received the call from "Comptoir de Monoi" asking me if I could shoot miss Tahiti in Bora Bora, I am going to be honest with you, my heart skipped a beat!
In no time, we put together an amazing shooting team, a hair and make up artist, a floral and vegetal clothes designer (gowns have to be made from all sorts of vegetation, flowers as well as beautiful Polynesian fabrics), a speed boat and a private island at our disposal, even the TV was going to tag along to film! But the most important member of the team was, of course the "vahine", (woman in tahitian language).
Over centuries, great explorers such as Cook, Bougainville and Wallis as well as other notable visitors like the french artist Paul Gauguin, have helped to create and spread the myth of the 'vahine,' the sultry exotic tahitian woman with long hair and natural charm and sensuality.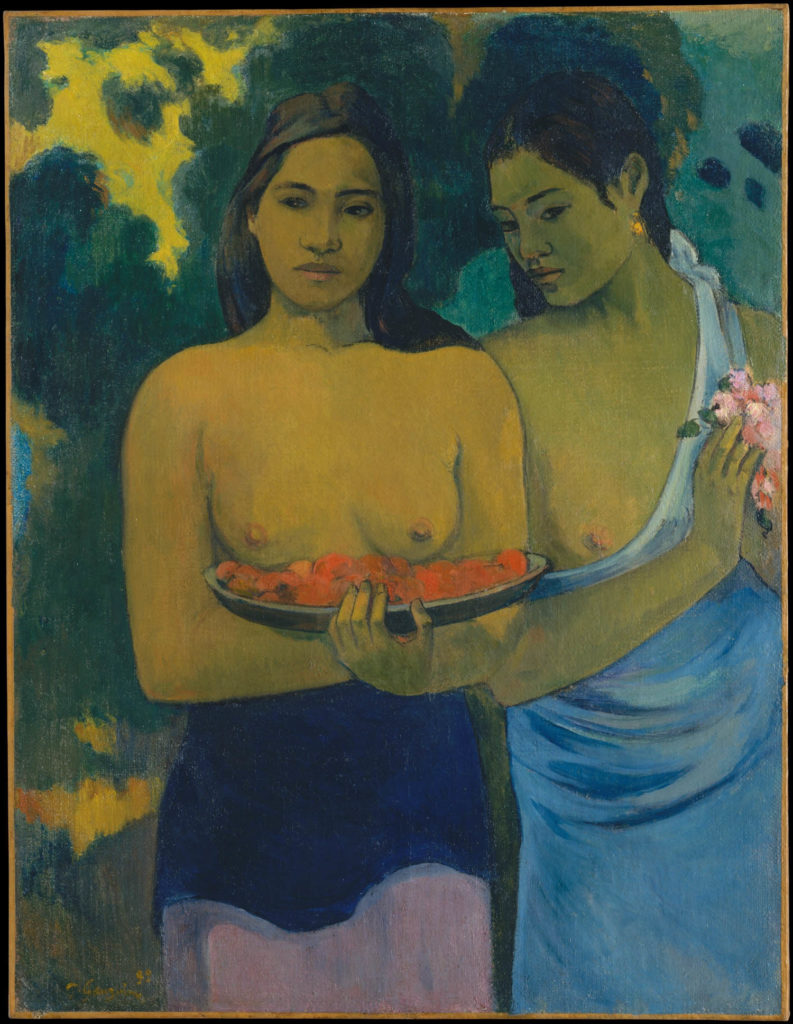 Well, each year this myth is reborn with Miss Tahiti , when the most beautiful of all Polynesian women is elected. Vaimalama Chaves won Miss Tahiti 2018 . Even more incredible, one month after this photoshooting in Bora Bora, she was crowned Miss France 2019, and she became the ambassador of France and Polynesia to the world. She was the first Tahitian representative to be crowned Miss France in twenty years, so you can imagine how proud all Polynesians were.
I had different assignments from Comptoir de Monoi, a cosmetic brand inspired of Polynesian well-being products and Vaimalama was the perfect fit. Monoï is an infused perfume-oil made from soaking the petals of Tahitian Gardenias (best known as Tiare Flowers) in coconut oil. In Polynesia, Monoi of Tahiti is more than a care coconut oil with fragrance. It's a daily beauty ritual. Polynesian women have used it to moisture, soften and nourish their skin or to protect their legendary hair for thousand of years.
The first assignment was for the bronzing oils, the images had to be sensual, sun kissed olive skin, swimming suit or pareo ( piece of colourful cotton cloth wrapped around the body) and of course lots of sunbathing. We headed to the white sand beach with backdrop of the iconic mount Otemanu and we took the next dreamy shoots.
And because Bora Bora is famous worldwide for its most beautiful lagoon and its vast spectrum of blues, we decided to stop over a beautiful sandbar to shoot over-under water. Refreshing!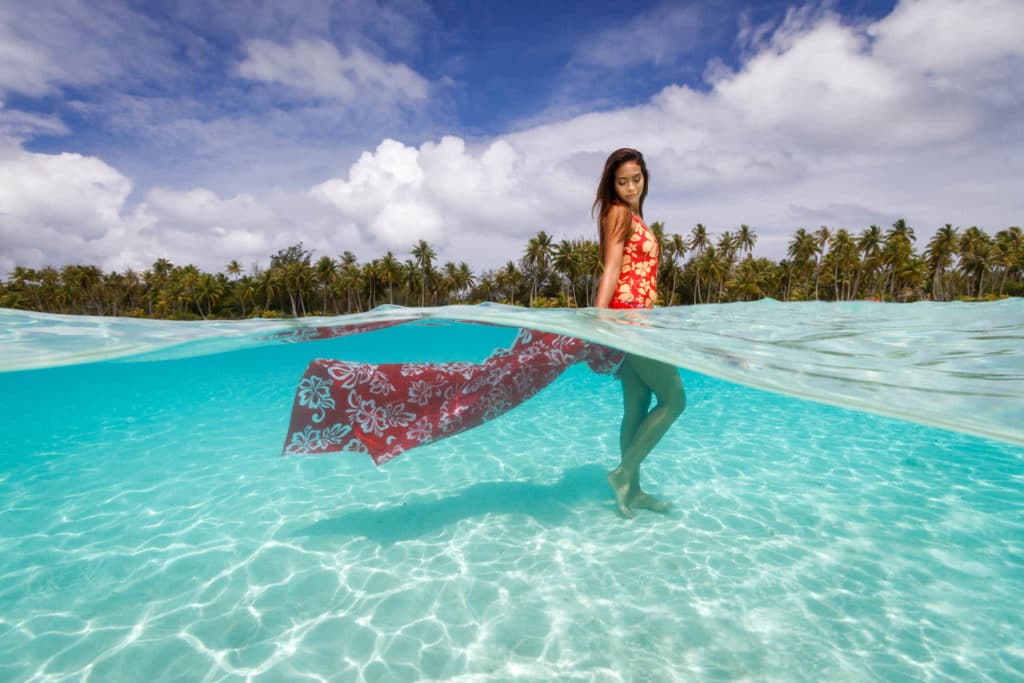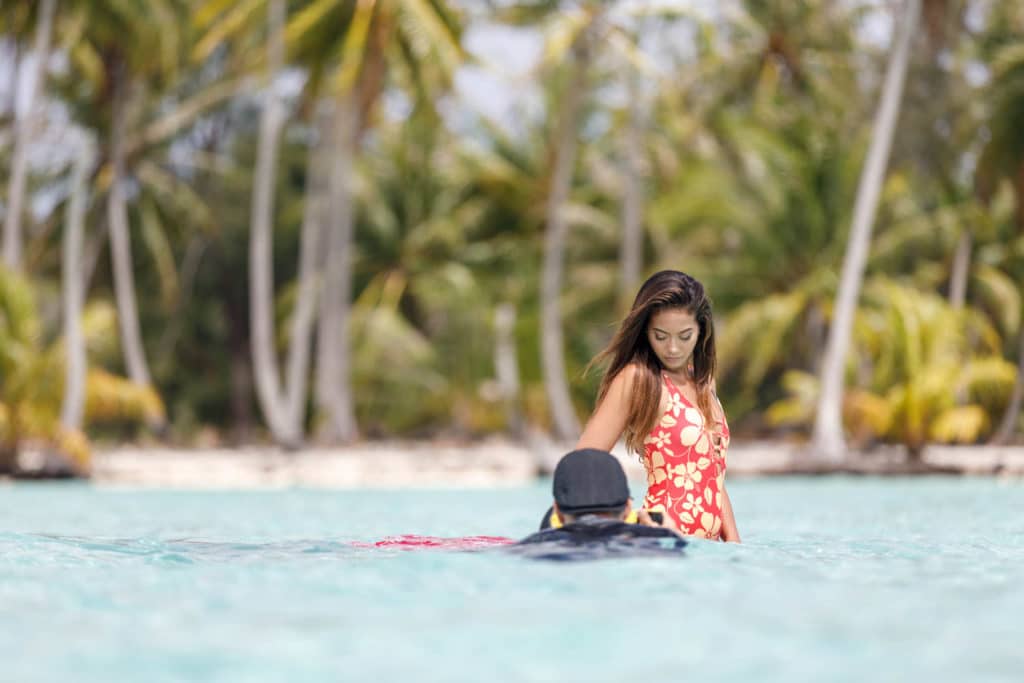 Arriving to our private island, our Miss changed into a vegetal dress made with one thousand white tiare flowers (Tahitian Gardenia). The smell was highly addictive, and if that wasn't mesmerizing enough, she started dancing and chanting a slow Aparima. (slow dance where the hand motions represent the words in a song or chant). For example, hand movements can signify aspects of nature, such as the swaying of a tree in the breeze or a wave in the ocean, or a feeling/emotion, such as fondness or yearning. Our jaws dropped, my camera went quiet for a few seconds and I felt like Marlon Brando in "Mutiny on the Bounty" (1962 film) smitten with princess Maimiti.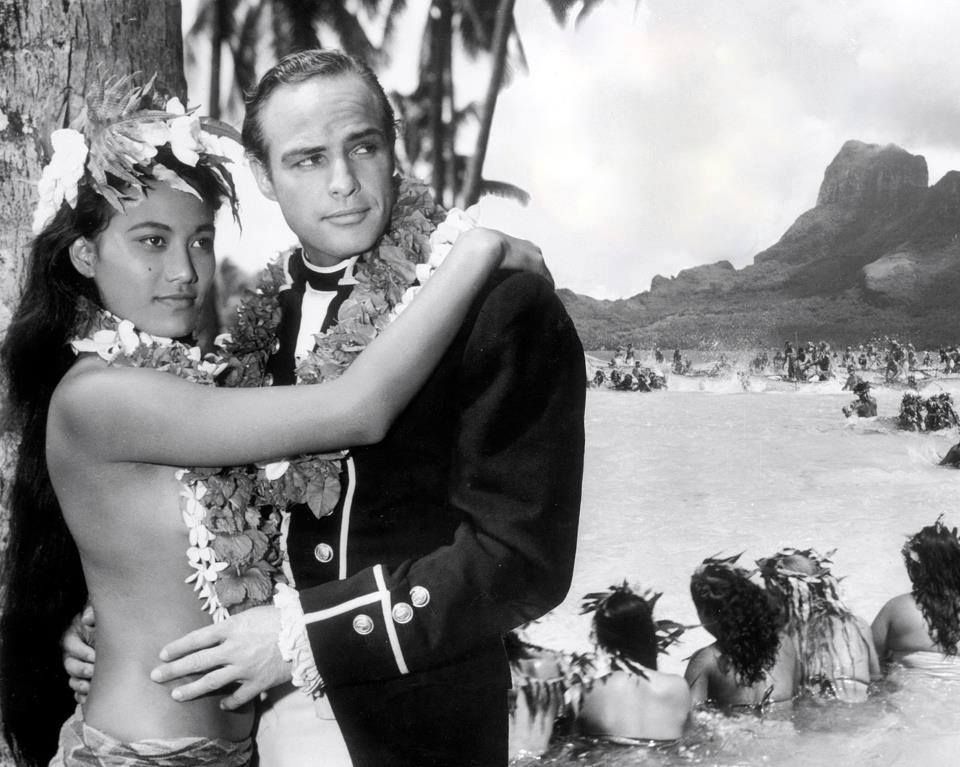 The next shoot was a lot of fun. Vaimalama was working on the confection of monoï oil using grounded coconut and tiare flowers. She started to eat the coconut and put it all around her lips to make us laugh, always trying to make us smile and bring a good vibe to the team.
My favourite part of the shooting was always between shots. At one moment, our model had to pose with an ukele. Before you know, she tuned it and started singing for us "Creep" from Radiohead. I remember reading about her in internet that she used to be bullied when she was young because she was goofy and overweight. My heart felt for her listening to the lyrics of the song, and dammit, look at her now! For sure that hard time made her the kind human being that she is now.
What can I say to end up this post? Her freshness, her joy, her kindness and her beauty inside and outside, Vaimalama you just managed to steal our hearts!