Weddings can be stressful. Of course, you want everything to be perfect – we totally get it 🙂 However bride, if you don't want to enter bridezilla territory, follow the next tips to plan your wedding or elopement in Bora Bora.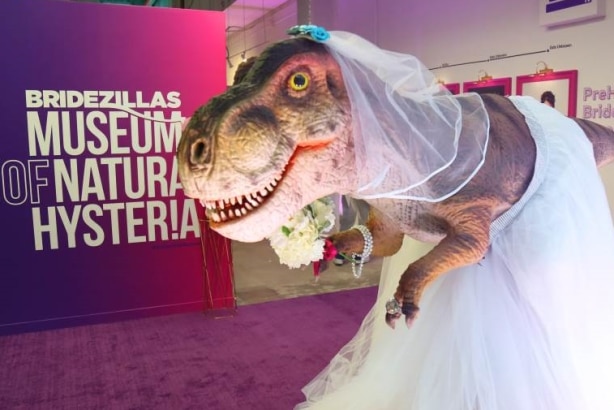 Bora Bora bride, Plan ahead!
The more you research and plan the better. Therefore, start planning your wedding months before, specially if you want to get married in Bora Bora and have it recognized legally back home.
If you want to get legally married in Bora Bora you have to do it at the Civil Hall and you will have to prepare and translate to french some documents and have them send 45 days before the wedding.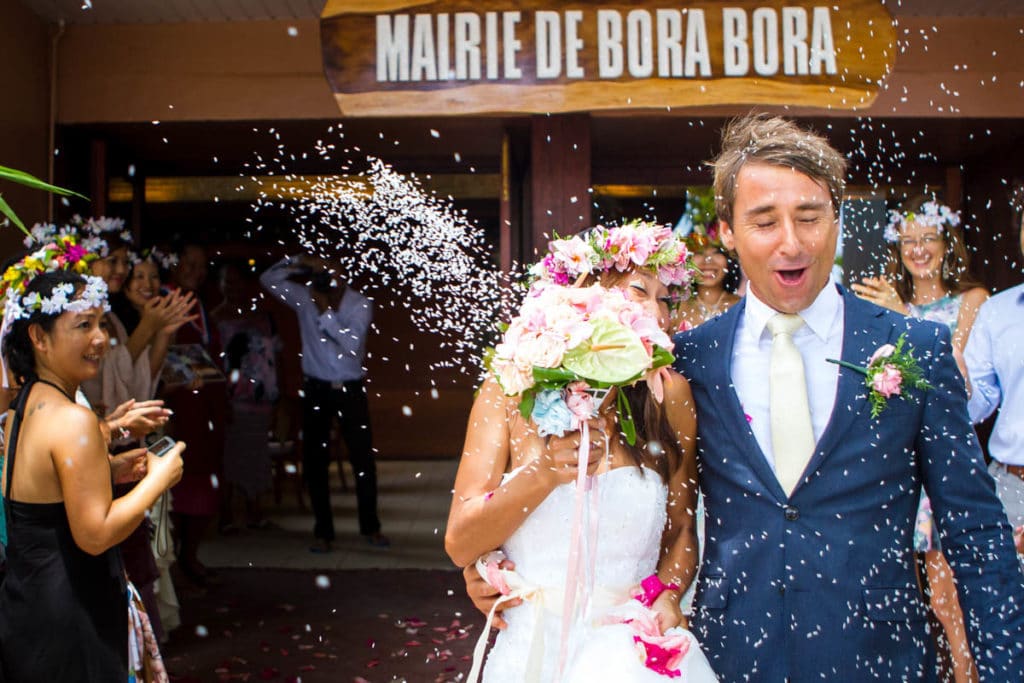 If you are already getting married back home and you just want to have a beautiful Polynesian Wedding Ceremony or Intimate Elopement, you can relax a little but I'd recommend to close up on the day and the photographer. I am already opening wedding sessions for next year!
How to choose the resort in Bora Bora?
Each resort in Bora Bora has an expert wedding planner and they offer special packages with different services. Here you can find some examples:
Intercontinental Bora Bora Resort & Thalasso Spa
Bora Bora Pearl Beach Resort & Spa
First, take into consideration not only your budget, but also the beauty of the property, and the testimonials.
You can find find my favourites wedding venues by resort in the next post:
Then, once you have secured the date, the photographer and the resort, you can start micro planning.
Best venue inside the resorts of Bora Bora
Depending on where you are staying, you have different options. Your wedding planner will help you to choose the best one for you.
Amongst the available options, barefoot in the beach is one of the favorites and most romantic for a Bora Bora bride.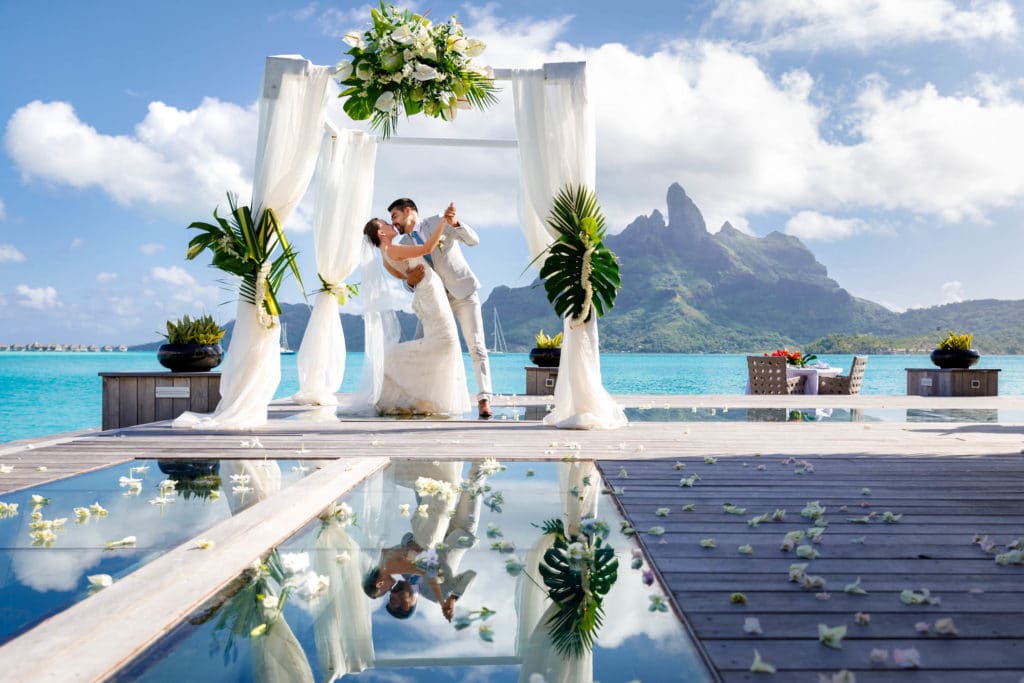 Most resorts also offer a chapel if you are looking for a more symbolic ceremony. However, keep in mind that from a photographic point of view, the space is very limited, reducing the possibilities for more powerful pictures. Finally, the light is much harder to control here.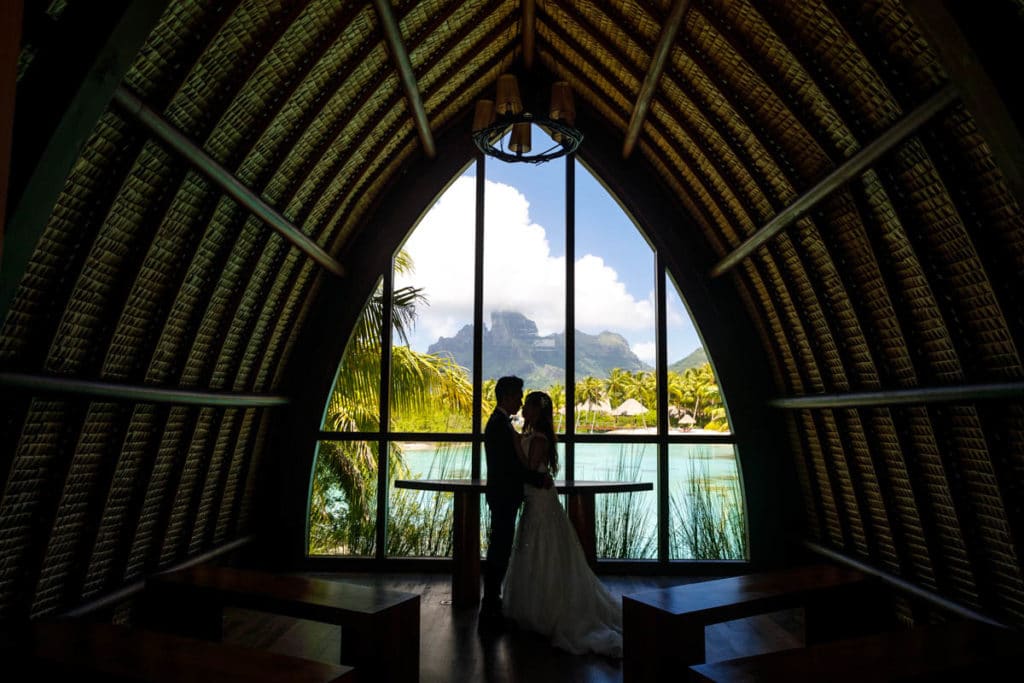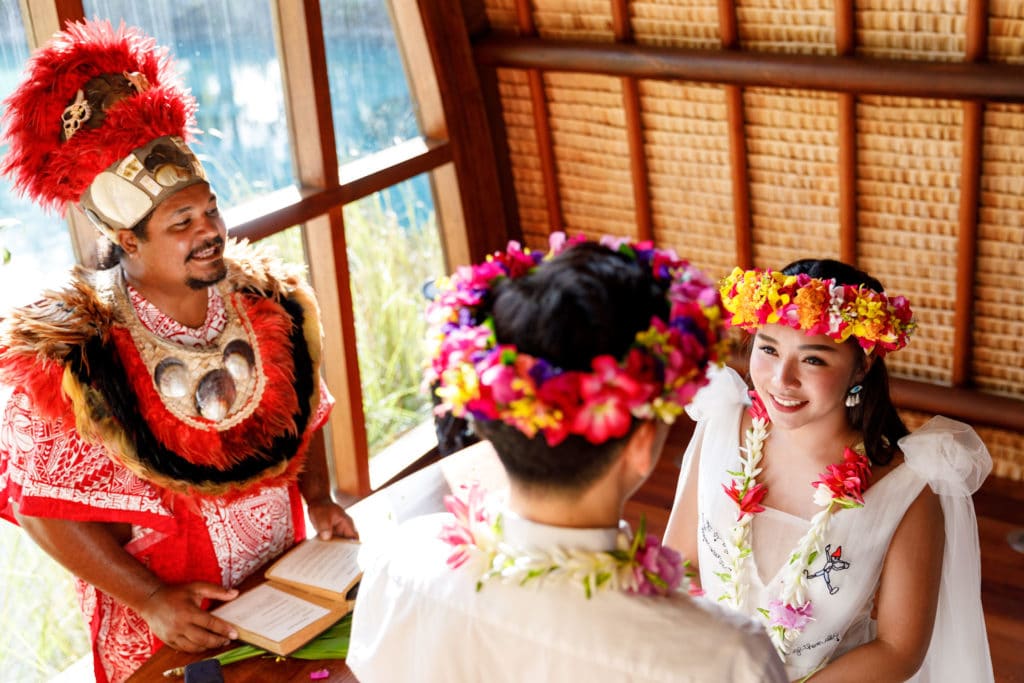 Polynesian or Western Wedding?
If you always have dreamed about toes in sand, one-of-a-kind backdrop, tropical flowers, dancers and music in a ceremony full of symbols and traditions the Polynesian Wedding is for you. Read my post "Everything you need to know about the Polynesian wedding ceremony in Bora Bora" for more information.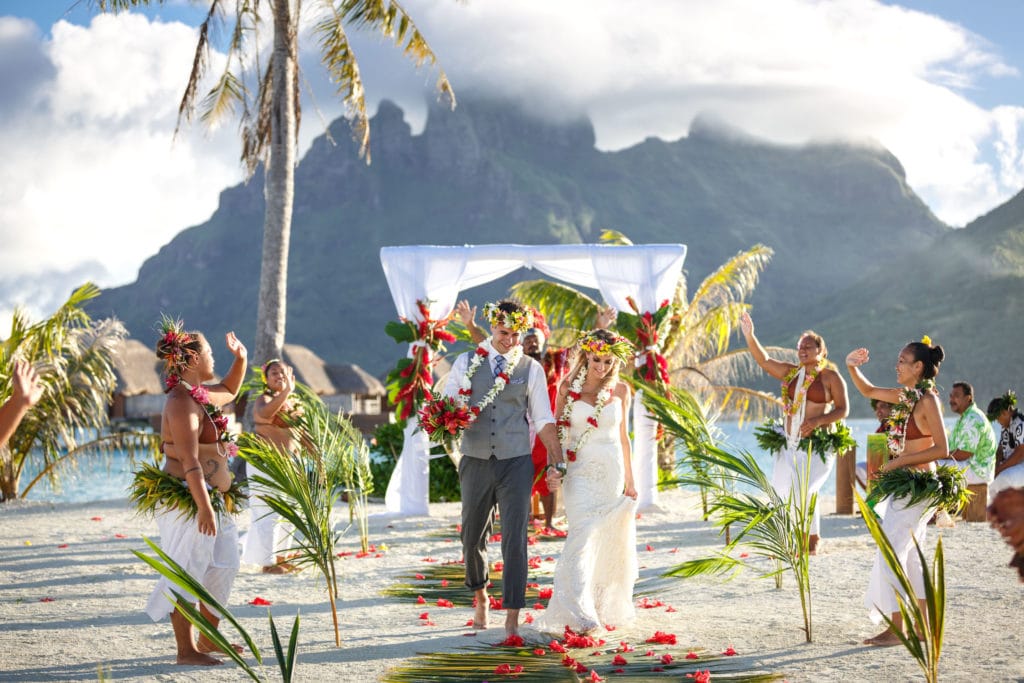 However, if you are more attracted to an intimate wedding, simple yet meaningful, with just the two of you in front of the priest you will enjoy a Western Style Wedding.
What a Bora Bora bride should wear?
Traditionally, the Bora Bora bride and groom wear a white pareo (tahitian name to describe a piece of cloth worn wrapped around the body). Women will usually wrap it around their upper body, covering it from breasts to above the knees. Either they rely on their breasts for it not to slide down, or they may wrap a corner around their shoulder or their neck. In more traditional surroundings the covering of the upper body is less important, but the covering of the thighs is. Then it is worn as a longer skirt. Men wear it as a short skirt.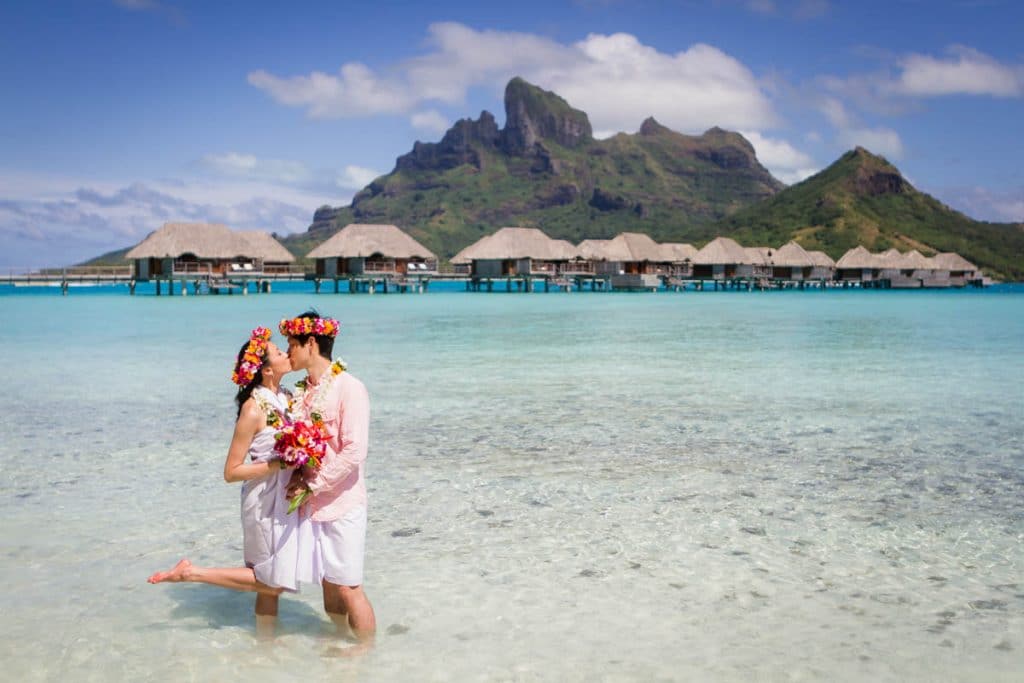 Although nowadays lots of couples prefer to wear classical western wedding outfits. If you go for a western gown keep some simple guidelines in mind. For instance, skip a formal ball gown or chapel train (since they'll weigh you down), and opt for light and airy fabrics that allow for easy movement and offer breathability (like chiffon and silk). Also, choose designs with billowing skirts, slits and lace to maintain airflow and comfort.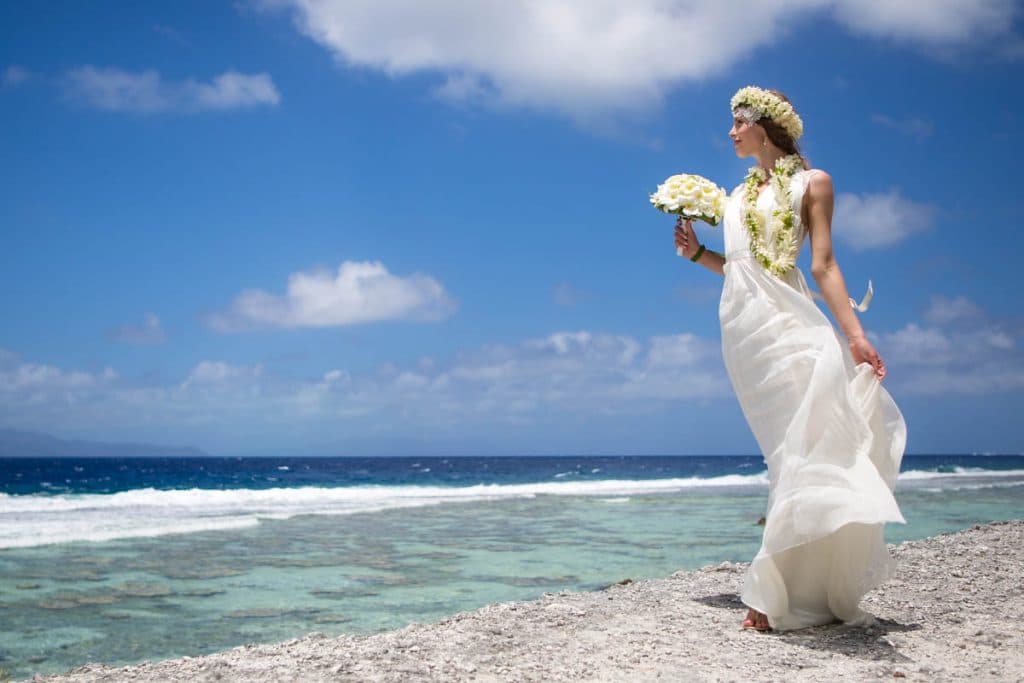 High heels and sand?
Yes, high heels and sand don't mix—but remember that I will be taking pictures on the way to the beach, on the decks, on the spa and high heels will accentuate your silhouette. Once in the beach, you can get married barefoot or consider some cute beach sandals options.
Hair and Make up of the Bora Bora bride
This is your special day, relax and let yourself be pampered. Start the day at the spa with a relaxing massage, manicure and pedicure and finish with your hair and make up. Order champagne and chill, you are in good hands.
Tip– Mother Nature can be tricky, especially in Bora Bora. There are things to consider hair-wise like strong breezes and humidity. Browse to find some hairstyles that you like, one in case the conditions are good and one in case it's very windy and humid and ask to the hair style for her expert opinion on the big day.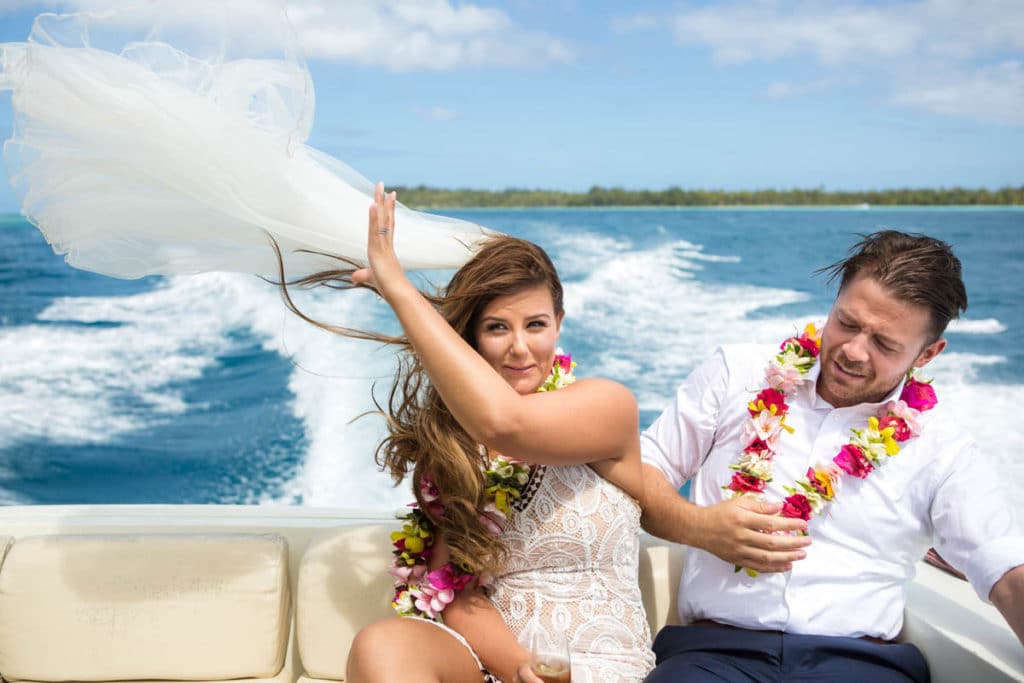 Remember that during the Polynesian Wedding you will exchange flowers crowns and leis, so you don't want your hairstyle to interfere with the flower crown.
Regarding the make up, browse and prepare some examples for the make up artist, along with pictures of your dress, the colour of the bouquet and your accessories, that will help to keep an harmonious look.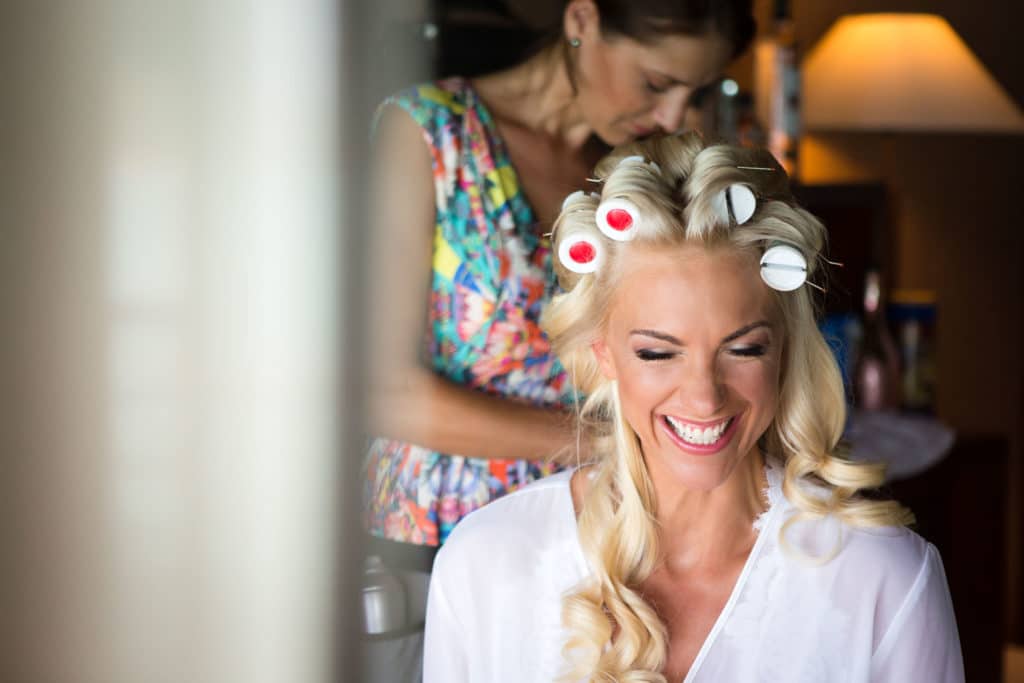 Tip-If you are thinking about "Trashing the Wedding Dress" after the ceremony, ask for water proof make up.
Read more about it here :
How to choose a bouquet for Bora Bora
The wedding bouquet may seems like a small detail when it comes to planning the entire wedding, but is a very important component of the Bora Bora bride's ensemble. Picking the right bouquet can help make the dress even more beautiful and romantic.
Consider Colour
Not all wedding dresses are plain and simple white. Taking into account the various colours of your dress, including those shades of ivory and cream, can help ensure that your flowers will look right. You should, of course, consider the colour of the other flowers and the wedding colours in general.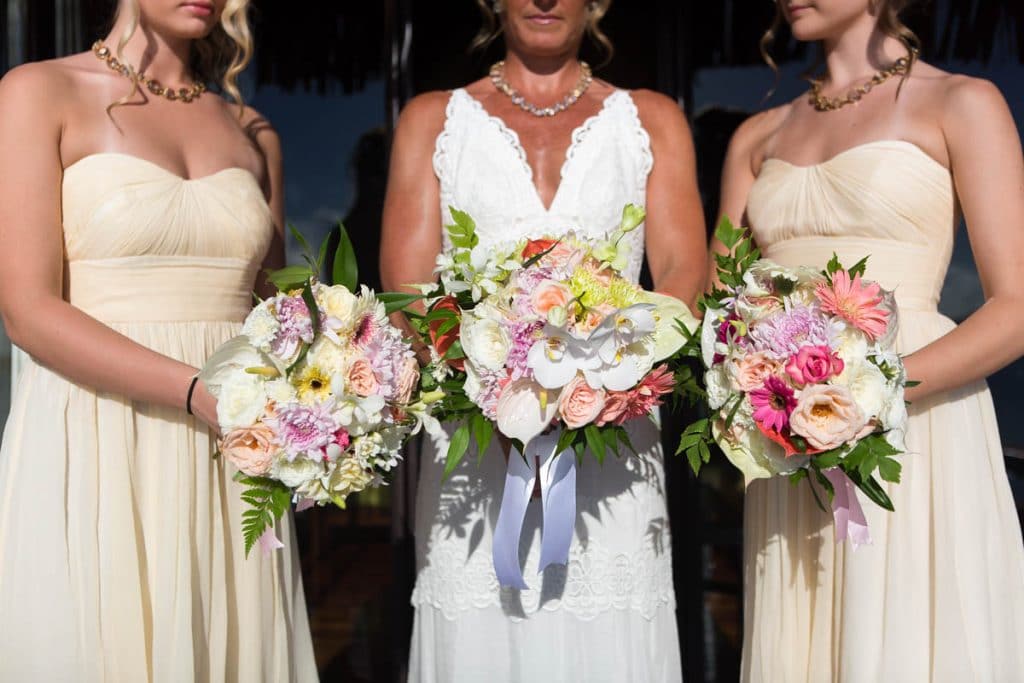 Research Flowers Ahead of Time
If you want to have local flowers, you can either choose between a tropical tone bouquet or a white one. Tahitian gardenia or Tiare Tahiti, Tipanier, and Hibiscus are the most traditional used flowers.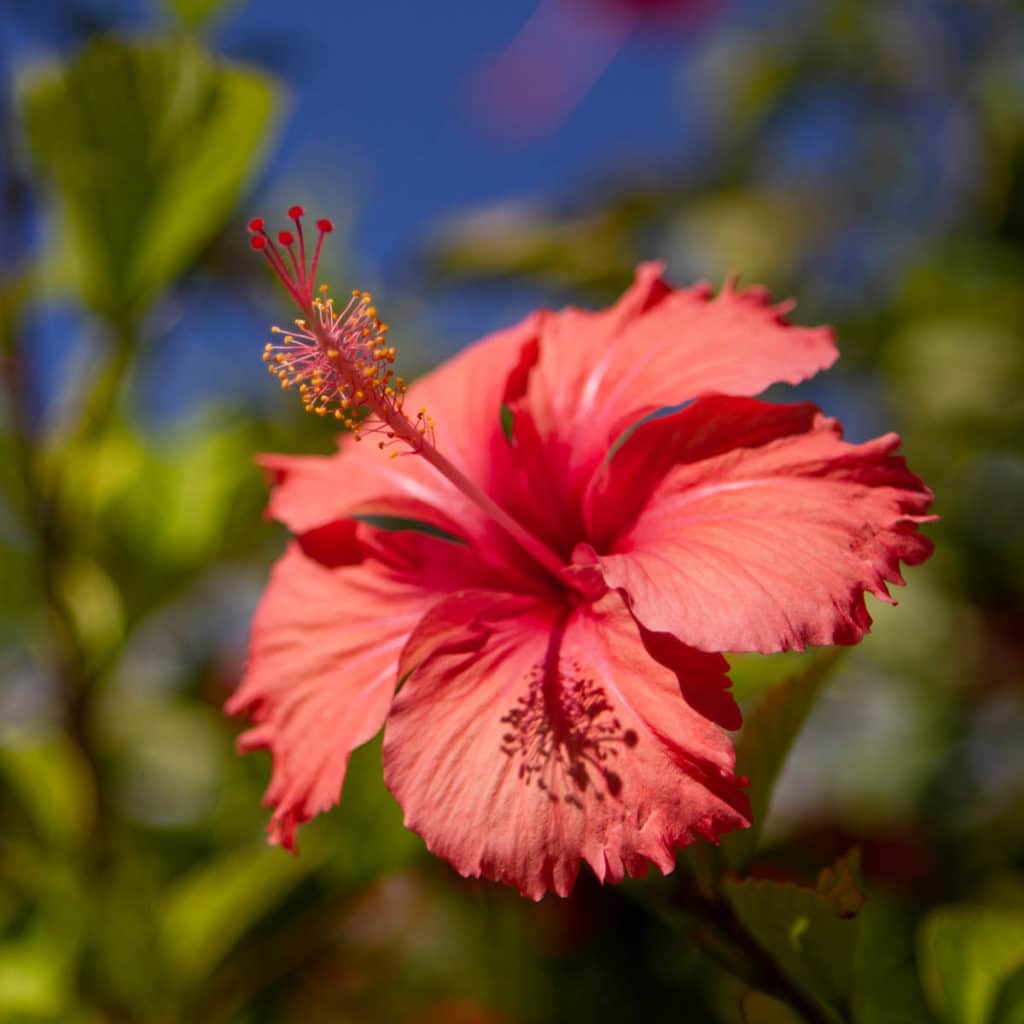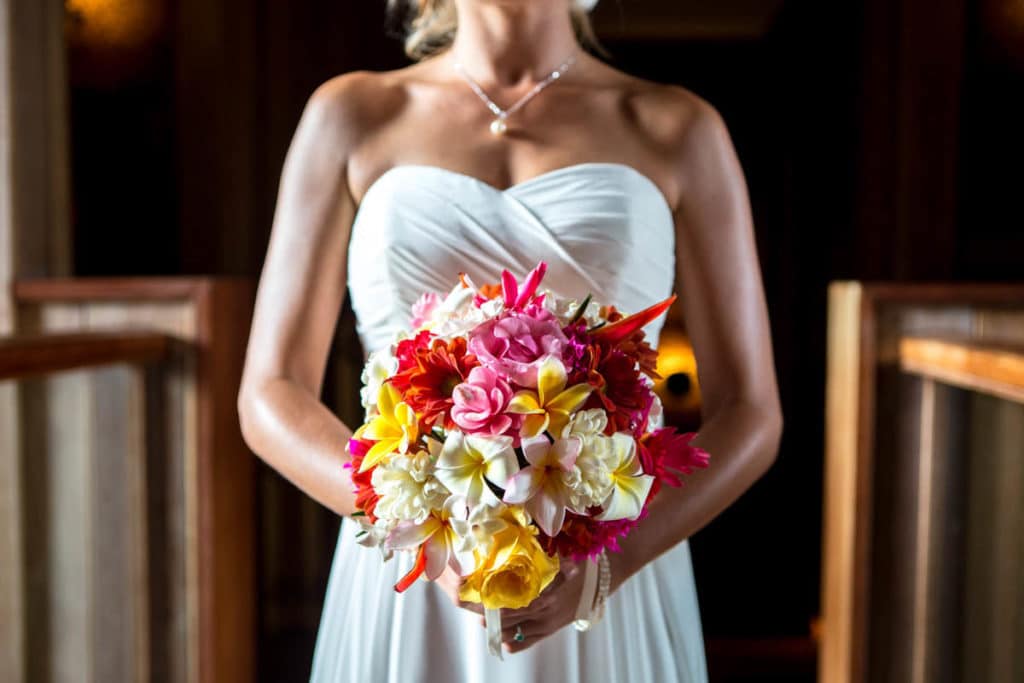 If you want to customize the bouquet with non locals flowers like roses, anthurium, orchids, lilies… it may be difficult because they have to be imported, therefore the importance of planning ahead.
Size and Shape
Wedding bouquets come in various sizes and shapes. Some bouquets are short and sweet, others are trailing and large. Coordinating the size and shape of your bouquet with the size and shape of your dress is important.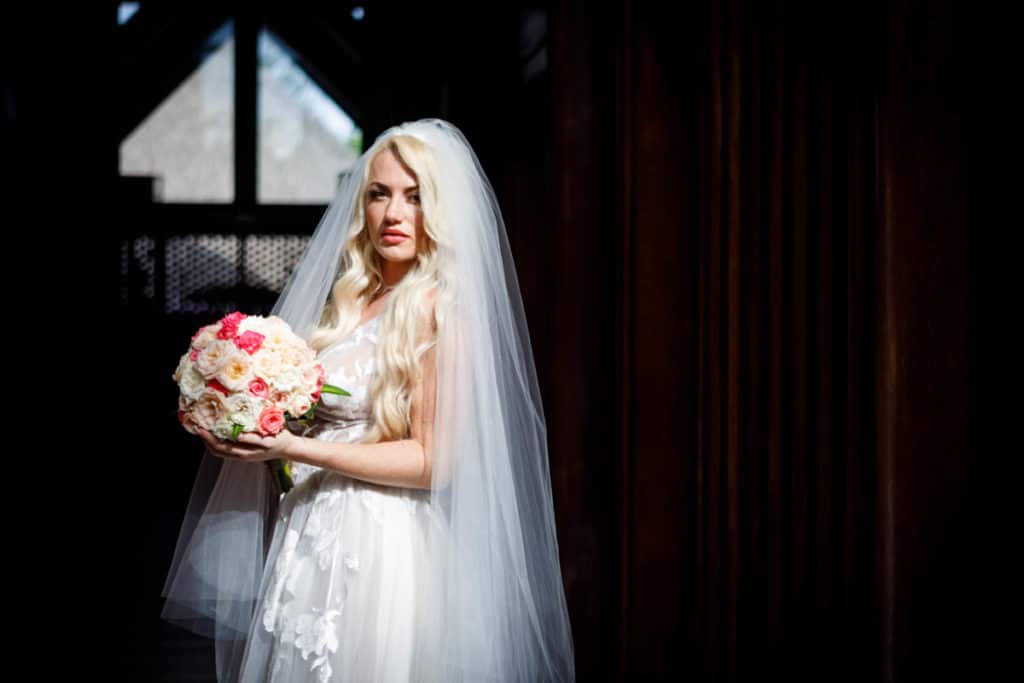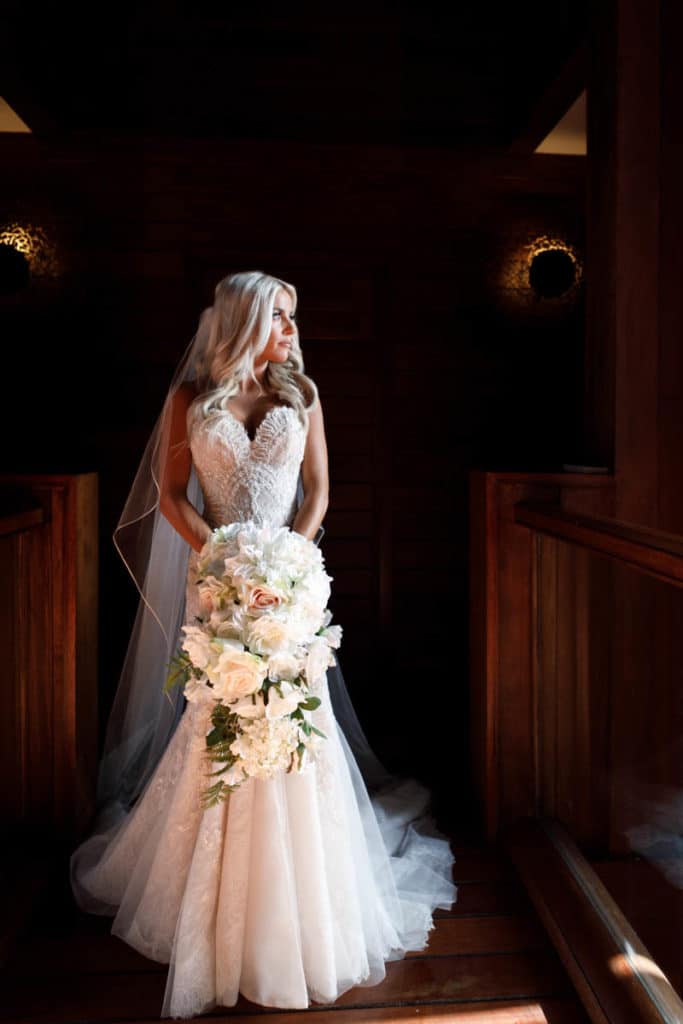 Little yet meaningful details for a Bora Bora Bride
"Something Old, Something New, Something Borrowed, Something Blue, A Sixpence in your Shoe"
Something old
"Something old" represents continuity, and brides use this as a chance to wear a sentimental piece of jewelry or item of clothing belonging to an older relative. Ask your grandmother for a family heirloom piece of jewelry or and antique handkerchief.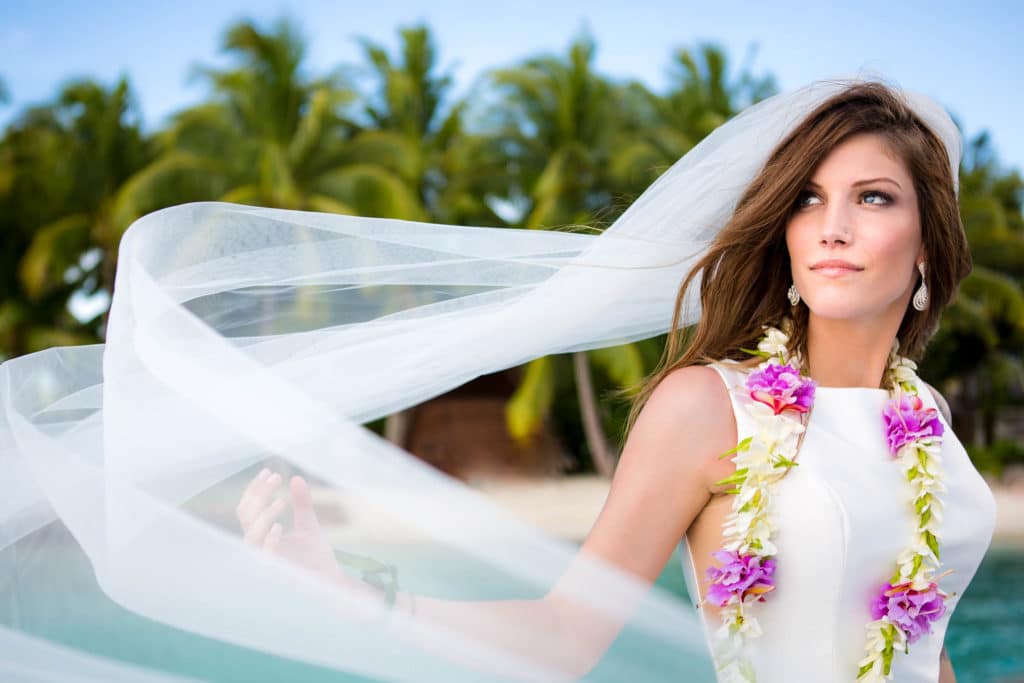 Something new
"Something new" means optimism for the future. Don't worry about searching far and wide, it can truly be anything, including your wedding dress, veil, jewellery and shoes.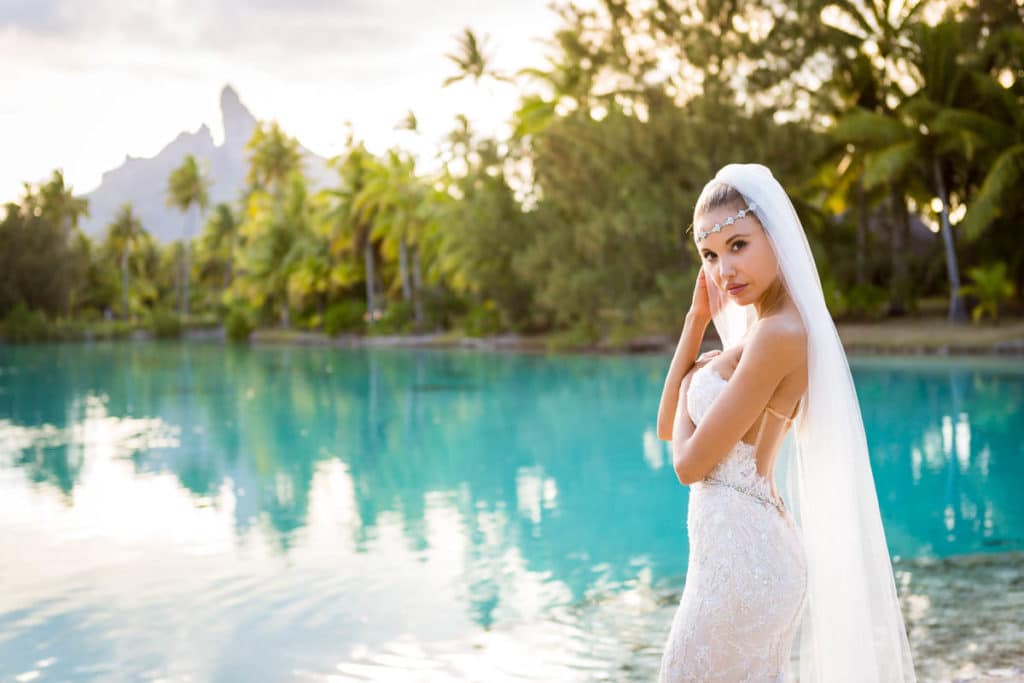 Something borrowed
Incorporating "something borrowed" brings the couple good luck. It's all about honouring a loved one or holding onto something of sentimental value—like your grandmother's wedding hair comb or your mother's diamond earrings—for a touch of good luck as you say your "I do"
Tip- Did you know that you can "borrow" an exquisite black pearl necklace from the Resort Boutique for your wedding? Yeah, like Julia Roberts in "Pretty Woman"!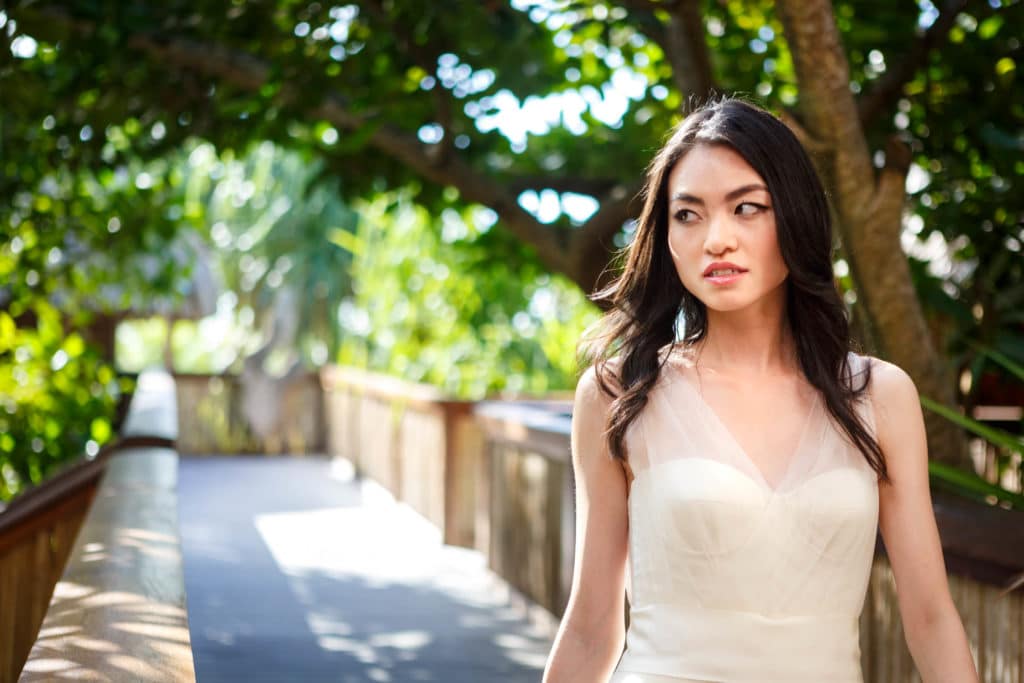 Something blue
The colour blue stands for love, purity and fidelity—three key qualities for a solid marriage. The traditional "something blue" was often a blue garter worn beneath the bride's white dress. But you don't have to wear "something blue" if you don't want to.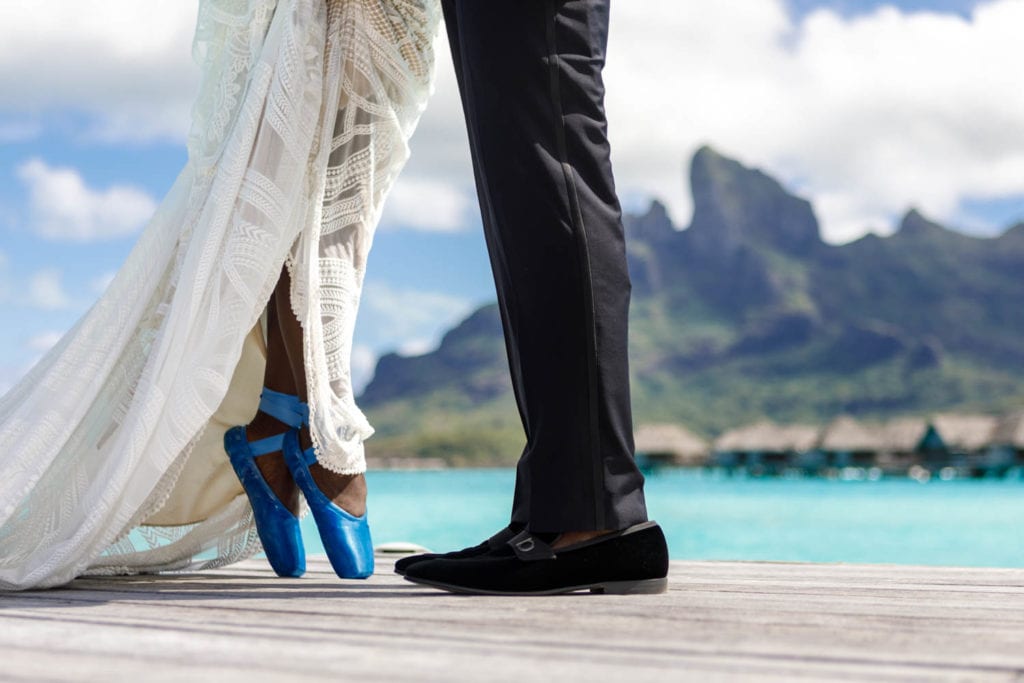 Other important details
Think about all the moments of the wedding and bring some elegant props. A veil, the wedding garter, a nice card or notebook for your vows, cufflinks… I love knowing about the sentimental value of these items and taking pictures of them.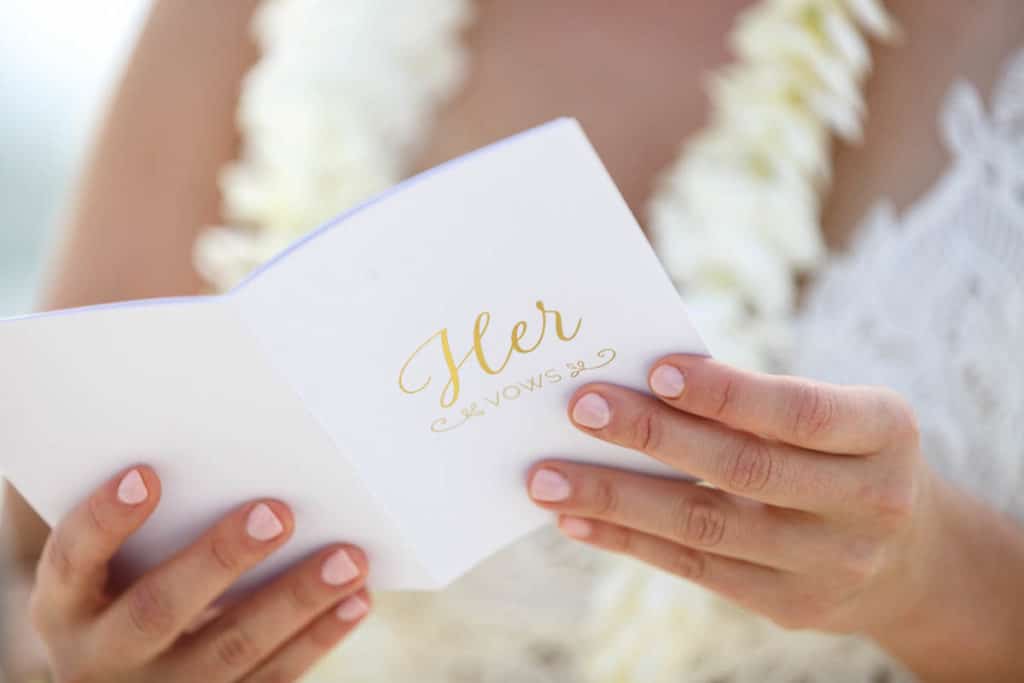 How to pack your wedding dress for Bora Bora?
1. In a carry on
Don't risk the heartbreak of missing some of the most important items for your big day due to a bag loss. Get a hard-backed carry on . Choose something made from waterproof material to avoid any possible leakage from wet items in other bags, or rain on your travel day.
2. Inside a garment bag
Most wedding dress stores will provide one when you take your gown home. Carefully fold and pack your wedding dress into a garment bag. These thick bags are made for transporting easily-wrinkled clothes through the rigors of flight travel. Once onboard the plane, ask the flight attendant if there's an available section to hang your dress. If there isn't a section, most often flight attendants will let you hang your wedding dress in their closet when you tell them that is your wedding gown.
3. Vacuum bag
If your wedding dress folds down and isn't made of super delicate material, consider using a vacuum ziplock bag.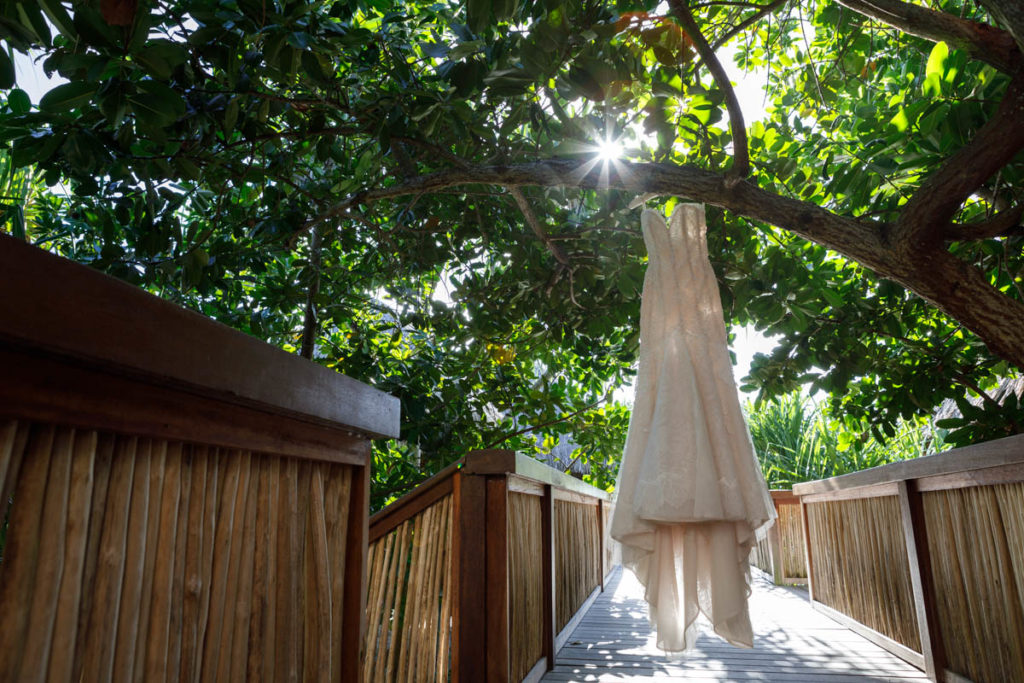 Remember to label all your Bags with your name. Clearly label your carry on with your name, email, phone number and address for both your home and destination. That way, if something happens to your bag transporting your wedding dress — like forgetting your bag on the plane — your wedding dress can quickly be returned to you.
Unpack Dress Immediately Upon Arrival .When you arrive at your resort unpack your wedding dress and hang it up to let the travel wrinkles shake loose. Call your wedding planner and ask her to take it to wedding dress care — steaming is included on most wedding packages.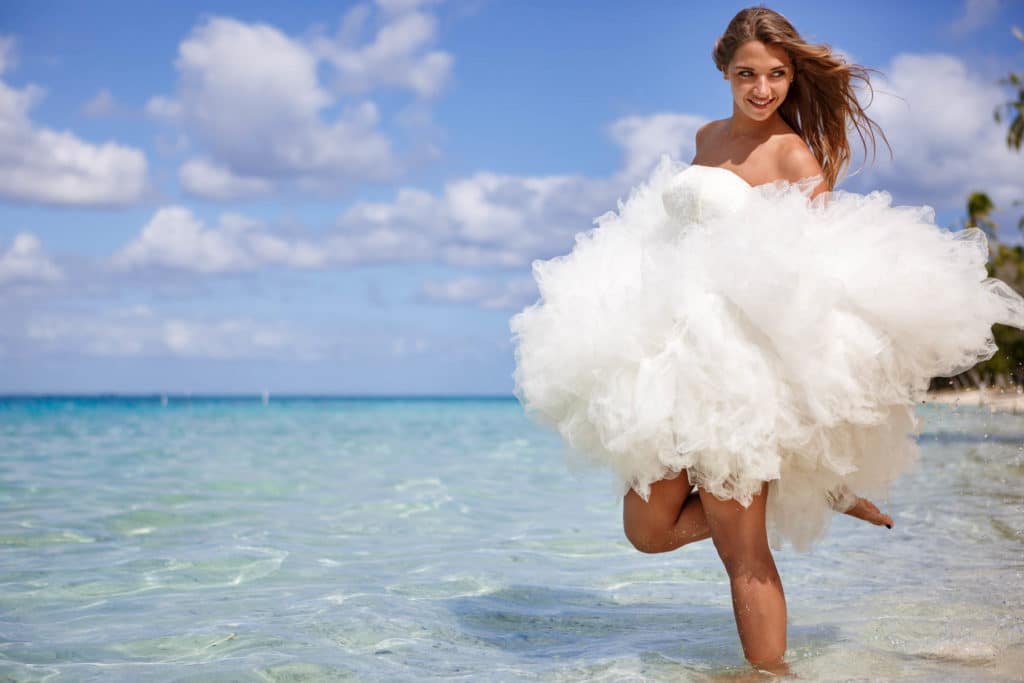 Avoid sunburn
I can not emphasize enough how important this point is or how often it happens. Sure, you want to have a nice tan for your wedding. But the sun of French Polynesia is really strong, the Bora Bora bride that want to sunbath before the wedding will finish with a bad sunburn that can not be edited.
Tip Don't risk sunburn => be safe. Use sunblock and stay out of the sun from 11am to 3pm.
Choosing the right photographer in Bora Bora
First of all, choose a photographer with a style that moves you. Don't overthink it, you'll naturally gravitate toward him or her.
Then, the quality of a photographer's portfolio should be the second thing that captures your attention. For example, a good photographer should be able to offer clients a variety of styles, story-telling during the ceremony and reception and lifestyle/editorial during the photo shoot. To know more about styles click here:
In addition, ask to see a complete portfolio from beginning to end for at least one or two weddings. You don't want to see only a few "best" photos.
Also be aware that photographers have different editing techniques. For wedding pictures I believe that edition should be elegant and timeless. Think about showing your wedding pictures to your grandchildren 🙂
Finally, hire the services of a photographer which a personality that you think will fit the best to yours. I know it is difficult to do that without a face to face meeting, but you can check "Testimonials", Facebook, Instagram, Trip Advisor, Google and you will get an overall feeling.
Please don't hesitate to drop me an email if you have any questions or you are interested in my services.
Let's talk about your story!
Damien